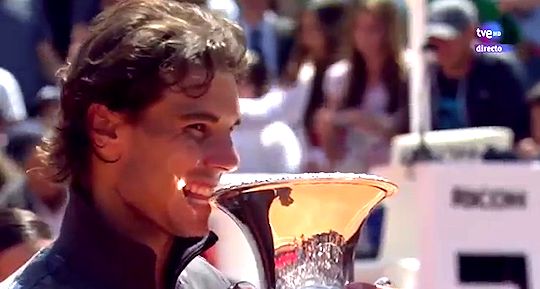 Screencap by MAC
How lovely to be back on proper clay - the red stuff where Rafa can slide.
From his first match it was obvious how much more comfortable he was on this surface. He was playing
Florian Mayer
, who had beaten him in their only previous meeting in Shanghai last year.
In his press conference after the match, Rafa said, "
It is difficult to play against Mayer because he has without rhythm and he knows how to put you in a difficult position in the game but I didn't suffer I think. He plays not usual shots and he does things like a slice forehand and drop short and defends well low balls and goes to the net well.
" Despite that, Rafa recorded a
6-1, 7-5
win in less than an hour and a half.
In round 3, despite the wind, he had no trouble dismissing fellow Spaniard
Marcel Granollers
,
6-1, 6-1
.
"
I start the match bad with 2 double faults with my serve but after the first 2 or 3 games then started to play well good forehand and control of the point and going to net. Conditions were difficult and windy but I think I found rhythm and after 3rd game I played very solid.
"
He was in terrific form in his quarter final against
Tomas Berdych
, hitting an incredible 34 winners against only 10 unforced errors to win,
6-4, 7-5
.
"
I played one of my best match on clay against a difficult opponent. It was a big match and one of the higher quality matches this year because the level of the opponent is high and he plays with big confidence and I played under pressure all the time under the match and my chances on the return are few and not much and so I have to be focused. I did something fantastic and I went inside with my forehand and my movements were fantastic and yesterday I started to feel very well. I hit a few fantastic shots and this kind of shot comes with the confidence.
"
The semi final, against
David Ferrer
, was nothing like as pretty. The first set was nip and tuck right up to a keenly contested tiebreak. Here's how he earned set point.
After that, as if he'd thrown everything he had in the first set, the fight seemed to go out of Ferrer and Rafa won in straight sets,
7-6(6), 6-0
.
"
The first set was unbelievable how David set the match with amazing rhythm and aggressive and long. His movements were unbelievably good and so I did the best possible best for me to be 3-3 so on ... the thing that I tried to do was to maintain the score close and when he plays at the beginning of the match I tried to concentrate on the serve to contain the score equal – after first 7 games of the match the game is more equal – before it was not. His shot was good and aggressive and I did not have time to hit a ball with normal conditions and all the balls that he sent were very aggressive and very difficult.
"
Sunday was a frustrating day for everybody as we waited to see if the final would actually get played. It was bad enough at home in front of the TV in the warm and dry so it was no surprise that some of the fans, who had waited it out in the rain, threw empty bottles onto the court when the decision was finally taken to postpone the match until Monday. For the sake of the health and safety of Rafa and his opponent,
Novak Djokovic
, it seemed a sensible decision.
So it was on Monday at noon that the players took to the court. As ever, with these two, the first set was full of gruelling rallies. There was an exchange of breaks early on but it was Rafa who finally got the upper hand to take it,
7-5
.
Much like the semi final, the second set was easier. It wasn't a whitewash but Rafa was dominant and took it,
6-3
to claim his 6th Rome Masters title.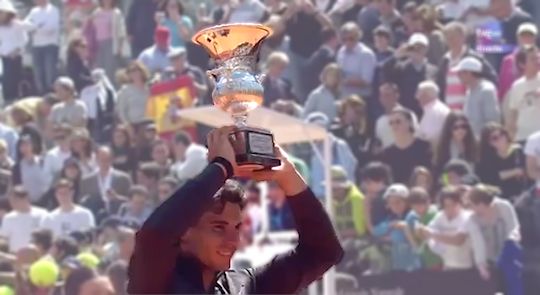 Screencap by MAC
¡Enhorabuena, Rafa!
On to Roland Garros.