Due to the time zone difference and my work schedule, I was not able to watch Rafa's progress through this year's Internazionali BNL d'Italia tournament.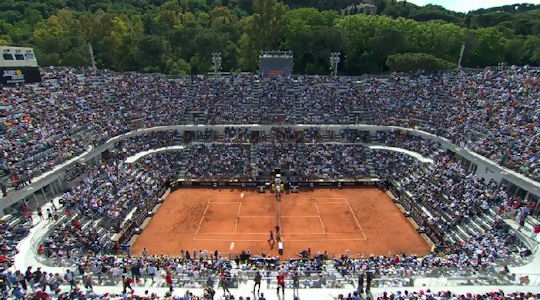 Screencap by elise
Fortunately, a number of Vamos Brigade members attended the tournament and provided their insights and analyses of the matches.
Rafa's second-round match against an inspired
Gilles Simon
turned into the longest three set match this year. After over three hours and 18 minutes, Rafa emerged with a
7-6(1), 6-7(4), 6-2
victory.
Here are some match highlights that I could find:
In one of her posts,
JLB
wrote of this match:
Scary to watch live, though never felt he was in danger. The only nervous moment I had was the 2nd set TB. Shouted a lot. Throat is sore. So relieved he pulled it through - felt he was much more successfully pulling off his usual patterns in the 2nd half of the match - the IO FHs were so much better than they have been, he was attacking the return up the line - played some really good stuff with some scrappy stuff thrown in, just to make us all edgy. Simon was amazing - full credit to him - but I wish players wouldn't complain to the umpire about time between points. That's for the umpire to do, not for the player to whinge about.

"Rafa Nadal is amazing. I've had the best day (and took a billion photos - may take a while to get through those, but I will) but hope that is the most stressful things get this week - please please please

That said, it should be hugely beneficial for Rafa that he was able to win. Simon didn't give it to him - he had to win those rallies. The balls Simon was returning were ridiculous."
MAC posted:
"I have about stopped twitching.

"That was 2 and a half hours of torture followed by about half an hour of stress.

"I think if Simon had won that fifth game of the third set it might have been a different outcome. It was lucky he finally got tired.

"Great that Rafa hung in there but I would be extremely grateful if he could let me witness one stress-free match this year."
MAC had the presence of mind to capture the following picture: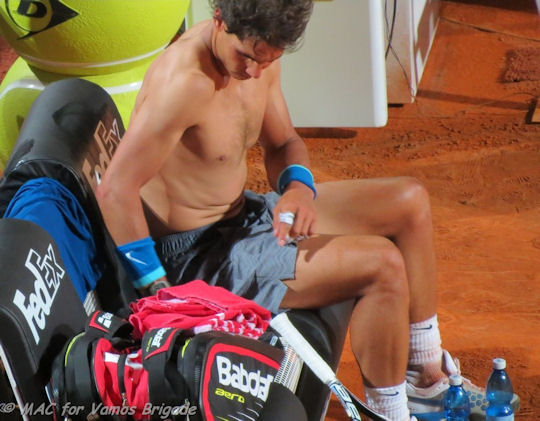 © MadAliceCudlip for VB
dafunk added her analysis
:
"This match will pay dividends in the near future, no doubt. And I usually disagree with people here when they say Rafa's opponent played 'lights out' when Rafa has a tight match, but today, Simon played about as well as he can. He had to play first strike tennis which is SO not his game. He's not like many players who hit flat shots that penetrate the court and redline and play high risk tennis against Rafa. Simon is more of a human backboard, so for him to become the aggressor and not fade mentally (one of his weaknesses), means he was in the zone. I think he had 6 or so shots that hit a line and took a crazy bounce. He was 'feelin' it.'

"And Rafa weathered it. He never lost his focus, and his defense was incredible. The big thing in this match was that his serve wasn't doing much damage. The lefty swinging serve in the ad court wasn't giving him the usual free points. I don't know if it was the night air or the wind or the cool temps or what.

"Yes, there were still some tight misses on big points, but I truly believe the battle was the most valuable thing today. This will pay dividends......."
Rafa's third-round match against
Mikhail Youzhny
also went the distance: three sets and over two and a half hours to notch a
6-7(4), 6-2, 6-1
win. One point became the "Hot Shot" of the day:
MAC posted
, with her usual sense of humour:
"I thought Rafa played really well tonight. Up until 5-3 in the first set he was going for his shots and nailing them. From then until 1-2 in the second he was so-so.

"I had to miss a couple of games to nip out to the loo knowing I wouldn't be able to make it through three sets. Who knew that would galvanise him into playing his best clay court tennis of the season to win 11 straight games?

"Coincidence?



"He was magnificent for most of the match despite playing in such appalling conditions on a court with a dead spot.

"You could see the weird trajectories the balls were taking and it was obvious the wind was carrying many shots long or wide.

"The crowd was firmly behind Rafa and cheering very loudly for him. When I was waiting to come back in after my loo break the roar when Rafa drew ahead was deafening."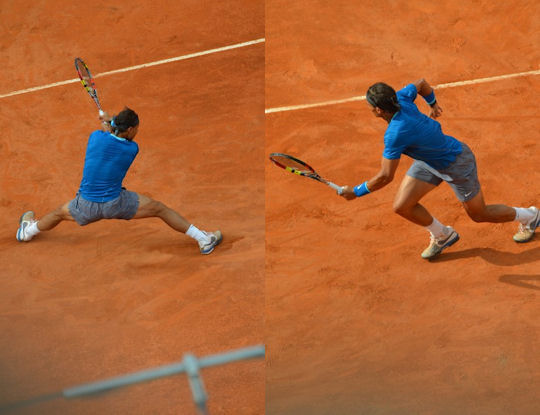 © JLB for VB
Both
JLB
and
MAC
also commented on the court conditions.
JLB
wrote:
"To be fair to Rafa, it was horrifically windy when his game went off a bit, and if you've been struggling as he has until late, and you know you have to play aggressively but have to be really careful because of the windy - well, I just think it was a difficult balance to strike, and Rafa didn't manage it yesterday. When the windy was less strong, he was so much in control of the match. I really don't think it is any more complicated than that

(I know conditions were the same for both players, but circumstances are not the same for both players, so I don't know that it's a valid observation when it comes to wondering why certain things happen...)"
MAC
added:
"The weather was really brutal out there. It's odd that there seems to be no provision for halting play when there's a whirlwind on the court.

"It's true that both players were fighting the same conditions but I'm guessing that the spin Rafa can't help but put on the ball makes his shots more vulnerable.



"The totally dead spot on one side of the court doesn't help matters. A couple of times, at least, Youzhny's balls landed right there and just didn't bounce.

"You could see Rafa thinking and adjusting his shots to take things into account.

"From one end he had to hit seven bells out of the ball just to get it to land beyond the service line and from the other he had to take pace off to prevent it sailing over the baseline."
Rafa hadn't played
Andy Murray
, his quarter-final opponent, since 2011. Theirs was a hard-fought three-set match that Rafa won,
1-6, 6-3, 7-5
, after more than two hours and forty minutes.
Rafa looked both pleased and relieved in his on-court interview.
And MAC and JLB seemed to share his assessment of the match.
MAC posted
:
"Just back to our apartment on a real high.


"That match was just incredible.



"I think in the first set that Rafa was so astonished by Murray's level of play that he was looking over the net thinking 'Who are you and what have you done with Andy Murray?'

"Talk about fight. Just incredible. We screamed our heads off to counteract the shouts of 'Andy, Andy' (who knew he had so many fans in Rome?) and waved our flags with gusto.

"Had the added advantage of pissing off the [Federer fans] in front of us.



"I'm just glad I was wearing my brown trousers.

"
JLB added
:
"Hot damn, that was a match and a half











"Rafa Nadal is something else, no? Incredible stuff from both players. I figure Andy didn't give Rafa time in the 1st set to even see how he was playing TBH, but it was great to see him put it behind him and then play astonishing tennis. Great to see Andy push him, and that he responded so well.

"[Umpire Mohamed Lahyani] had a difficult job with the crowd, but as much as certain nameless [Federer fans] in front of us wanted us to 'shout quietly' (erm, really? Is that how everyone else does it? Is that how you support Federer? Muppets....), there was no shutting us up. It's such great therapy being able to scream at the top of your lungs



"No idea what will happen tomorrow, how Rafa will feel or anything but I figure whatever happens, he will come out of the tournament feeling a lot better, which is fantastic for Roland Garros. We're here in Rome and we all want him to win, but it's really all about RG, no?


"Astonishing effort, astonishing match, astonishing Rafa

..."
Rafa's
6-2, 6-2
defeat of his semi-final opponent,
Grigor Dimitrov
, would be his most straightforward match of the tournament. Rafa seemed as happy as if he'd just won another marathon slugfest.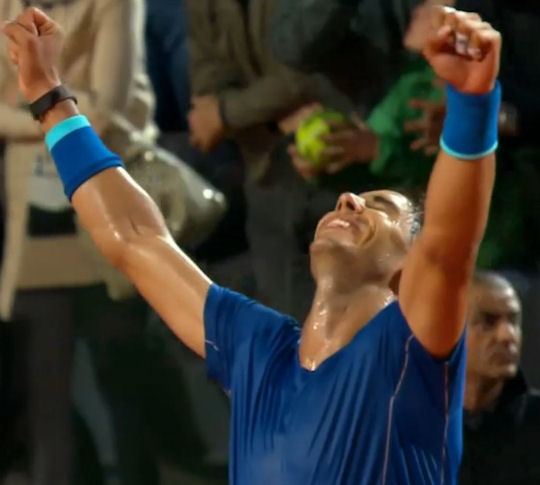 Screencap by elise
JLB summed it up
:
"That was fun



"Rafa did a fabulous job at silencing the crowd, and they only really got behind Dimitrov when it was way way too late.

"So thrilled that we get a full week of Rafa to watch, but more thrilled to see him looking happy. Dimitrov couldn't find a way to pressure him at all, and couldn't handle that fact. Quite fun to see him frustrated in the 2nd set due to Rafa's play (though I don't mind Dimitrov)."
One of Rafa's points from this match also became the "Hot Shot of the Day."
After the hard week - and weeks - Rafa has had, I guess it's not surprising that he ran out of steam for the final. It was another long, three-set match, which he lost to
Novak Djokovic
,
6-4, 3-6, 3-6
.
JLB posted
her thoughts on the final and the tournament:
"Firstly, I'm so, so proud of him. He fighted and fighted and fighted all the way through.

"As well as Djokovic played, I do feel Rafa was tired - so much time on court - and after it was over, he was doing some stretches by his chair. You don't see that often... I don't feel it was an injury - just tiredness in his muscles (and he hobbled a little getting off the podium). It was very obvious he wasn't running for some shots from the 2nd set on.

"Sad that it didn't end with a trophy bite, but he has made huge strides this week, and I do think he has rediscovered his thirst for the fight and as he says, the power inside.

"Rafa is Rafa is Rafa. He's accomplished some remarkable things - and he will do again."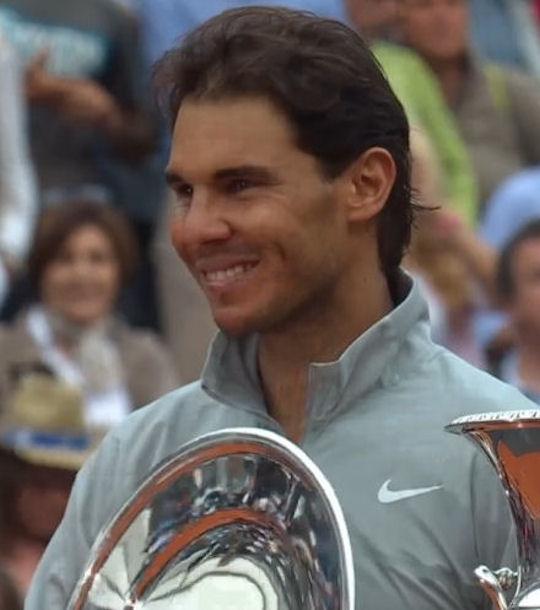 Screencap by elise
In
an article on the tournament website
, Rafa was quoted as saying,
"'Novak is one of the best in the world and is playing great. I played well at times, but my legs didn't answer after a tough week. I can do better, but I am also proud about this week.'

"Playing three sets in his opening [three matches] and then the final, Nadal admitted he was running on empty.

"There is no time for him to relax just yet though with Roland Garros around the corner.

"He added: 'I have to start to think about around Garros. My chances to play [well] there two weeks ago were not high, I will arrive there now better than what I felt a few weeks ago.'

"'This week in Rome was hard, emotionally, mentally and physically. But I will keep working hard like I have done all my career. I think this week was important for me, I win 600 hundred points, I played a final here which is a good result. I was able to compete good with one the best player of the moment, I played well against tough opponents like Andy Murray and Grigor Dimitrov.'

"'If you ask me about Paris, my feelings are better now than a week ago, playing the clay season every week was little bit better for me and now I hope to feel ready for that.'"
¡Enhorabuena, Rafa!