It is two years since Rafa last played here and it seems the organisers have rewarded him by speeding up the courts, making his half play second and giving him the draw from hell. Even the weather gods have conspired to make it so hot that it's likely the roof will be closed.
Before we all panic too much, here is a brief analysis of the players he could meet in the first week.
For round one he gets
Bernard Tomic
. Great. He is currently ranked 57 (down from his highest ranking of 27) and was the runner up in Sydney last week where he lost to Juan Martin Del Potro who is seeded to meet Rafa in the quarter finals.
They've only played once before, here in Australia in 2011.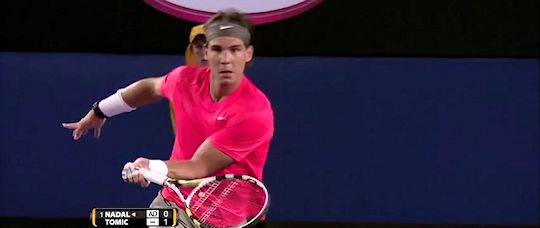 Screencap by MAC
This is what elise wrote about that match at the time:-
Round 3: Defeated Bernard Tomic, 6-2, 7-5, 6-3.

Although Rafa won the match in straight sets, it was not an easy win. Rafa was not serving well, sent several racquets out to be re-strung, and Tomic did not let him get into any kind of rhythm. Even so, Rafa broke in the third game. Rafa secured another break and held serve to take the first set in 44 minutes.

Rafa dropped his first two service games in the second set, and fought his way back from 0-4 down.

He had changed tactics; he came to the net more and he took some pace off his first serve to get more in. Serving at 4-2, Tomic double-faulted on breakpoint and they were back on serve. Rafa held serve after a 31-stroke rally that included just about every shot you could imagine and it was 4-4. Both players held their next service games but Rafa broke again as Tomic served at 5-5. Rafa held serve to close out the 55-minute emotional rollercoaster of a set.

Rafa seemed better at anticipating Tomic's unorthodox shots in the third set. He broke him straightaway and continued to come to net. (A swinging volley in the fourth game was particularly satisfying to see.)

After the fifth game, Rafa changed his shirt yet again. Both players held serve until Rafa broke as Tomic was serving to stay in the match. The match was over; the third set had taken 51 minutes.
Here are highlights of that match and a delightful interview with Jim Courier afterwards.
If he gets past Tomic then in round 2 he has either another Australian,
Thanasi Kokkinakis
, or
Igor Sijsling
of the Netherlands. Rafa has never played either of them.
Kokkinakis is ranked 570 in singles and is just 17 years old. He has only ever played one match on the main tour which was last week in Brisbane where he lost to Lleyton Hewitt. On paper, then, Sijsling is likely to come through their encounter.
He is ranked 73 and has been on the tour for 8 years. Last year he recorded wins against Raonic at Wimbledon, Kohlschreiber at Dusseldorf and Melzer at Roland Garros and took Tsonga to 3 sets at Queens. However, he has only ever won 4 grand slam matches and two ATP Masters matches in his entire career.
Assuming Rafa reaches the third round, he would then have to play one of the following,
Tobias Kamke
,
Jack Sock
,
Ryan Harrison
or
Gael Monfils
Rafa played Tobias Kamke for the first time last week in Doha. It was a tough match to watch as Kamke took Rafa to three sets but we would hope that a second encounter would be easier for Rafa if it comes to that.

Screencap by MAC
Jack Sock has only been on the tour for a couple of years and Rafa has yet to play him. He has never won a match in Australia and his best results at a grand slam have been at his home tournament, the US Open. It seems unlikely that he would be the man to come through this section of the draw.
Rafa played Ryan Harrison twice last year, beating him easily on the way to his titles in Indian Wells and the US Open. Predictably, for a first time encounter, their very first set went to a tiebreak but Rafa only conceded 10 games in the next four sets they played.

Screencap by MAC
On current form and ranking it is most likely that the player to win through this section of the draw is Gael Monfils. (I should point out that there were rumours during the week that Simon was likely to pull out which would mean a shuffling of the draw that would put
Julien Benneteau
into this slot. However, at time of writing this had not happened so I will carry on under the assumption that Monfils is still in this position.)
Rafa has played Monfils 11 times now. His only 2 losses came in previous years in Doha but Rafa turned that around in last week's final. Apart from those two losses and last week's final, Rafa has always been completely dominant. They've only played once at a grand slam which was the US Open in 2009. After losing the first set on a tiebreak Rafa took the next three, 6-3, 6-1, 6-3.

Screencap by MAC
The highlights of that match are worth viewing for old times' sake.
The scheduling means that it will be next Monday before Rafa's half of the draw plays their fourth round matches so I will stop here. It's anybody's guess who will be around in the last 16. If everything plays out according to seeding then Rafa will have to get through
Kei Nishikori
,
Juan Martin Del Potro
,
Andy Murray
and
Novak Djokovic
(in that order) to win the title. Fingers crossed.
¡Buena Suerte, Rafa!