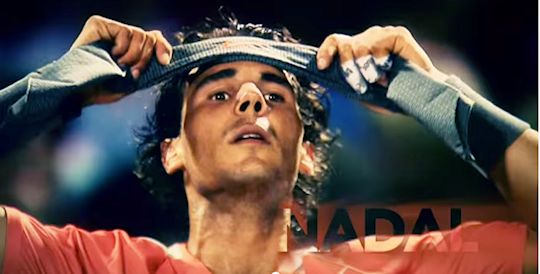 Screencap by MAC
Rafa started week two with a demolition of
Denis Istomin
,
6-1, 6-0
.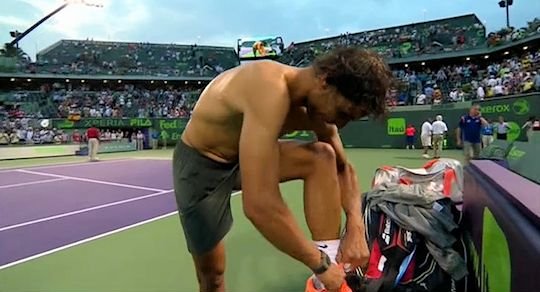 Screencap by elise
Transcript of the post match press conference from
ASAP Sports
.
Q. It was a very good match for you, obviously, finishing in just under an hour. How sharp did you feel out there?
RAFAEL NADAL: Good. I think I played a very complete match in general.
Q. Just talk about how well you played today.
RAFAEL NADAL: Yes, I think, as I said before, I played a very complete match. Talking about the things that you can do well in the tennis court, today I think I did the most ‑‑not every one because not match is perfect, but I did a lot of things very well. No mistakes, serving with good percentage, and playing a lot of winners.
My movements were better than what I did last event events. That's a very important thing for me. I am happy to be in that fourth round, winning not against an easy opponent like Istomin, a tough one, that way. It's impossible win with that result if I don't play well.
Q. If you could talk about your next opponent.
RAFAEL NADAL: He's an opponent, very uncomfortable opponent. He's an opponent that is playing great. He has an amazing talent. Great forehand, great backhand, especially the forehand, but he's able to hit winners from every part of the court.
So he's an opponent sometimes that can be unpredictable, and is difficult to play against these kind of players ‑ especially when they are playing well and Fognini is playing well.
I need to try to let him play with‑‑ if he wants to play, try to find the winners, and I need to try to let him play from not easy positions. If he's playing with comfortable positions will be very difficult for me.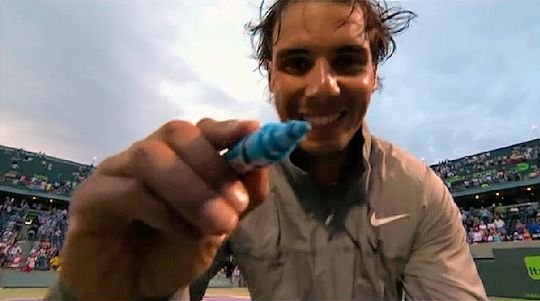 Screencap by elise
Here's the video of his press conference.
He next played
Fabio Fognini
, and thrashed him,
6-2, 6-2
.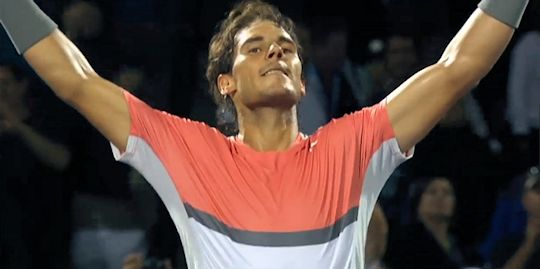 Screencap by elise
Transcript of the post match press conference from
ASAP Sports
.
Q. You'll need to get your ears fixed from all the noise on the court.
RAFAEL NADAL: First three matches I was able to find the right rhythm on court, playing aggressive, playing with no mistakes, so today was a little bit strange match.
I am sorry for Fabio. I think he felt a little bit, I don't know how to say, but he felt a little bit close to the hip, something from yesterday. So was not easy for him to play that match.
But anyway, I think I managed well the situation. The wind, it was hard tonight, and I was manage to do well. So I think I played the right match.
Q. With Fabio, the way he plays and he gets so animated, the arms and the racquets and all that, do you have to concentrate a little bit harder when you play somebody like him?
RAFAEL NADAL: As every day, you know, I have to try to find my rhythm, try to think about myself, what I have to do well, so I just try to be focused on what I really need to do to play well, no?
Then the opponent is free to do whatever. Tonight was not an easy match for him, for the conditions that I told you before.
So it was a little bit strange, but in general, I think I was very focused and solid with my serve. That's very important thing for me, my game, when I am playing on hard.
Q. Do you look ahead to playing Raonic in the next round?
RAFAEL NADAL: Yes, he's a very dangerous opponent, an opponent that you don't want to meet. His serve is huge, one of the best without any doubt, and he's able to play very aggressive on the return because he doesn't feel a lot of pressure on his return because he knows that he's very safe with his serve, no?
So I need to be very solid with my serve, very focused, try to move him around. That's the thing that I have to do, because he is able to play and in easy positions. His forehand is big, and it's true if I am able to move him then I can be a little bit an advantage.
Problem is sometimes it's very hard to move the opponent when the opponent wants to hit every ball hard, and especially when he starts the point with that serve.
Here's a hot shot from the match.
On court interview after the match.
Things got a lot tougher in his quarter final against
Milos Raonic
. Apparently, the wind did not help Rafa get much rhythm and it took three sets to get the better of him,
4-6, 6-2, 6-4
.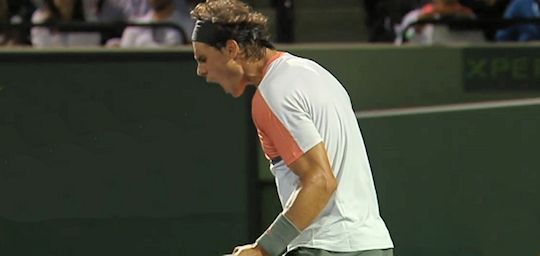 Screencap by elise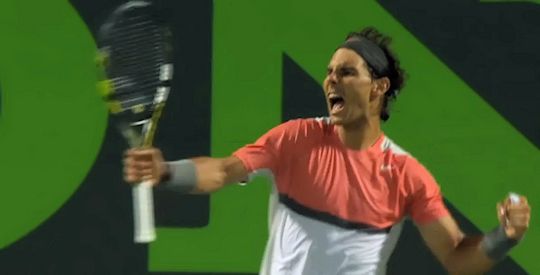 Screencap by elise
Some of his comments in the post match press conference from
ASAP Sports
.
Q. It must feel good getting through that kind of guy who gives you trouble with big serves.
RAFAEL NADAL: Yes. Thank you very much. It's a very important victory for me. Very hard to play against these kind of players, and especially when the match didn't start the way that you would like, because if I convert one of the opportunities that I had in that first set on the return, the match change completely, no? Because you are able to have the break, you play with more calm, play more aggressive.
But when you start losing opportunities, you feel that you gonna be in trouble, because one game he gonna play aggressive and you will be in his hands, and the next thing is that game arrived, and I had two double faults, important mistakes in that 5‑4.
Then I was lucky at the beginning of the second set I started with a break and was very important for me. I felt that I finished the match playing better.
I think I started the match playing okay, playing well but not playing well the break points, and then at the 2‑3 for him I think I started to play much better.
Q. Milos said you had a strategic and mental disposition better than he did. Did you feel that way?
RAFAEL NADAL: Very difficult to analyze that when the match decides on a few balls.
So today I won. He could won, too. So that's my feeling, you know. Then when you are playing these kind of matches against a player like Milos, that he's able to serve this way, anything can happen when you are in the third set.
So happened that the match was for me and very happy for that. For me to be in semifinals after early losing Indian Wells is very important for the confidence, very important because there is good points for me, too.
You know, from Indian Wells, Miami, until end of Roland Garros is very important part of the season for me.
This result is important, because the difference between quarterfinals and semifinals is a lot, and tomorrow I have another day to try to keep playing better.
Q. Milos, his serve, how tough is his serve to return? Is it the toughest on tour?
RAFAEL NADAL: I cannot say the toughest, because he's one of the toughest, sure. Isner is there, Karlovic is there.
When you're playing these kind of matches, you play under pressure. The good thing that Milos did today is he played better from the baseline than what he did, for example, two days ago. I saw his match on TV, and he was having much more mistakes than what he did today.
When you feel that the opponent has the serve that he has and he's able to play well from the baseline, playing some good rallies and going for the point with his forehand, so then you are in big trouble.
On court interview after the match.
He should have played Thomas Berdych in the semi-final, but he got a free pass to the final when Berdych withdrew before the match, citing gastro-enteritis.(Coincidentally, Djokovic's semi-final opponent, Kei Nishikori, also withdrew before their match, citing a groin strain.)
Pre-final press conference, following the withdrawls.
Q. Speaking about Novak, can you look ahead to playing him in the final? What are your thoughts?
RAFAEL NADAL: My thoughts are always the same. Only chance to win against Novak is play to the limit, play my best, and wait that he not gonna have his best day.
I will see. I know I have to be solid with my serve. I need to play aggressive, no doubt about that.
That's it. We are playing in a court that today probably is his favorite court. That's hard. He arrives to the final with goods confidence after winning in Indian Wells.
So that's fine. For me is very important result to be in the final of Miami, too, after Indian Wells be able to win the final and compete for the title in the tournament that I have a lot of friends, a lot of Latin crowd that support me a lot every day, and that's very important for me. To be in the final already are 600 points that for me, at this part of the season, are very important.
Unfortunately, it was not an off day for
Djokovic
and Rafa lost the final, 3-6, 3-6.
Still, Rafa gained 600 points in chalking up his fourth final of the year. (In case you've forgotten, he won two of those.)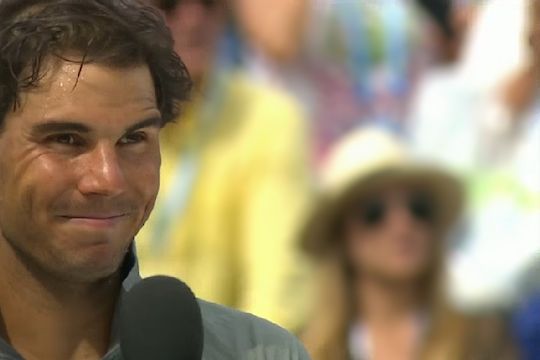 Screencap by elise
And now we move onto his beloved clay for the next couple of months.
¡Vamos!