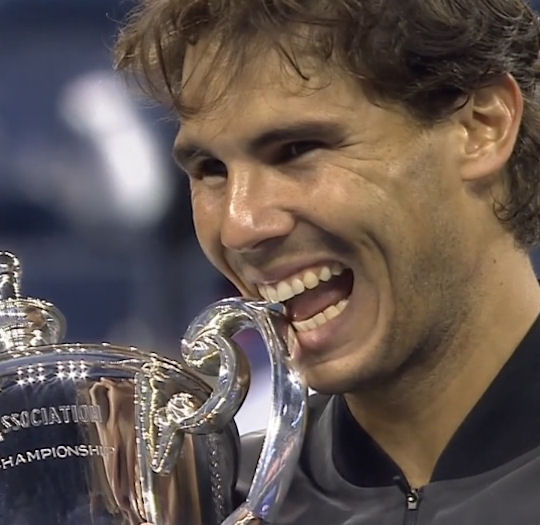 Screencap by elise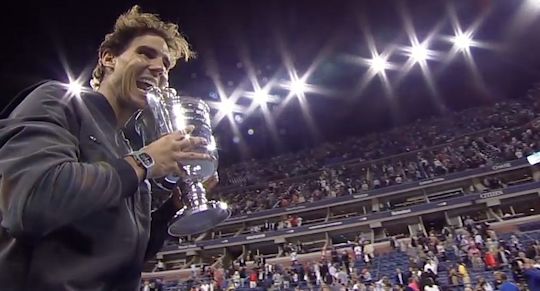 Screencap by elise
Week two started with Rafa's fourth round match against
Philipp Kohlschreiber
. It didn't start well. Despite continuing to hold serve, Rafa lost the first set on a tiebreak. But after that, normal service was resumed and he got better and better to record a
6-7(4), 6-4, 6-3, 6-1
win.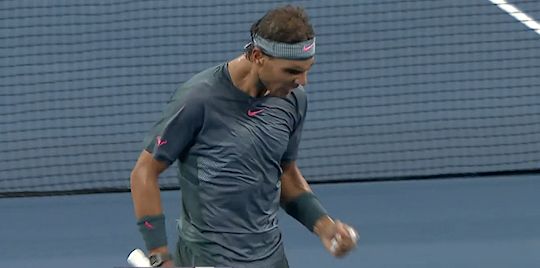 Screencap by MAC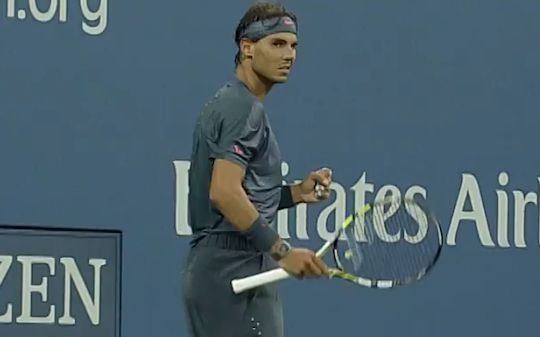 Screencap by MAC
Many journalists seemed to have missed the joke in this response from his post-match press conference:-
Q. To have not lost your serve all tournament is quite remarkable. What about your serve do you feel is working well? What are you pleased about the way your serve is going?
RAFA: My serve is working just amazing (smiling) (
actually I would have said that it was more of a snort laugh than a smile
). I think I didnít lose the serve because I played good points from the baseline. Today I didnít lose my serve because I was very lucky that Philipp had a big mistake with his smash in the first game of the fourth. Thatís why I didnít lose my serve. Anyways, is a good new. Four matches without losing the serve is great. I donít want to lie you. Happy for that. But I felt at the beginning today I didnít serve my best. But then in the next sets, I am very happy the way that I served. I was able to win a lot of points and I start a lot of points in a good position.
Full transcript
from Ubitennis.com.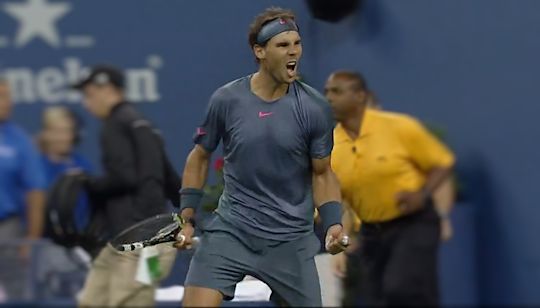 Screencap by MAC
He was denied his chance at a Roger Slam (i.e., beating Roger Federer at all four of the slams) when Federer got beaten by
Tommy Robredo
who then faced Rafa in the quarter finals. I have to admit to feeling rather confident about this one and for once I was right. It only took an hour and forty minutes for Rafa to dispense what can only be described as a drubbing,
6-0, 6-2, 6-2
.
Post match press conference
Full transcript
from Ubitennis.com.
The semi final saw him playing
Richard Gasquet
who had beaten the fourth seed, David Ferrer, in the quarter finals. This time my not being nervous was not quite such a good omen. It was all going according to plan until, shock horror, Rafa actually dropped serve for the first time since the Cincinnati semi final. He righted things in the tiebreak, however, and ran out the winner,
6-4, 7-6(1), 6-2
, in just under two and a half hours.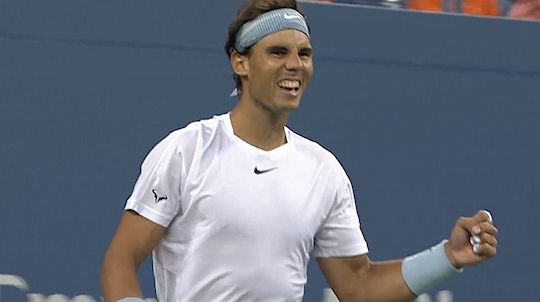 Screencap by MAC
Of course it was somehow inevitable that he would play
Novak Djokovic
for the title. It was also, in many ways, fitting and yet really, really scary for this Rafa fan. They'd met twice in the final here and honours were even - Rafa winning in 2010 and Djokovic in 2011. Djokovic had that scary run of 7 wins in 2011 but Rafa had arguably had the edge since then, winning 5 of their last 6 encounters.
The first set was encouraging with Rafa breaking serve twice without conceding one break point on his own serve. But then the tide turned and Djokovic went on an amazing tear when it seemed he could do nothing wrong. It looked pretty grim for Rafa in the third set when he went a break down. He fought well to get the break back but faced break points again at 4-4.
dafunk
summed it up perfectly:-
Here's the thing about that 3rd set: Djoker was playing out of his mind. He was hitting incredible shots, painting the lines, taking the ball impossibly early, and seeing the ball like a basketball. Tennis is a game of momentum swings, no doubt. The way it usually works, however, is that you can see early indications of the momentum changing and watch it unfold. That is not what happened tonight. Instead, Rafa basically just wrestled the momentum away from Djoker. He took it. Stole it. He had no business getting it back in that 3rd set when Djoker was in full control of the momentum, but there is no challenge Rafael Nadal will not rise to. I've never seen such a FORCED momentum shift before, in any sport. Rafa's determination and heart was on full display in that 3rd set. What a sight to behold.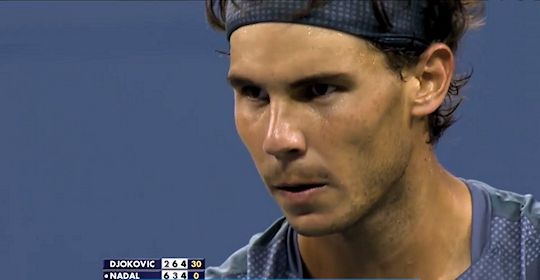 Once he'd wrested that third set from Djokovic's grasp, it was plain sailing in the fourth and Rafa broke twice to win the match,
6-2, 3-6, 6-4, 6-1
.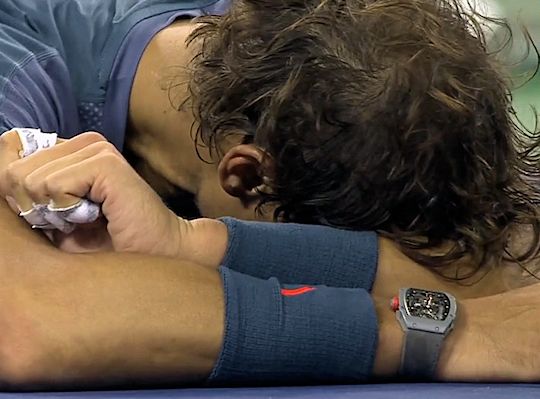 Screencap by elise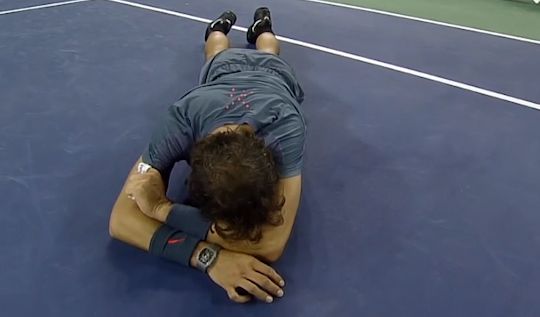 Screencap by elise
So that's 13 (count 'em) Slams in the bag putting him third on the all-time list.
It also gives him an amazing 22-0 record on hard courts this year.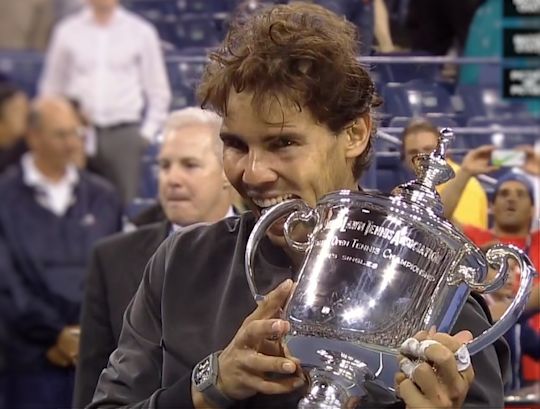 Screencap by elise
¡Enhorabuena, Rafa!