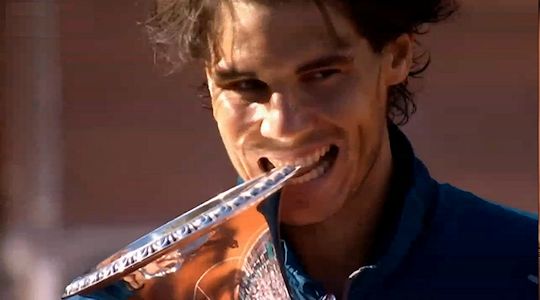 Screencap by elise
This is the last of the clay masters of the year and the last chance for Rafa to prove himself before Roland Garros. The draw was not kind but even the most pessimistic of fans (you know who you are) were not expecting
Fabio Fognini
to give Rafa a hard time in his first match, despite the fact that they'd never played before and it was going to be at night in front of what was assumed to be a partisan Italian crowd. Optimism was not unfounded. Although he dropped serve once (in the second set, of course) he broke 5 times to win the match,
6-1,6-3
, in sixty-one minutes.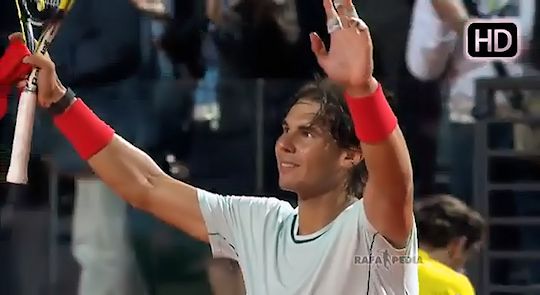 Screencap by MAC
Here are some highlights.
The
full match
has been uploaded to youtube by
TennisOnlineHD
.
His next opponent,
Ernests Gulbis
, was never going to be a pushover but I'm not sure we expected it to be quite so heart-stopping. It started off horribly reminiscent of the Monte Carlo final. Gulbis played near perfect tennis in the first set with 16 winners. His 6 aces meant Rafa never got a sniff of a break point. At 0-5, 0-30 down it looked like he was going to be bagelled but he fought back to get that one game in the first set.
Rafa finally broke to take a 5-3 lead in the second set but was broken back immediately. He broke again to make it 6-5 and then, mercifully, held to take the second set. (A tiebreak would not have been welcome.) In the third set Rafa broke for 4-2 but then got broken straight back. I don't expect many people had any nails left by the time Rafa finally broke again to take the match,
1-6, 7-5, 6-4
.
If you are feeling strong enough (and have two and three-quarter hours to spare) the
full match
has been uploaded to youtube by
TennisOnlineHD
.
Rafa's take on the match is as well thought out as usual.
For the quarter final he had to play
David Ferrer
again. As fans, we never relish these meetings but I am beginning to suspect that Ferrer relishes them even less.
The first set went to plan but then the inevitable second set slump set in (I would love it if Rafa could explain why this always seems to happen) and we were into a third set for the second time in two tournaments. The score makes it look like a bit of a walkover but Rafa had to save four break points so it wasn't that easy. Still, he finally won the match,
6-4, 4-6, 6-2
.
Here are the highlights. You'll need to set aside another two and three-quarter hours to watch the
full match
uploaded to youtube by
TennisOnlineHD
.
I, for one, will always be grateful to
Tomas Berdych
for taking out Novak Djokovic in their quarter final and thus sparing us from what would undoubtedly been yet another nail-biter. Berdych hadn't beaten Rafa since that infamous indoor match in Madrid in 2006 and Rafa wasn't about to let things change. The semi-final turned out to be Rafa's best match of the tournament (nay even the year) to date. He was just brilliant in the first set, breaking serve in the opening game and only dropping one point in the entire set on his own serve. Even the drop off in intensity in the second didn't prevent him taking the match in straight sets,
6-2, 6-4
.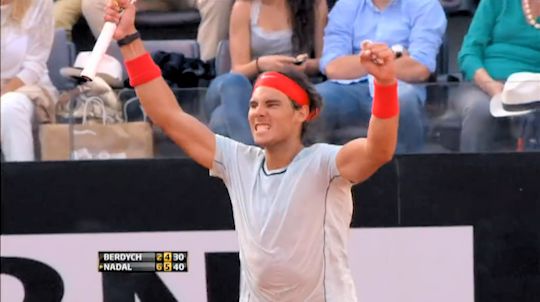 Screencap by MAC
You'll only need an hour and twenty minutes to watch the
full match
uploaded to youtube by
TennisOnlineHD
.
So now we were in the familiar territory of a final against
Roger Federer
. Rafa had won 13 of them (10 on clay) and lost just 6 (2 on clay) so we had reason to be cheerful. Once again, we were right. Rafa positively stormed through the first set, breaking Federer's serve three times and only dropping two points on his own serve. He was poised to win for the loss of only two games in total when he lost focus and dropped serve. It was only prolonging the inevitable, though, and he didn't falter at his second attempt. Final score,
6-1, 6-3
.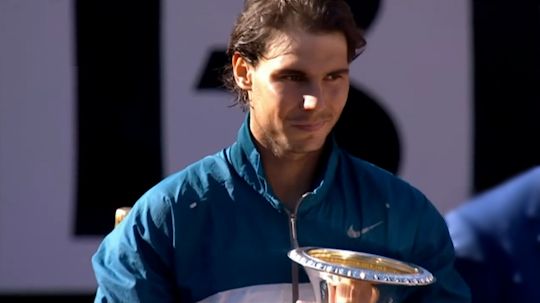 Screencap by elise
That now gives him
his 7th title in Rome (the most of any player),
his 6th title of the year (taking him to number 1 in the race),
his 24th ATP Masters title (3 ahead of his nearest rival),
his 41st clay title (moving him up to number 2 in the all-time list)
and his 56th ATP title.
It also moves him back up to number 4 in the ATP World Rankings and ensures that he'll be seeded at least number 4 for Roland Garros.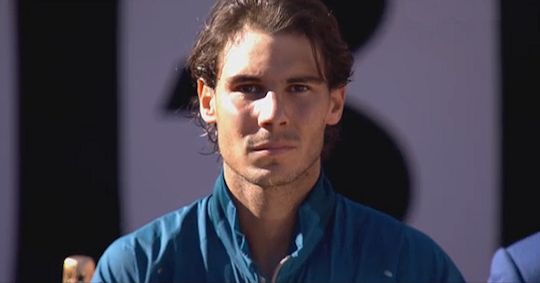 Screencap by MAC
¡Enhorabuena, Rafa!