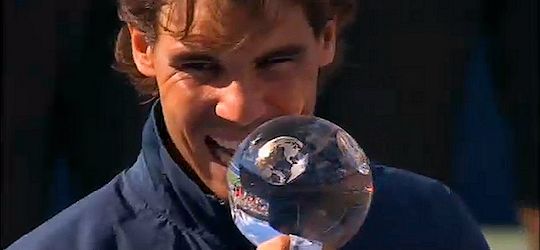 Screencap by MAC
Way back in 2005, Rafa won his first hard court ATP Masters tournament here in Montreal in what he called "one of the best finals I have played in my career". This year he arrived after a seven week lay-off so hit the practice courts as often as possible, watched by our intrepid members, ladydks, anacanada and holina.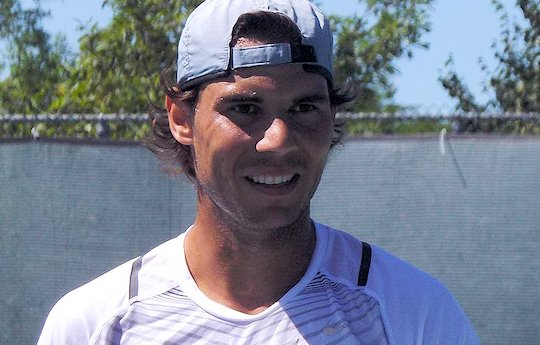 ©ladydks for vamosbrigade.com
A rare shot of Rafa playing in sunglasses. He borrowed them from Rafael Maymo to practise a few overheads.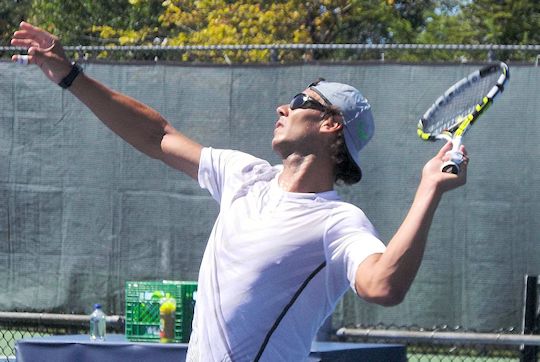 ©ladydks for vamosbrigade.com
He and Francisco Roig appear to be trying out a dance move here.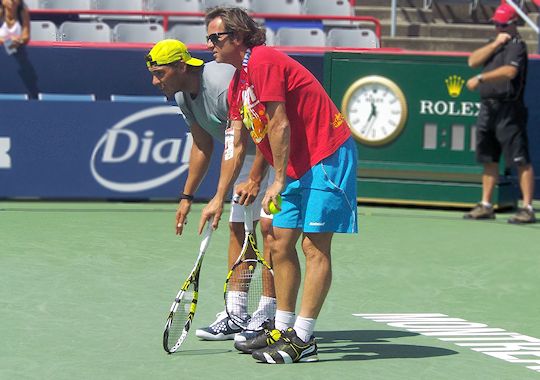 ©ladydks for vamosbrigade.com
This video of him practising with Stanislas Wawrinka shows the intensity he employs at every practice session.
©ladydks for vamosbrigade.com
Such was the demand for autographs that he even had to sign stuff in the rain.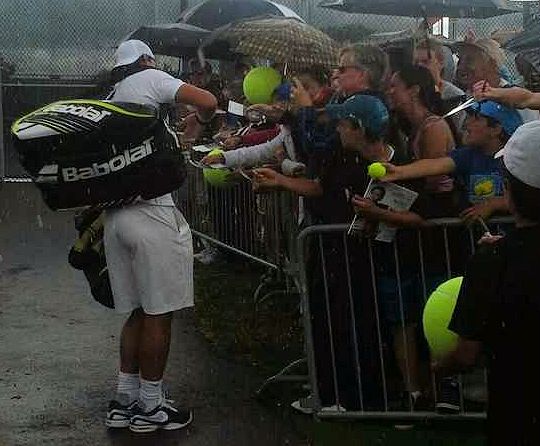 ©anacanada for vamosbrigade.com
Our first sight of him on court came in the doubles. Luckily, mamasue spotted a link to a livestream on Twitter so we were all able to watch most of this match. He was partnered by Pablo Andujar and they beat David Ferrer and Feliciano Lopez, 6-7(2), 6-1, 12-10. They pulled out before their second round match.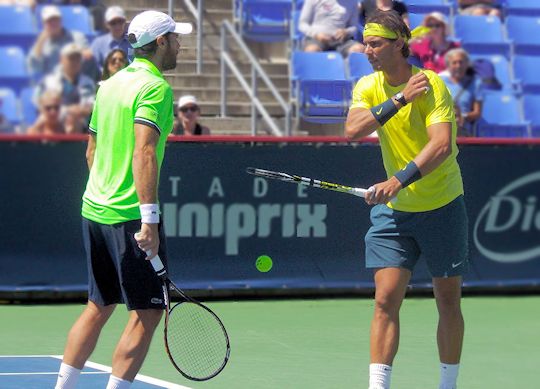 ©ladydks for vamosbrigade.com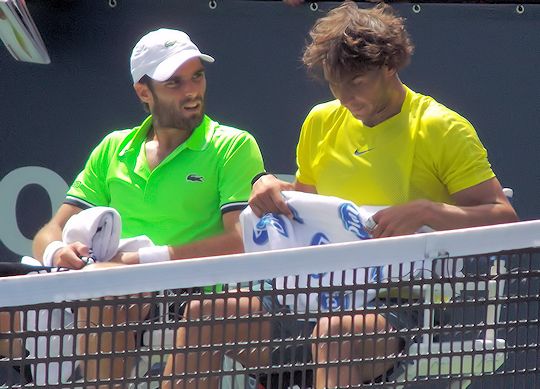 ©ladydks for vamosbrigade.com
Here are some highlights.
His first opponent in singles was
Jesse Levine
, formerly American and now playing for Canada. One might be tempted to say that he didn't break sweat in beating him,
6-2, 6-0
, but these pictures tell a different story.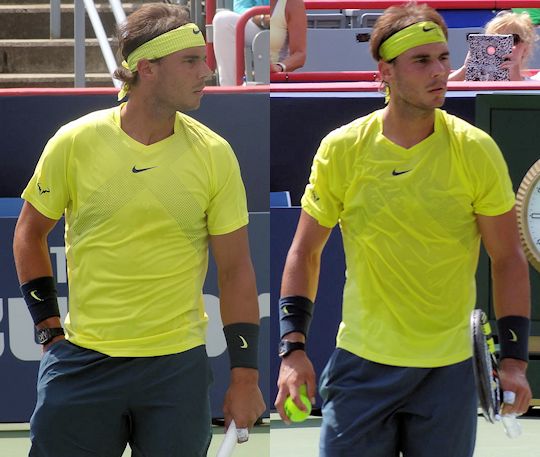 ©Holina for vamosbrigade.com
Interviewed afterwards, he said,
"
Pleased about the victory, first thing. After seven weeks without playing a match, starting in a very tough tournament like Masters 1000 in Montréal, fast court, be through in the second round, it's a good new. Third round, is a great new. That is the first thing.
"The conditions out there today was very difficult. A lot of windy. Very difficult to play. I have to be proud and happy about the way that I played.
"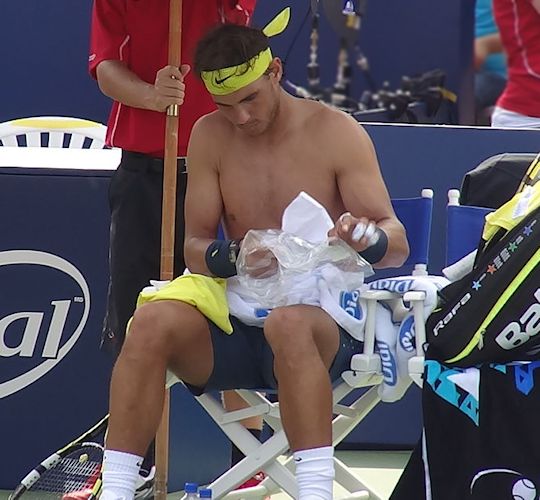 ©holina for vamosbrigade.com
Brief highlights, including some gratuitous shirtlessness at the end...
...and the post match interview.
It was the next match that those of a nervous disposition were worried about as he was playing the much vaunted
Jerzy Janowicz
for the first time.
It was a tight first set which, after a trade of breaks, culminated in a tiebreak which Rafa won after going 2-5 down in points.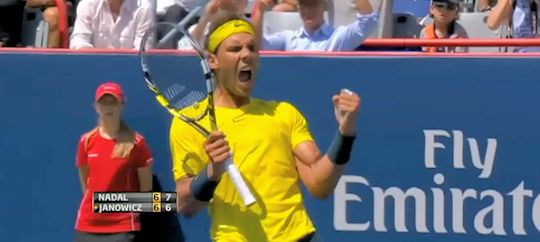 Screencap by MAC
Despite going 0-3 down in the second set, Rafa managed to turn things round and was able to win the match,
7-6(6), 6-4
.
Afterwards, Rafa said that "
almost everything
" about Janowicz was tough. "
His serve is huge. His forehand and backhand can be very dangerous. When he plays with a little bit of regular shots, he will become a very difficult player to beat. He is today. But I felt today he played a little bit more up and down. If he is able to maintain the right level during whole match will be, you know, a player that will be in the very top positions.
"
No wonder that he looked so pleased to have won.

Screencaps by MAC
He looked very relaxed in his post-match interview.
Despite being his first night match, the quarter final against
Marinko Matosevic
was never likely to be as complicated. They had played before, so Rafa knew what to expect. He dispatched him with relative ease,
6-2, 6-4
.
Here's a classic Rafa shot from that match.
In his post match interview they were interested in how he felt about facing
Novak Djokovic
in the semi final.
I have to admit that he was a lot more calm about it than I was.
Rafa hadn't played him on a hard court since the Australian Open in 2012 and you have to go back to the World Tour Finals in 2010 for Rafa's last hard court victory against him.
Once again, it was a classic, going the full distance to a third set tiebreak.
Rafa was justifiably thrilled with his
6-4, 3-6, 7-6(2)
win.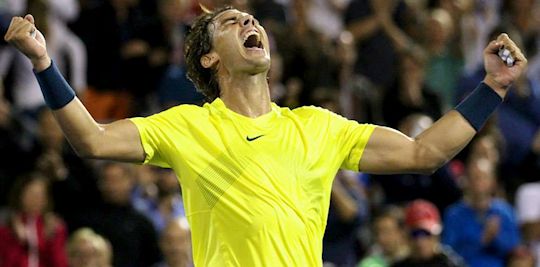 On court interview.
Many people felt that was the "real" final and, as it turned out, the final itself was something of a formality.
In just an hour and 8 minutes, Rafa beat
Milos Raonic
in straight sets,
6-2, 6-2
.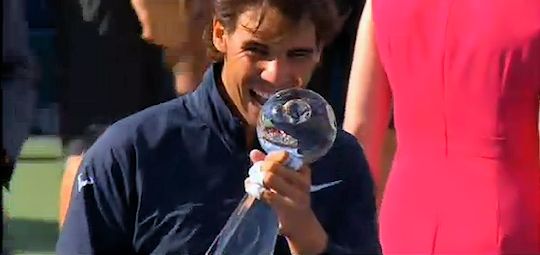 Screencap by MAC
So that's his 8th title of the year (out of 11 tournaments), 25th ATP Masters 1000 title and 58th career title.
His win loss record for 2013 is an astonishing 48-3 and on hard courts it's 10-0.
¡Enhorabuena, Rafa!