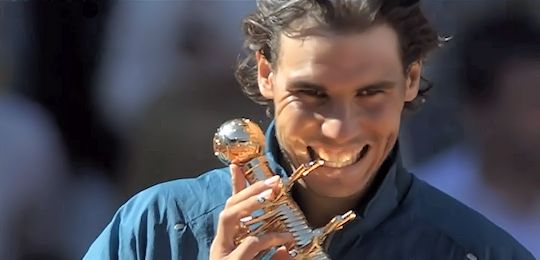 Screencap by elise
The ATP Masters tournament in Madrid has always been a bit up and down for Rafa. Originally it was an indoor hard court tournament in the second half of the year. Rafa's first two appearances were not exactly covered in glory but in 2005 he won an epic final which then took him out for the rest of the year. Then it was two quarter finals and a semi final. When it replaced Hamburg as the third clay masters in 2009 we had high hopes but the newly laid clay at the high altitude didn't help his game and he lost in the final. He came back the next year and reversed the result despite the surface still not being ideal. In 2011 it was one of the finals he lost to Djokovic and last year it was the ill-conceived blue clay that caused him problems.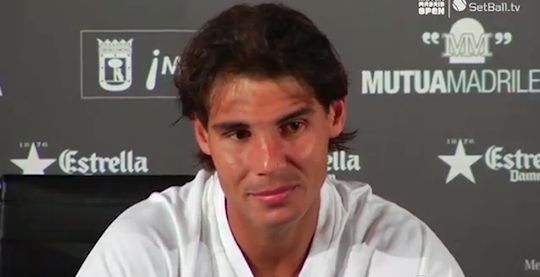 Screencap by MAC
This year they decided to lay permanent clay courts. In his pre-tournament press conference Rafa said, "
The courts this year fortunately are really good. I think they are great. The only thing I can say is thank you to the tournament for the money that they have invested to have the highest quality courts in here. I think this year we have managed to have good clay here. It's great, and the courts are to the highest level. The courts cannot be better. So I think from the side of the players we can only say thank you. I think that the audience will also say thank you for that
".
Here's an interview posted on the ATP website.
His first match was against
Benoit Paire
who had given him a fairly tough match in their first meeting a couple of weeks ago in Barcelona. We were expecting the same again but it was much easier this time. (Sort of proving my theory that Rafa is always better when he has played an opponent before.) He only faced one break point but got seven in all against Paire. He only needed to convert two of those to come out the winner,
6-3, 6-4
.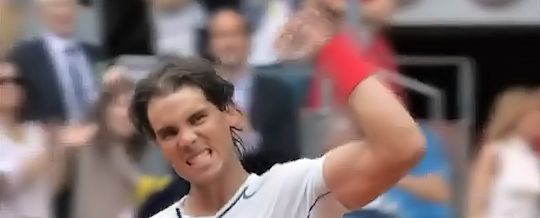 Screencap by MAC
Rafa said afterwards, "
That's an important victory today. Each match in this kind of tournament is very demanding from the first round. He was a very uncomfortable opponent. He makes you play quite badly. He doesn't give you any rhythm. He has one of the best backhands in the circuit, without any doubt
".
Here's a video summary. The
full match
has been uploaded to youtube by
TennisOnlineHD
.
Mikhail Youzhny
beat Nicolas Almagro to become Rafa's next opponent. All the press reports say Rafa "cruised" past him to win,
6-2, 6-3
and thus improve on last year's result.
Here's the on-court interview post-match (including some highlights on split-screen, plus Rafa showing a 'yeah-yeah' thumbs-up to umpire Cedric Mourier telling him during a changeover he's being slow between points).
The
full match
has been uploaded to youtube by
TennisOnlineHD
.
The quarter final was the only match of the week where Rafa faced his seeded opponent - in this case
David Ferrer
. It looked like Rafa would be heading straight to Rome when Ferrer took the first set (the first time since 2008 that he'd taken a set off Rafa on clay) and then went a break up in the second. He fought back as only Rafa can and got the break back. An amazing lob and overhead combination prevented him going match point down at 5-6 and he held on to even things up by taking the second set tie-break.
This shot indicates how fired up he was for the decider.
It was plain sailing after that and after nearly three hours he came out on top,
4-6, 7-6(3), 6-0
.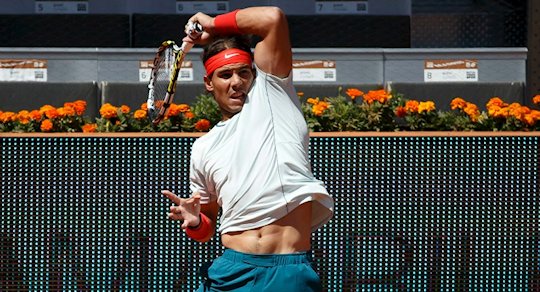 He said afterwards, "
To win matches like today is always important. For me physically these matches help me [as] these are the kind of matches that ask the most of you physically
".
Here's the on-court interview with highlights.
The
full match
has been uploaded to youtube by
TennisOnlineHD
.
On paper the semi final looked to be easy. After all, where is
Pablo Andujar
in the rankings? But then I remembered how close each set had been when they'd first met at Roland Garros a couple of years ago. This time, Rafa took just 27 minutes to win the first set. The second set was more of a fight and Rafa had to save three break points in the sixth game. Rafa won,
6-0, 6-4
and could then rest while he waited to find out his opponent in the final.
Here's a video summary. The
full match
has been uploaded to youtube by
TennisOnlineHD
.
So it was
Stanislas Wawrinka
who he faced in the final. In eight previous meetings Wawrinka has never managed to get a set off Rafa (though he has pushed him to tiebreaks on hard courts). He still hasn't. Rafa served beautifully (he only lost seven points on serve in the entire match) and dominated from the first point. It took him just 71 minutes to win the match,
6-2, 6-4
.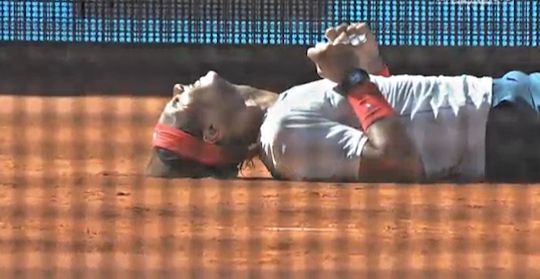 Screencap by MAC
That gives him
his 3rd title in Madrid,
his 5th title of the year,
his 23rd ATP Masters title,
his 40th clay title
and his 55th ATP title.
¡Enhorabuena, Rafa!