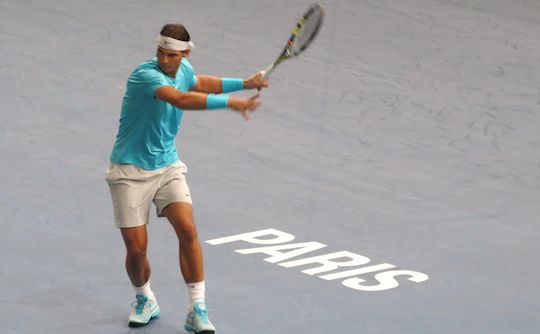 ©MAC for vamosbrigade.com
It's been a while since Rafa last played in Paris so jen and I made a last minute decision to pop across La Manche to give him our support. We were concerned that he's not previously been much of a favourite in the French capital and wanted to ensure that there would be at least two people cheering him on. We needn't have worried as his reception there was as warm as anywhere else in the world and there were as many shouts of "Rafa" as there were for either of the opponents we saw.
We were quite pleased that his first opponent was
Marcel Granollers
since, on paper, he should be an easy opponent for Rafa. Of course, it didn't quite pan out like that. Granollers played as well as I've even seen him play and the speed of the court meant that break points were hard to come by.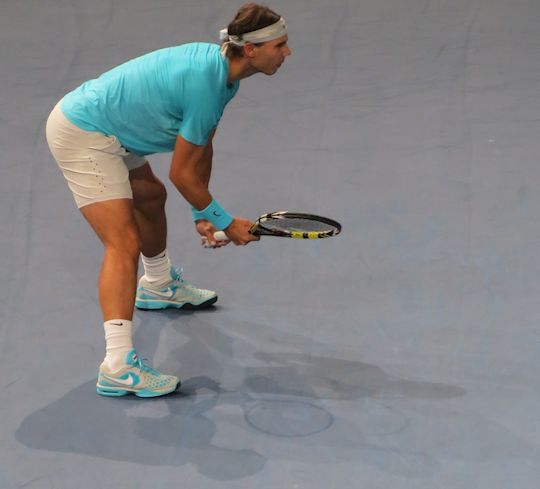 ©MAC for vamosbrigade.com
Luckily, they were even harder to come by for Granollers so both sets went right up to the last gasp before a tiebreak. (We'd seen five tiebreaks in three matches by this point in the tournament so were not hopeful.) For the sake of our nerves, though, Rafa broke in the eleventh game of each set and came out the winner,
7-5, 7-5
, in an hour and forty two minutes.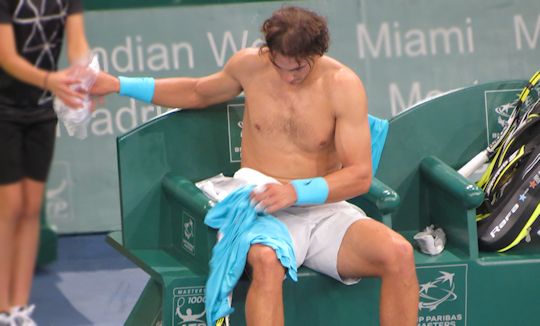 ©MAC for vamosbrigade.com
The next evening he was playing
Jerzy Janowicz
so we were not exactly with colm for that. It had been close when they'd first played in Canada and we knew the conditions would favour Janowicz's huge serve. For the first few games all our fears were realised. The monster serves were hammering past Rafa and Janowicz was holding his service games in a manner that hinted a tiebreak was inevitable. (Looking at the stats afterwards, we were astonished to see that he'd actually served only eight aces. It seemed like at least double that, but maybe Rafa managed to get his racquet to the rest of them, albeit to little avail.)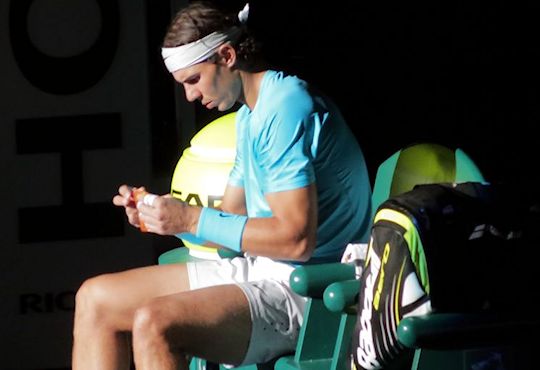 ©MAC for vamosbrigade.com
The break, when it came, took us completely by surprise so we were thrilled when Rafa held on to take the set. It seemed like Janowicz had lost the will when Rafa broke him in the opening game of the second set but we had reckoned without Rafa's ability to make us suffer and he promptly dropped serve. It was a very tough second set to sit through when you just want things to be easy. Rafa struggled through all but one of his service games. The stats tell me that Rafa saved six out of seven break points in the second set but again, it seemed like a lot more than that at the time. I think the last game, alone, took a couple of years off my life. Luckily, the crowd, although divided, did show a huge amount of support for Rafa so ours weren't the only voices shouting "Vamos!". All was well in the end and Rafa won the match,
7-5, 6-4
.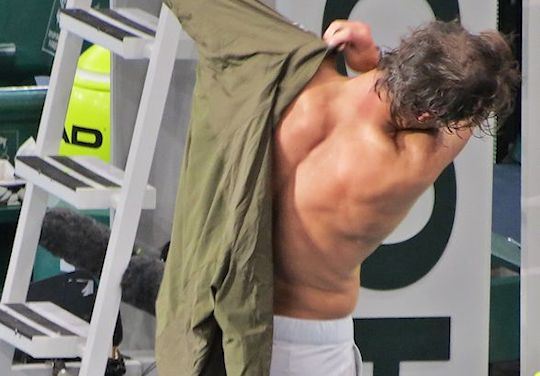 ©MAC for vamosbrigade.com
We left Paris after that so could only watch his
6-4, 6-1
demolition of
Richard Gasquet
on TV, which was a shame. We were less sorry that we hadn't got tickets for the entire tournament, though, when he lost his semi final to
David Ferrer
,
3-6, 5-7
.
Good luck in the World Tour Finals, Rafa