While some of us were still wending our way home from witnessing Rafa's triumph in Monte Carlo, Rafa was already out hitting practice balls in Barcelona.
He played his first match on Wednesday, before TV coverage outside Spain had started. Squinting at a dodgy livestream we watched him beat
Guillermo Garcia-Lopez
, in straight sets,
6-1, 6-2
.
Here are the highlights.
In round three he faced qualifier
Robert Farah
for the first time. No problems for Rafa to defeat him in another straight sets match,
6-2, 6-3
.
This was a particularly impressive shot from that match.
In the quarter final, Rafa was up against
Janko Tipsarevic
. Surprisingly, he'd only played him twice before. The first time was in 2007 in the US Open and the second on clay in the Davis Cup in 2009. Despite an improved ranking, Tipsarevic didn't add much to his total of 10 games won against Rafa by losing in straight sets,
6-2, 6-2
.
His semi final opponent was
Fernando Verdasco
, a player who had not managed to beat him in the previous 12 attempts. On clay, Verdasco had never even taken a set and it was no different this time. Rafa won easily,
6-0, 6-4
.
As befitting a final, it was a much tougher match against
David Ferrer
. Rafa faced set points against him in the first set but held out for a tiebreak which he swept though for the loss of only 1 point. There was an exchange of breaks in the second set but Rafa took the break in the last game to record a
7-6(1), 7-5
win. This makes him the first player in the open era to win two tournaments at least 7 times.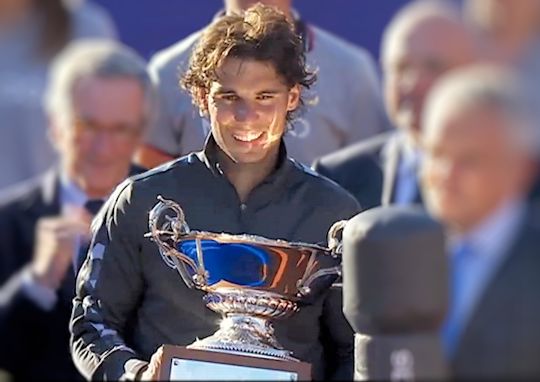 Screencap by elise
¡Enhorabuena, Rafa!