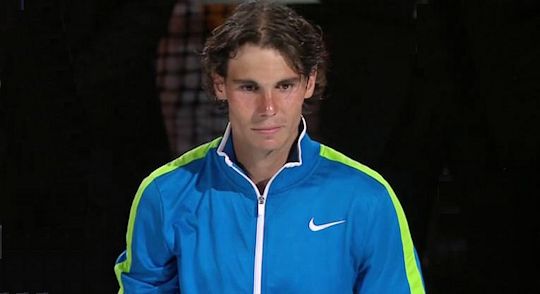 Screencap by elise
Considering Rafa's fears for his knee on the day before the tournament started, we were very pleased that he'd defended last year's points and made into the second week. Now he was up against both
Tomas Berdych
and the "Quarter Final Curse" which had seen him lose with injuries at this stage in the last two years.
The match was characterised by some extremely dodgy line calls (and some dubious umpiring decisions). After a nervous start, Rafa got better and better as time went on and prevailed,
6-7(5), 7-6(6), 6-4, 6-3
.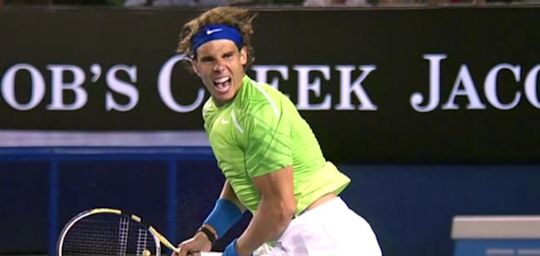 Screencap by elise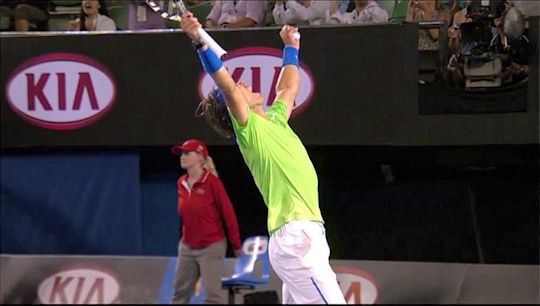 Screencap by elise
"At the beginning wasn't exceptional for me but I think the level of the third and fourth set for me was very, very high, top level for myself playing on these courts. Very happy about how I finished the match. I think I finished playing at very, very high level.

"The first set especially I felt that I started the match too nervous, no? I wasn't able to hit the ball long. My movements weren't enough strong, enough fast. It's true is difficult against a player like him, because you don't have chances on return. He hit the ball very, very hard and very flat. Very difficult to find the rhythm.

"But I had to do it a little bit earlier, no? I was a little bit unlucky at the end of the first set. I was lucky with the 5-4. I saved that three points, four set points. But I was unlucky with the 5 all, because I believe that ball was out. The umpire was right. I didn't discuss with the umpire his decision, because I know that if we had the rule book and we read how the rule is, he's right. But I am not happy. They are there to make something, not just to call 15 all or 15-30 all the match. That's the only thing I'm unhappy about. The rest, I know he's right. I came back to the middle. But, you know, is natural act, because in the 5 all, seriously I saw the ball out, and I believed that the line called something. For sure wasn't like this, but that is what I believe at that moment and I stopped.

"But anyway, very happy with anything. Semifinals is fantastic result for me. Start the season with semifinals in the first big tournament of the season is very good news. The level is very positive, much, much better than the end of the season. The character on court, the way to win the points, everything was much more positive, so I'm very happy.

"For the rest, I felt it was really important match for me, because quarters to semis is a big chance. You start with very good feeling the season. You know, quarterfinals is not a bad result, but at the same time is not a good one, no? Semifinals is a good one. Is start of season being in the four best of the first important tournament of the season. So is very good way to start the season.

"That's why maybe I start the season a little bit nervous, and that's human. That's what it is. But the attitude was positive, because was the right one to overcome the situation. I did, and finally I think I finished the match playing at one of my best - fourth set was one of my best levels on this kind of surface, returning inside the court, making a lot of winners from with the first ball, the return, having serve, and winner. So that's something that I really miss a little bit, especially second part of the season last year. The first part of the season was positive, but winning with a different way, not that way.

"So most important thing too is the character. How I acted on court was completely the right one tonight. For moments at the second half of the season last year wasn't. Was not the perfect one. Today was the perfect one.

"Sometimes the things didn't work as good as you would like, but that's the sport. I will try from the beginning if happens the same than tonight. So I will keep fighting with positive attitude, and the normal thing is lose. But if I play like the third or fourth set, hopefully I will have my, you know, my chances.

"But for me, the most important thing I had the calm. The feeling of the level of my game during all the tournament was really satisfying. Even if I lose, I come back home with very positive feeling about how I played, and for sure the result is good.

"For me, semifinals after two years with troubles, injuries, is, you know, I must be happy for that.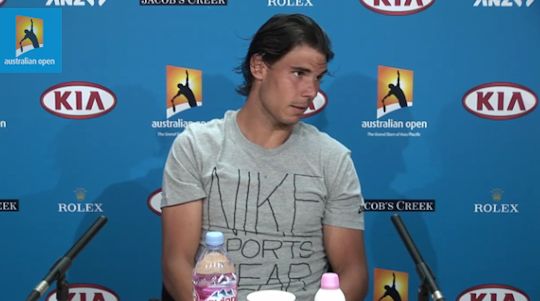 Screencap by MAC
The semi final was number 28 in the series of matches against
Roger Federer
. Many of the pundits predicted that Rafa would lose since Federer had been playing so well in the tournament. In the first set it looked like they might be right but for the fifth straight time at a grand slam it was Federer licking his wounds as Rafa romped home to win,
6-7(5), 6-2, 7-6(5), 6-4
.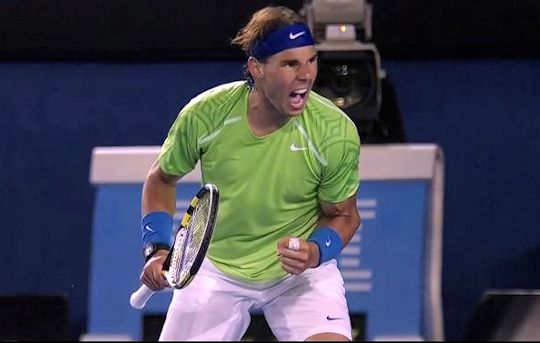 Screencap by elise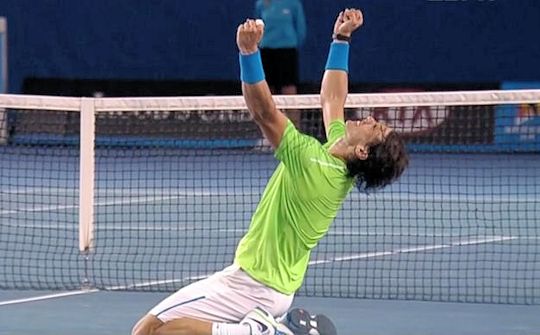 Screencap by elise
"Well, I think he started playing aggressive, very, very high level at the beginning of the match. Always you can do a little bit more, no? But I really felt that when he plays like this, it's almost impossible to rise there to that level, no?

"But after the first three games I started to have the chance to hit balls, to play with a little bit with my rhythm, so I started to hit a few good forehands so I felt that the point stays. So before one shot winner, another shot winner, so almost impossible for me, no? After that moment I felt that the level start to be closer and closer. I had the break in the 4-2, and for the rest of the set I think anything can happen.

"I felt at the end of the first set that my level was there, close to him. For moments I felt dominant at the end of the first set. That gives me confidence. You know, finally I lost the set, but even the first game of the second that he had the break he was playing with the wind in his favor, so he played fantastic game, first game of the second. But that moment was a little bit more calm, because in just the first game of the second set I felt that I had chances on my returned, too. So was very important to have break back in the next game.

"But in general, after that I think I started to play aggressive. I started to play my game finally. I had the chance to move him a little bit more. Open the court from his forehand after changing to his backhand. I didn't play as I played hundreds of times against him. I didn't play all the time against his backhand like I did a lot of times. Today I think I played more normal match, playing in his backhand, playing in his forehand, too.

"What give me more calm is I play best of five. I play not indoor. I play outdoors. That's always a little bit more advantage for me, because when you play indoor, when you play best of three, he plays aggressive. Is very difficult to come back when he start like this, no? Playing best of five outdoor, you normally have more time to do things and to try to find solutions and on the problem that he's causing, no?

"So in general, I am happy about how I did. I think I played a good match with some mistakes, as usual. But I tried to play aggressive with my forehand, trying to hit winners with my forehand. I did for moments. For moments I had few mistakes with the backhand. But I am trying with the backhand to not go behind the baseline, to stay in the baseline, to hit the ball earlier than before. That's something that I am working on and something that we believe that I have to keep improving, to don't lose court, to play more inside. It's working well.

"I am very happy about my result on these two weeks. I did much better than what I thought, what I dreamed for three weeks ago. So very happy for everything. It's a fantastic victory for me. Very, very happy playing against the greatest of the history in semifinals, big match on Rod Laver.

"It's one of the victories that's gonna stay in my mind forever, no? It's a fantastic way to start the season. Very happy for everything."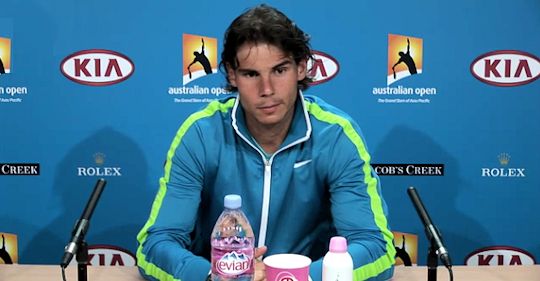 Screencap by MAC
I have to admit to being gutted about the final result. I really thought he could do it, despite what the rest of the world said, but it wasn't to be and he lost to
Novak Djokovic
,
7-5, 4-6, 2-6, 7-6(5), 5-7
.
The good news is that he fought to the end and that is as much as we can ask of him.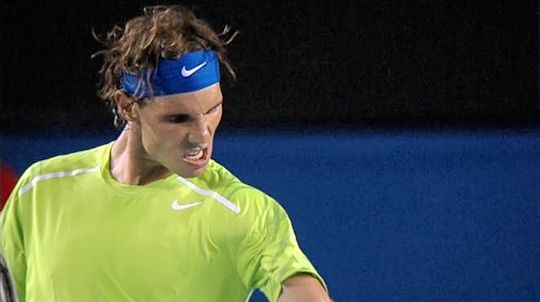 Screencap by elise
"Physically was the toughest match I ever played, if not the tougher. I am tired.

"Just accept. I think we played a great tennis match. It was I think a very good show, my opinion. I enjoyed being part of this event and this match. That's the true, no?

"I wanted to win, but I am happy about how I did. I had my chances against the best player of the world today. I played one against one. For a long time I didn't felt that I was playing in less advantage than him, you know. I didn't play at lower level than him for a long time, so that's a very positive thing for me. I am very happy about my mentality tonight, the mentality worked like in my best moments.

"So very happy about the beginning of the 2012 season. That's all that I can say.

"Important thing for me, during all 2011 I didn't play much like this. I'm happy I am in the real right way.

"So very happy for everything. Very happy with my level during both weeks. Is the moment when I realize the whole tournament did I well. I did a lot of very positive things, much more than in 2011 for the most of the time.

"I played more aggressive. I played with more winners than ever. My serve worked well. The mentality and the passion was there another time better than probably never another time.

"So that's very positive aspects on whole game that I am very happy, no? So I just lost the final of a Grand Slam. I am not happy to lose the final, yes, but that's one of the loses that I am more happy in my career.

"But that's nice be there fighting, you know, trying to go to the limit, bring your body to the limit of his chances. Something I really enjoy, and I always said is good suffer, enjoy, enjoy suffering, no?

"So when you are fit, when you are, you know, with passion for the game, when you are ready to compete, you are able to suffer and enjoy suffering, no?

"I don't know if I express very well, but is something that maybe you understand. So today I had this feeling, and is a really good one. I enjoyed. I suffered during the match, but I enjoyed all the troubles that I had during all the match.

"I enjoyed. I tried to be there, to find solutions all the time. I played a lot with my heart. I played a lot with my mind, and is something that is nice to be around and not just play tennis."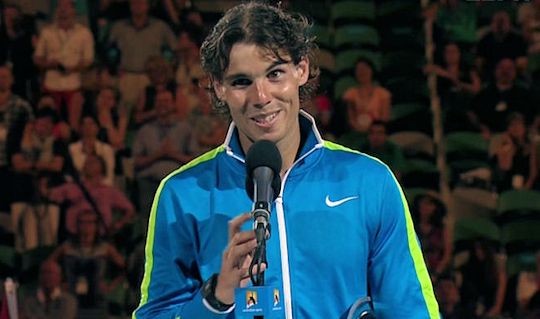 Screencap by elise
As he said, himself, after his semi final win -
"Start the season with the final here is a fantastic start, and that's give me a lot of confidence. That's give me a lot of calm. At the same time, that's give me confidence about how I working. That's a lot of points for me. It's a fantastic way to start the season.

"If the opponents play better than me and he beat me, I gonna go home very happy about my tournament. I gonna go home knowing that the way that I am working is working very well, and keep working on this way. Probably this way give me a good success in the next months."
Vamos, Rafa!
See you in Indian Wells!