The last 5 weeks have been a bit of a whirl. Once again, Rafa won two ATP Masters and a 500. Considering he'd only played two Davis Cup matches since retiring injured from the Australian Open in January, that's quite an achievement.
Monte Carlo Rolex Masters
La Undécima Number One
Embed from Getty Images
When I first went to Monte Carlo in 2006 Rafa was the defending champion. I had no expectation of seeing him win again. After all, defending a title wasn't that common. Twelve years later and he's won his eleventh title there. And he won it emphatically without dropping a set - the fifth time he's achieved that in Monte Carlo. In fact he never lost more than 5 games in any match - something he hadn't achieved here before. His total of 21 games lost is second only to the astonishing 14 games lost in 2010.
It wasn't as if he had no competition. He had to beat two top 10 players,
Dominic Thiem
and
Grigor Dimitrov
, just to reach the final.
Embed from Getty Images
After the final he was asked how he kept going after 11 titles here, 31 Masters and 76 career titles.
This is his response -
"Well, I always repeat the same. My true feeling is these kind of things not going to happen forever, so just try to enjoy and to play with the full passion and with the full energy and concentration, full love for the sport until I can. That's it.

"I know the day to say good-bye is closer than 10 years ago. Is something that I am not worried about, but is a real thing. So just enjoying every day and trying to play with the best attitude possible, to keep being happy playing tennis, no? That's all. "Yeah, of course is a special day for me. Winning again this title here in Monte-Carlo means a lot, especially because is the first tournament in the year that I finished. Have the victory in a Masters 1000, especially in Monte-Carlo, that for me is, yeah, one of the most important ones in terms of personal feeling and in terms of history of our sport.

"Very excited and very happy for everything."
Barcelona Open Banc Sabadell
La Undécima Number Two
Embed from Getty Images
Rafa has only lost here three times. That's 3 lost matches against 58 he's won. Once again, he won the title without dropping a set. Something he's done here an amazing nine times.
On the way he notched up his 400th match win on clay by beating
David Goffin
in the semi finals.
Embed from Getty Images
"It's very difficult to describe how to win 11 titles at one tournament. To win 11 Monte Carlos and 11 Barcelonas is something I couldn't imagine doing.

"I'm just enjoying every week and the fact I'm playing in a tournament that I enjoy so much means a lot to me. It's hard for anybody to imagine all the feelings and emotions I have when I play here.

"Hopefully I can keep coming back for many more years to come."


Mutua Madrid Open
Embed from Getty Images
This was where we got our one blip. I blame the altitude. He did, however, notch up his 50th successive set to beat John McEnroe's long standing (34 years) record of successive sets won on a single surface. (And we got to see some nice sleeveless practices.)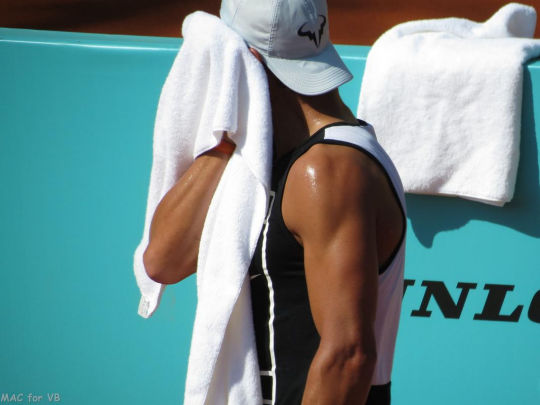 Internazionali BNL d'Italia
Finally, we come to Rafa's 8th title in Rome. His first since 2013.
Embed from Getty Images
This was, arguably, his toughest draw. He had to beat home favourite
Fabio Fognini
, old rival
Novak Djokovic
and Madrid champion
Alexander Zverev
in succession to win the title.
Embed from Getty Images
He was asked if he felt he needed that win to arrive in Paris in the best possible way.
"Being honest, today is a day to enjoy this title. For me, it means a lot to win in Rome here again.

"We speak about Paris I think enough in Monte-Carlo. And we'll have time to speak about Paris before the tournament.

"But answering your question, ball is different in Paris, court is different. Conditions are completely different. I don't believe that what happened, even if I lost/even with the victory, creates a big impact about what can happen in Paris.

"But, winning always is winning. And, of course, the victories helps more than the losses."
Embed from Getty Images
So that's now 56 tournaments won on clay,
a new record 32 ATP Masters
and 78 titles overall.
Enhorabuena, Rafa