After a tough 2015 we were all hoping for a much better 2016. It started badly with a first round loss in the Australian Open. Things picked up nicely in the clay season until Rafa's shock withdrawal from Roland Garros with a wrist injury. After that it was all pretty grim apart from his valiant trip to Rio for the Olympic Games.

I see people are now arriving in their posh frocks and tiaras so without further ado let's get on with the rest of the awards.

What was Rafa's best tournament of 2016?

There were only three nominations in this category - Monte Carlo, Barcelona and the Rio Olympics. There's nothing like a trophy bite to get the votes so Monte Carlo won with 63% of the vote.

What was the best match of 2016?

Both nominations here came from Monte Carlo. His semi final where he defeated Andy Murray, 2-6, 6-4, 6-2 got 77% of the vote (the final where he beat Gael Monfils, 7-5, 5-7, 6-0 got 33%). Having been at these matches I agree with the winner even though I spent a large part of both cowering behind my lucky t-shirt praying to assorted gods.

What was the best point of 2016?

There were 7 nominations in this category, from across the year on both hard and clay courts. But again, the winner (33% of the vote) comes from Monte Carlo with this wonderful down the line winner at the end of a 19 shot rally against Andy Murray in their semi final..

What was your favourite on-court moment in 2016?

Although Rafa's reaction on winning Monte Carlo scored highly with the voters, it was his reaction after winning the Olympics doubles gold that edged the title by one vote and 43%.


Doubles Final, Rio Olympics (Final game) from Magdalina Mircheva on Vimeo

.

Which of Rafa's doubles partners in 2016 was your favourite?

Given the above result, it's hardly surprising that

Marc Lopez

won this title hands down with 98% of the vote. (One rebel did favour Pablo Carreno Busta but that was it).

So popular was this partnership that our

Picture of the Year

is of the pair of them biting their gold medals.

What was your favourite on court outfit?

We just love to see Rafa sporting his country's colours. The winner this year was his Olympics outfit with 49% of the vote.

What was your least favourite on court outfit?

The one we liked least was the kit he wore in Abu Dhabi and Doha - a weird hash of white and lemon shirt, longitudinally-coloured wristbands, black shorts, pale-blue shoes and black socks with pale blue piping. What were they thinking?

What was your favourite off-court outfit?

Although we were fond of his team outfit for the Rio Olympics opening ceremony it was just edged into second place (with 29%) by the casual combination of burgundy sweater and jeans worn at the annual Monte Carlo Players' Revue. There's a blink and you miss it moment at 59 seconds into the following video.

A sub category was -



What was your favourite bathing suit that Rafa wore in 2016?


This was won by the light-blue shorts with white flamingos worn in Cozumel, Mexico, on February 27th.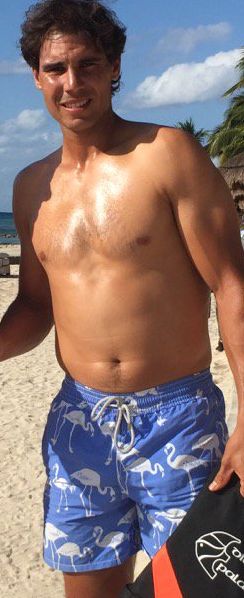 What was your favourite off-court moment?
The hands down winner, with 78% of the vote, is Rafa carrying the Spanish flag at the Rio Olympics.
What was your favourite quote by Rafa?
The runaway winner (92% of the vote) is something Rafa said at the Tommy Hilfiger event in Madrid on November 28, 2016, in response to a question about what Rafa might have liked to have done if he hadn't become a professional tennis player.
"I would have liked to live the university experience, which everyone who has lived it says is wonderful. So, in this respect I do feel some kind of healthy envy for not having been able to live it. However, not having been able to live it has provided me the chance to have a natural learning from life, which is what you get from the day to day and from being able to travel, know places and meet people from different cultures."
What was your favourite quote about Rafa?
The winner (with 63% of the vote) comes from the interview titled Rafa, #1 on Clay in the April 2016 edition of Tennis Magazine, written by Rémi Bourrières & Stephanie Tortorici.
"His smile. It instantly radiates warmth, coming from this incredible athlete and it touches us. This man is humble and blessed with an exquisite kindness. Despite his incredible achievements, this champion has never gotten big-headed. An authentic man. A smile that doesn't lie."
What would you most like to see happen in 2017?
As always, it is a given that our primary wish is for Rafa to remain healthy and happy throughout the year. This year fewer voters opted for the calendar slam option. I'm assuming that this is not because we don't want this but other things are more important. One person would most like him to win Wimbledon again but that elusive 10th Roland Garros title is what most (48%) hope for. As last year, winning the Australian Open for a second time to complete a double career slam comes in second place with 25%.
| | | |
| --- | --- | --- |
| 1. Regain Year-End No. 1 ranking | | 1% |
| 2. Complete a Calendar Slam (win all four Majors in 2016) | | 10% |
| 3. Win Roland Garros for a 10th time | | 48% |
| 4. Win the Australian Open for a 2nd time to get a double Career Slam | | 25% |
| 5. Win Wimbledon for the 3rd time | | 1% |
| 6. Win a Masters 1000 tournament that he hasn't won before | | 3% |
| 7. Win the Miami, Shanghai, and Paris Masters to complete a "Masters" slam | | 0% |
| 8. Sweep all three clay Masters tournaments | | 3% |
| 8. Win the World Tour Finals | | 5% |
A very healthy and happy 2017 to everybody!