Rafa's Summer Set was held on January 14th in the new Margaret Court Arena at Melbourne Park. The purpose was to showcase FAST 4 (which is a shortened format of tennis initiated by Tennis Australia) and to raise money for Rafa's foundation and the Australian Tennis Foundation.
This is
an explanation of the FAST 4 rules from the Sydney Morning Herald
FAST4 Tennis encourages lightning-fast play, with sets won when one player reaches four games, rather than the usual six or seven. Matches don't generally last any longer than 75 minutes, even at five sets, with each set lasting about a quarter of an hour at most. Players are not allowed to sit down between change of ends and play must resume within 60 seconds of the previous game finishing. Players are allowed a 90 second break at the end of each set.

Innovation #1:
Lets are played. If the serve hits the tape and lands inside the box, it's a legitimate serve.

Innovation #2:
No advantage scores when deuce is reached. Instead, what happens is a 'PowerPoint'. The receiving player/doubles pair decides the service side for that point.

Innovation #3:
If the set reaches three games all, a tiebreaker game is played. First player to five points wins, with a PowerPoint played at 4 points all.

Innovation #4:
First player to four games wins the set. It doesn't matter how many games separate you and your opponent, there are no advantage games.

Players are not supposed to sit down at the change of ends but how could they not when they'd been provided with such fabulous Barbie thrones?
The commentators here in the UK were thrilled with the whole idea of fast tennis since the length of matches appears to be one of their bugbears. Don't know if that's because they are all getting too old to go more than an hour without a comfort break or whether even their verbal diarrhoea begins to dry up after a couple of hours.
You can make up your own mind about it by watching
the whole thing uploaded by Tennis Australia
.
Rafa played one set against reigning US Open junior champion Omar Jasika, one set against Mark Philippoussis and the best of five sets against Fernando Verdasco.
The first two matches were pretty lighthearted.
He beat Omar Jasika 4-1. According to
@AustralianOpen
, Jasika was overheard to say, "I think I'm dreaming!", afterwards.
He beat Mark Philippoussis by the same score.
The match against Verdasco was much more hard fought. It was great that they both played this to win and even better that Rafa pulled off the victory,
2-4, 4-3, 4-3, 3-4, 4-2
Here are some highlights.
Match point and his on court interview afterwards.
Our very own Ging and |maddie| were there and went to the dinner beforehand as well as attending the full exhibition.
Read all about it.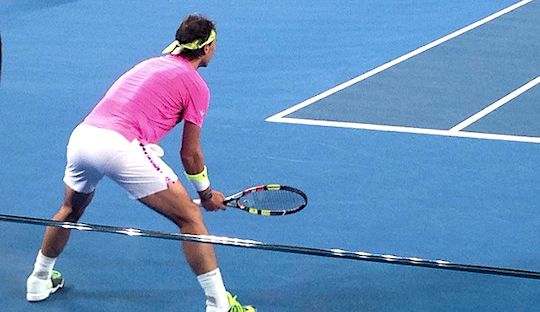 © Ging - One little pic to give you an idea of our view for the evening. #terrible
It was a lighthearted evening which just happened to give Rafa a bit of match practice ahead of next week's Australian Open. Perfect.