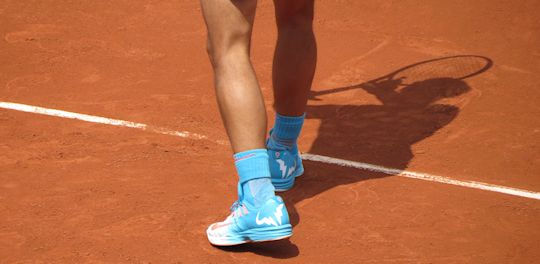 © MAC
I was lucky enough to be at Roland Garros with
jen
for Rafa's first two matches - this is my personal view of proceedings.
Apart from trepidation over how well Rafa would play, our primary concern was whether we would actually get to see his first match. We'd managed to cover most bases but had been unable to get tickets for Suzanne Lenglen court on the Monday. This left us convinced that that is exactly where he'd be scheduled but luckily we were wrong.
His first match was on Philippe Chatrier court on Tuesday. After multiple checks that we had the right ticket, identification to prove we were the ticket holder, fully charged phones and cameras and beaucoup de Euros, we set off to get there in time for the gates opening at 11. With the match scheduled second, we had done some complicated calculations to try and work out what time Rafa would be likely to practise. We figured that he'd probably warm up on Chatrier before us plebs got let in but there was always hope we were wrong. Sadly, we were spot on this time so there was no chance of a pre-match close up view.
As is de rigueur it would seem, the ladies' match before Rafa's went to three interminable sets. This, at least, gave us plenty of time to check out the magazine and souvenir stalls. Although the site is pretty crowded, I have to say I really like it. There are far more trees than I expected and the stalls are all bright and lively giving the whole place a really friendly feel.
At last, it was time for Rafa's match.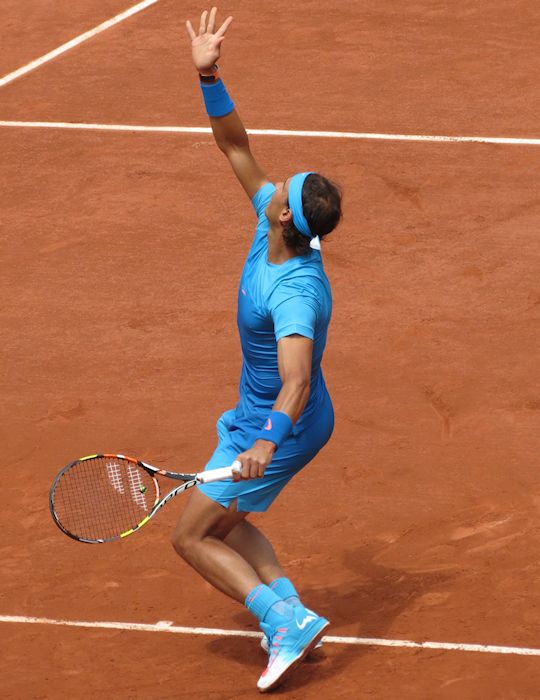 © MAC
He was playing a French wildcard,
Quentin Halys
, so there was reason to believe the crowd would be supporting his opponent. When they walked on court, however, it was clear that the majority were thrilled to see Rafa. The announcer ran through the achievements of each player and there was a huge cheer when he announced Rafa's 9 titles at Roland Garros.
Have to say that I really love the all blue outfit. It appears much more vibrant in the flesh than any pictures can convey.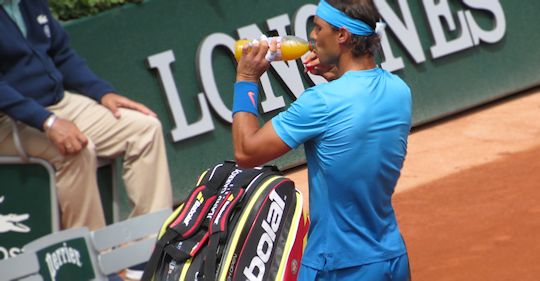 © MAC
I'm always nervous during Rafa's matches these days and knowing he was facing a hard hitter didn't help. It was fine, though. Without having to bring his best tennis, he did just enough to beat Halys with ease,
6-3, 6-3, 6-4
.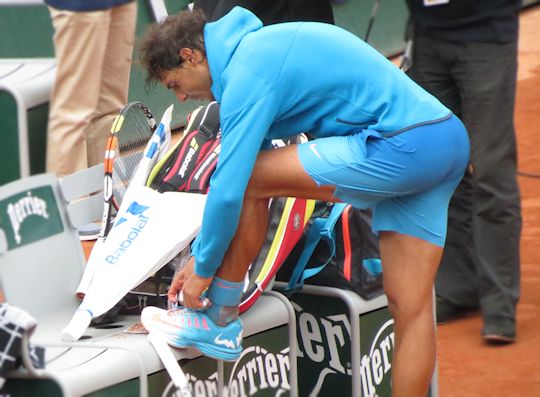 © MAC
It was a similar story on Thursday. Rafa was, once again, the second match on Chatrier so practised before we arrived. This time, though, the ladies' match took just two sets so Rafa was on court a bit quicker.
Nicolas Almagro
has never been an easy opponent since he also hits hard and flat. You either get amazing winners from him or wild errors. Rafa knows how to play him and it seems he just lets him have his head so he can beat himself. Which is exactly what happened. Rafa won,
6-4, 6-3, 6-1
.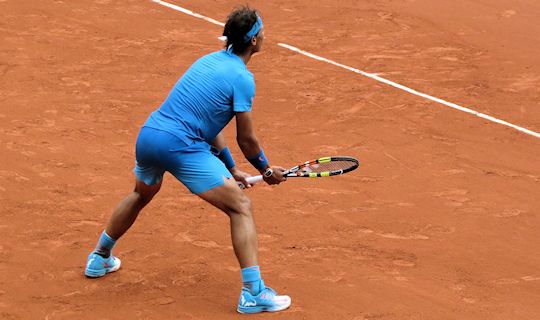 © MAC
Once again, Rafa delighted the crowd by speaking in French in his post-match interview. Much to his own amusement.
© MAC
That was all for me this year but I'm sure I'll go back. It's so great to see Rafa in that environment and so satisfying to feel the love of the crowd for him.
© MAC
He played again on Saturday (when I was safely home) and beat yet another young hard-hitter,
Andrey Kuznetsov
, in straight sets,
6-1, 6-3, 6-2
.
On Monday, he gets another one. He should have the hang of it by now.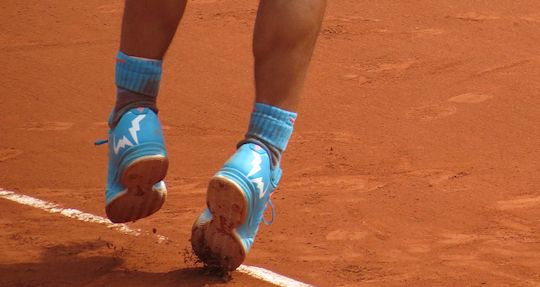 © MAC
Good luck in week two, Rafa