It has only been a couple of months since Rafa last played but it seemed so much longer than that. We were, therefore, thrilled to see him back on court.
As were the fans lucky enough to attend his tennis "clinic".
Here's a short clip from his pre-tournament press conference.
We were not so thrilled with the scoreline in his opening match against Andy Murray so I'll gloss over that. Suffice to say that you could see the rust being shaken off.
If you missed it (or for some reason just want to relive the whole experience) here's the
full match
.
He was pretty upbeat, however, in his press conference after the match.
The next match, against Stan Wawrinka, was much better. Despite dropping serve a couple of times, Rafa won in straight sets,
7-6(1), 6-3
.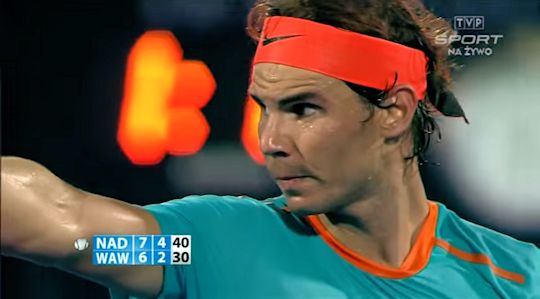 Screencap by MAC
Here are the highlights.
"Yesterday I made more mistakes than usual, especially with my backhand. Today I felt tired but more resistant. I was quicker and in better position hitting the balls. In general I think that I played a good match, better than yesterday against a tough opponent, too. Itís good to have a test and to get in better shape. Thank you to the organisation for the possibility playing two matches here in Abu Dhabi, which will hopefully help me in my progress to become better."


Great to see you back on court, Rafa. Onwards and upwards!