Rafa's first-round match was the 800th in his ATP career. The weather in Rio de Janeiro at this time of year is hot and humid. Humidity rises at night which is when Rafa played this match. That may be why it was tougher than we would have liked.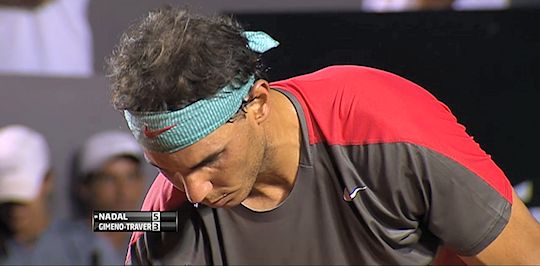 Screencap by elise
Daniel Gimeno-Traver
managed to win more games than in their previous two meetings combined but Rafa still defeated him in straight sets,
6-3, 7-5
.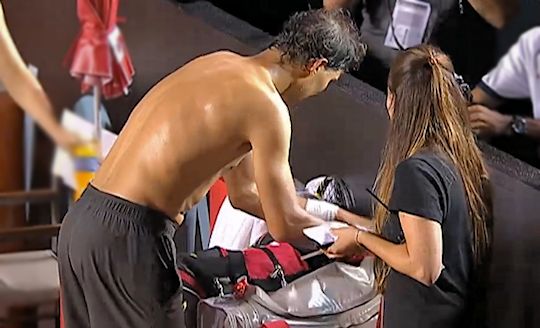 Screencap by elise
Here are the highlights...
...and an on-court interview.
It was a lot more relaxing against
Albert Montañes
.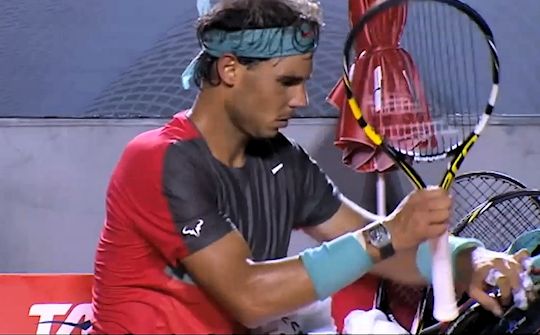 Screencap by elise
Rafa won in straight sets,
6-1, 6-2
but we have to admit to being more than a little alarmed by the tape across his back.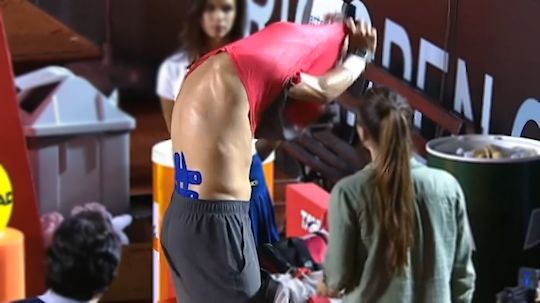 Screencap by elise
Highlights:-
In the quarter final he played
Joao Sousa
from Portugal (not to be confused with
Joao Souza
from Brazil however much you may want to). They had practised together earlier in the week which may, or may not, explain why Rafa beat him easily,
6-1, 6-0
.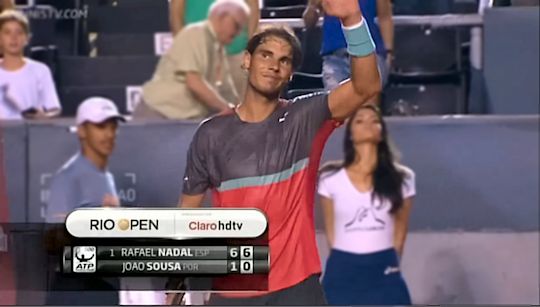 Screencap by elise
Highlights:-
On-court interview:-
We weren't expecting a tough semi-final against
Pablo Andujar
. Rafa had beaten him with ease last year in the Madrid Masters but maybe the way Andujar had taken Tommy Robredo apart in the previous round should have given us pause for thought.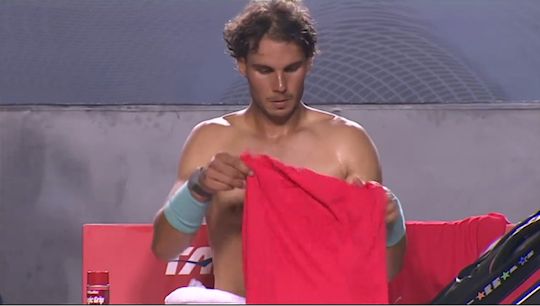 Screencap by elise
It's hard to tell whether it was Rafa's back, the humidity or the Head tennis balls that made it difficult or Andujar playing the match of his life but it took Rafa three sets and almost three hours before he won,
2-6, 6-3, 7-6(10)
, to book his spot in the final.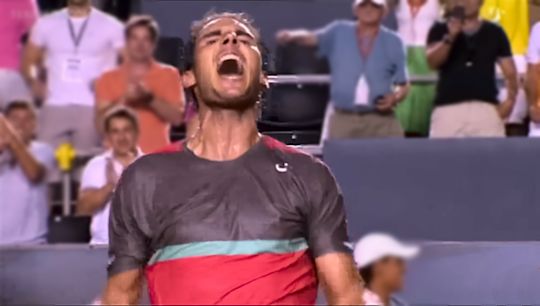 Screencap by elise
Those of a nervous disposition might prefer not to watch the following video of the tiebreak.
As Rafa put it afterwards, "
A little bit of lucky.
"
For the final he was up against
Alexandr Dolgopolov
who had beaten David Ferrer in his semi final. Luckily it wasn't the nail-biter that Rafa's semi final had been despite the same high levels of humidity which necessitated more than the average number of shirt changes. (Not that I'm complaining, you understand.)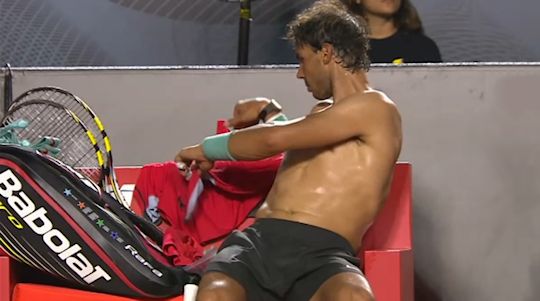 Screencap by elise
It did get a bit nasty at the end, however. Dolgopolov, who had never broken Rafa's serve before, chose to break his duck as Rafa was serving for the match at 5-4 in the second. It was a tight moment for this fan as that set went to a tiebreak but we were saved a nervy (for me, at least) third set when Rafa won it and took the match,
6-3, 7-6(3)
.
Here's the trophy ceremony for those people whose coverage decided it wasn't worth showing.
That's Rafa's second title of the year and 62nd of his career.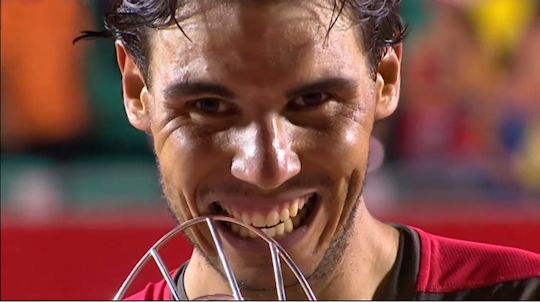 Screencap by elise
¡Enhorabuena Rafa!