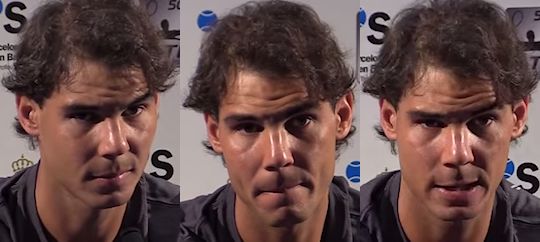 Screencaps by MAC
It had to happen sometime. A streak of 41 matches at any tournament is an amazing record but all streaks come to an end, eventually.
This week in Barcelona, Rafa showed just how human he is. Beset by doubts since the Australian Open, Rafa once again lost a match to someone who had never beaten him before.
Even before the tournament started, it was obvious that he was not confident.
An article in La Vanguardia
quoted extracts from his pre-tournament press conference.
"I've started the year more or less well, but it's true I've lacked that extra bit of competitiveness and confidence at times in matches, where I haven't competed as well as I would have liked." (
Translation by nou.amic
)
It was no surprise, then, that he struggled a bit in his opening match against
Albert Ramos
. Last year he beat him 3 and 0 but this year it went to
7-6(2), 6-4
.
Afterwards, he said, "Iím very happy about the win although I did not play a brilliant match. But I played with passion and really wanted to win."
He looked much better in his next match, against
Ivan Dodig
, winning it in a much more straightforward manner,
6-3, 6-3
.
"I think I improved everything in my game a little bit," he said. "I'm happy with the way I played. I was a little bit more aggressive with more control on my shots and changing direction better than I did yesterday. I was able to hit a few winners with the right confidence. That's the important thing for me."
It came as a shock, therefore, when he lost to
Nicolas Almagro
in the quarter final,
6-2, 6-7(5), 4-6
.
It certainly breaks my heart to see him beset by so many doubts. I wish I could sit down with him and remind him of his extraordinary achievements and his incredible ability to fight through the hardest times. If he had the arrogance of so many of his contemporaries (some with far less reason) it might make things easier for him. But then we would find it so much harder to give him our love and support.
Over the years, we have seen him deal with dreadful setbacks. His injuries have kept him out of competition so many times but he has always come back even stronger.
He is an amazing man and no doubt this, too, will pass.
¡Vamos, Rafa!