What a difference a year makes. This time last year we were trying to find crumbs of comfort from the few tournaments Rafa had played in the first half of the year. He'd just withdrawn from both Doha and the Australian Open and things were looking bleak. What we most wanted was for him to return to the courts, able to play injury free. Only a few optimists dared to hope for Rafa to win his 8th Roland Garros title and regain the number one ranking.
As 2013 played out, we realised that Rafa was going to exceed our wildest expectations. Consequently, we had an embarrassment of riches to choose from for this year's awards.
So pull up a chair, grab the tipple of your choice, have the nibbles to hand and settle down to enjoy the results.
What was the best tournament of 2013?
The overwhelming majority (65%) went for the US Open. It was always the major we thought he would never win so doing it for the second time and completing the US hard court triple in the process was just awesome.
Which of Rafa's trophies this year meant the most to you?
For the same reasons as above, the winner was the US Open with 55% of the vote.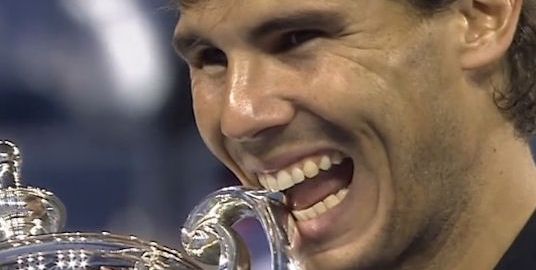 Screencap by elise
What was the best match of 2013?
This was a two horse race between the US Open final (Rafa def Djokovic, 6-2, 3-6, 6-4, 6-1) and the Roland Garros semifinal (Rafa def Djokovic, 6-4, 3-6, 6-1, 6-7(3), 9-7) with the latter edging the victory with 55% of the vote.
As I said back in June
, "It was one of those classic matches that leave fans gasping for breath and wishing they'd had the foresight to invest in a defibrillator (or a very large quantity of alcohol at least)."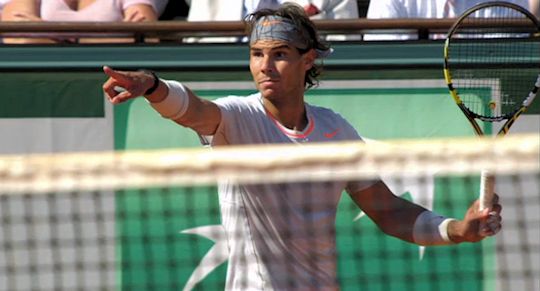 Screencap by MAC
What was the best point of 2013?
There were so many to choose from that this was one of the hardest categories from which to pick just one. Our winner was the forehand down the line from the USO final vs. Djokovic. It came in the 2nd game of the 4th set with Djokovic serving at 0-1, 30-40. It can be seen at 4 minutes 4 seconds in the following video. (You can see the other hard court contenders in
this compilation
from the same source.)
What was your favourite on court moment?
Four of the five nominations in this category were victory celebrations. Our two favourite matches gained most of the votes, with Rafa's celebration after defeating Djokovic in the Roland Garros semifinal coming out the winner with 47%.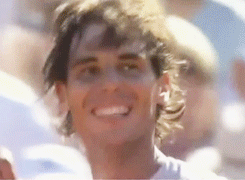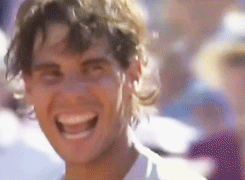 Animations by Natalie
What was your favourite on court outfit?
Another tight vote, with the Indian Wells outfit (turquoise and light grey) just losing out to the sonic yellow and navy set worn in Montreal and Cincinnati which got 42%.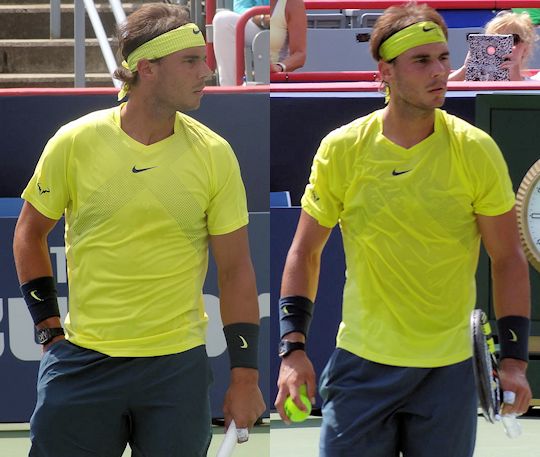 ©Holina for vamosbrigade.com - taken in Montreal
What was your least favourite on court outfit?
The US Open day outfit was the overwhelming winner with 78% of the vote.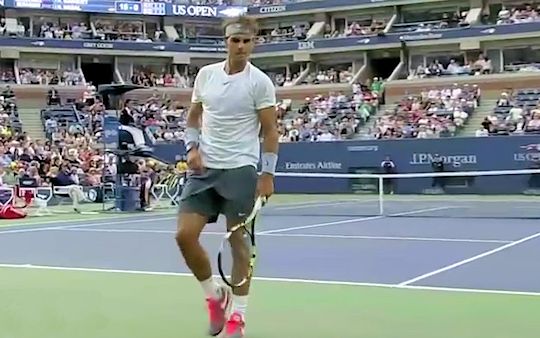 Screencap by MAC
What was your favourite off-court outfit?
Our winner, with 34% of the vote, is the salmon long-sleeved jersey and grey jeans, first worn at the Bacardi - Champions Drink Responsibly event in Monte Carlo in April .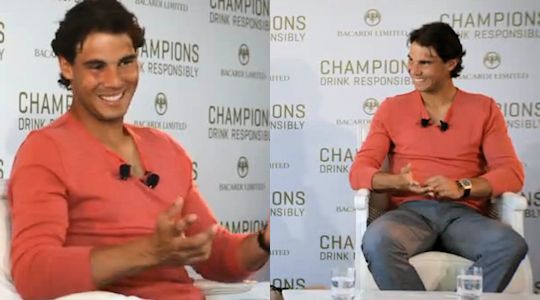 Screencap by MAC
Which was your favourite of the various swimwear Rafa wore this year?
A hotly (in more ways than one) contested new category for this year. The narrow winner is the Hawaiian patterned pair with dark turtles among flowers.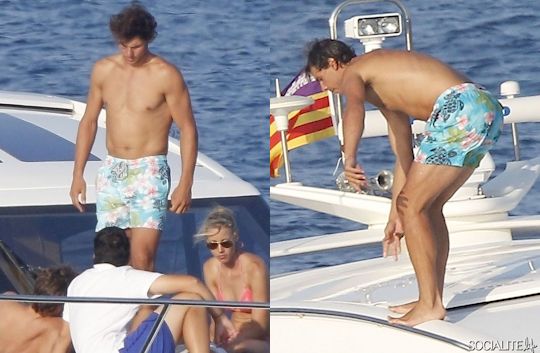 Which is your favourite of the various hats Rafa wore this year?
This new category came about because there were so many interesting choices. The result was extremely tight with the sombrero in Acapulco just edging the title by one vote.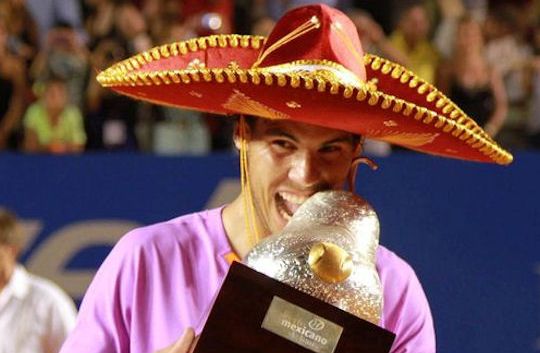 Abierto Mexicano de Tenis Facebook Album
What was your favourite off-court moment?
More than half (58%) voted for Rafa receiving his two awards (World Number 1 and Comeback Player of the Year) during the World Tour Finals in London.
What was your favourite quote about Rafa?
There were some fabulous quotes about Rafa this year. So many, in fact, that we had a record 13 nominations in this category. The winner, though, with 38% of the vote was this quote from Adriano Panatta from
Juan José Mateo's article in El País
.
"He's a lion on the tennis court. He's an exceptional young man, an example for all young tennis players. He's valiant. His good manners and humility are rare, exemplary... and I say that after having known generations and generations of tennis players. It's surprising to meet a person like that, a beautiful person."
Which of Rafa's interviews this year is your favourite?
The winner, with 65% of the vote is the Charlie Rose interview after Rafa won the US Open.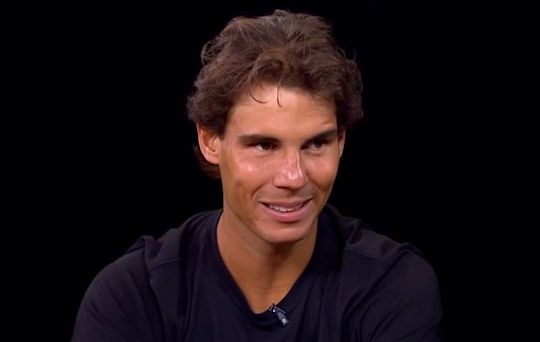 Screencap by MAC
What was your favourite Rafa quote?
The winner (with 47% of the vote) was Rafa's response to statements made by Novak Djokovic's coach, Marian Vajda, that a new Djokovic-Murray era is upon us. Rafa, in his interview to Frédéric Bérnes for L'Equipe during the Viña del Mar tournament in February, said: (From
Moondancer's translation of the whole interview
)
"My ego is calm. (laughs). It doesn't bother me to hear that. It's not wrong. It's correct at the moment, isn't it? ... Let's not forget too quickly. Now, I will try to nudge myself in that Djokovic-Murray era."(smiles)
What would you most like to see happen in 2014?
It is now a given that our primary wish is for Rafa to reamin healthy and happy throughout the year. Aside from that it would seem that our main hope is for more Grand Slam (Major) titles. Completing the Calendar Slam came out on top since so many voted for that when unable to choose between wanting him to win in Australia to get the double career slam, to win in Roland Garros to get a 9th title there or to win in Wimbledon just to show he still can.
| | | |
| --- | --- | --- |
| Complete a Calendar Slam (win all four Majors in 2014) | | 38% |
| Win a 2nd Australian Open title | | 31% |
| Win Roland Garros for the 9th time | | 14% |
| Retain Year-End No. 1 ranking | | 13% |
| Win Wimbledon for the 3rd time | | 3% |
| Win a Masters 1000 tournament that he hasn't won before | | 0% |
| Win Monte Carlo for the 9th time | | 0% |
| Help Spain win another Davis Cup | | 0% |
| Win 5 more clay court titles to break Vilas' record | | 0% |
A very healthy and happy 2014 to everybody!