Screencap by MAC
It's a very welcome return to this tournament for Rafa as issues with his knees meant he had to miss it last year. He came into it this time with a perfect 15-0 record on hard courts, the best of his career to date.
This preview is a good summary.
In his
pre-tournament press conference
he said, "
I hope to be ready to win.
" He said he was happy to receive the trophy for winning the US Open series but that, "
All it means is I had a great summer, that's all. It doesn't mean nothing else.
"
Ubitennis.com published
the rest of his questions and answers
.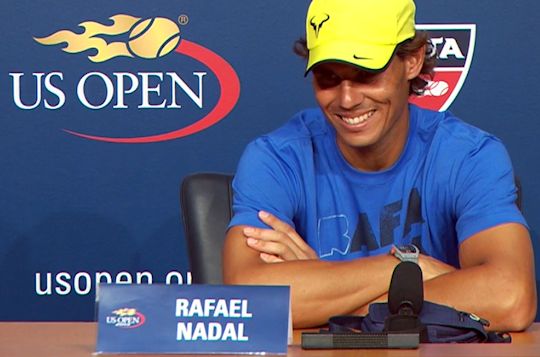 Screencap by MAC
First up was
Ryan Harrison
, who Rafa had beaten in their first meeting in Indian Wells earlier this year. There was a worrying rain delay at the beginning of the second set but the players did not leave the court. This gave us the welcome chance to see an extra shirt change.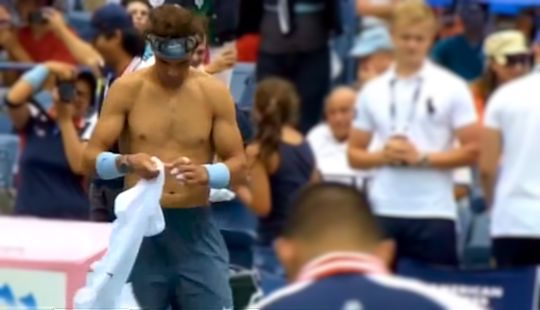 Screencap by MAC
He didn't serve as well as we would have liked, dishing up five double faults but only faced two break points in the entire match (and those were not until the third set). In contrast, Harrison served 11 aces but still got broken five times by Rafa to give him a
6-4, 6-2, 6-2
win.
If you are looking for something to keep you amused and want to study the figures here are the
detailed match statistics
.

Screencap by MAC
Here is the first of his amazing shots.
And here are the rest of the highlights.
"
I just played very well. Happy the way I was playing. I don't know if it was the best or not, but was very good because I was able to win.
"
Full transcript
In the second round he was playing
Rogerio Dutra Silva
for the first time. I'm usually nervous when Rafa is up against a new opponent but Dutra Silva looked so much like the kind of player I've seen Rafa bully around a practice court that I was relaxed enough to get up in the middle of the night to watch. It turned out to be even easier than the first round. This time Rafa served no double faults and only faced one break point to record his best US Open win in terms of games lost,
6-2, 6-1, 6-0
.
"
I started a little bit too slow, in my opinion. Then during the match I tried to play better and better every time. I think I finished the match playing well, doing a few things well, moving myself better. Important thing at the end winning 6-2, 6-1, 6-0. The result says that I did the right things.
"
Full transcript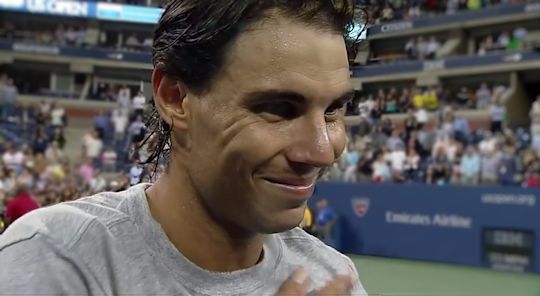 Screencap by MAC
It was doubly upsetting that it was
Ivan Dodig
that he faced in the third round. Firstly, we all wanted Rafa to get the chance to even up the head to head against Davydenko and also many of us still bear the scars of his previous match against Dodig, in Montreal two years ago.
This time, though, Rafa was amazing. Once again he only faced two break points in the entire match. You have to go back to the Cincinnati semi final to find the last time his serve was broken; that's more than 50 games without a break. Not bad for someone rarely given credit for his serve.
It took him just over two hours to dismiss Dodig in straight sets,
6-4, 6-3, 6-3
. Many of the commentators were, for once, effusive in their praise. Peter Fleming called him "poetry in motion" and Greg Rusedski reckoned that was the best he'd ever seen Rafa play on a hard court.
Post match press conference
"
I think I played a correct match today. Happy 6-4, 6-3, 6-3 against a player who came to this tournament winning against tough opponents like Davydenko and Verdasco. To be able to win against him in straight sets is great news. I played better today than in the previous matches. Always a positive thing.
"
Tomorrow I have another day for practice and to be better for the match of Monday. So that's all. Is important win for me. Every win means a lot. Happy the way that I am playing, and try to be ready for the next.
"
He was particularly disarming in an interview for Sky Sports later that day.
He will play
Philipp Kohlschreiber
next, for a place in the quarter finals.
¡Buena Suerte, Rafa!