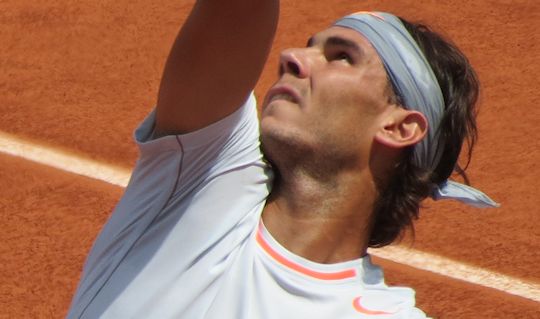 ©MAC for vamosbrigade.com
I was lucky enough to be at Roland Garros for the first few days. I say "lucky" but suffering through the coldest May for 50 years was not the most fun any of us have ever experienced.
We were expecting that Rafa would play his first match on Tuesday when the weather forecast was less than promising. We were pleasantly surprised, therefore, when it seemed that the schedulers were being kind for once by putting his first match on Philippe Chatrier on the Monday.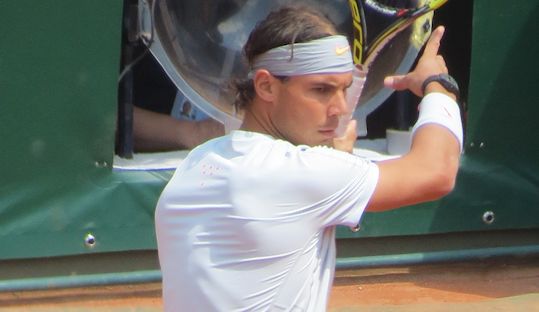 ©MAC for vamosbrigade.com
Although the sun was just about shining, it wasn't the easiest of matches. As we've noted before, Rafa is never comfortable when he's playing someone for the first time. Add the fact that his opponents listen to the constant advice from commentators as to the best way to beat Rafa (why do they never do this for any other player?) and you get a good recipe for a tough time. Like so many before him,
Daniel Brands
came out with all guns blazing. It was going fairly nicely with serve when, out of the blue, Rafa served a double fault when break point down and a game later it was the first set to Brands. The second set looked to be going the same way but Rafa survived being a break down in the tiebreak to take it.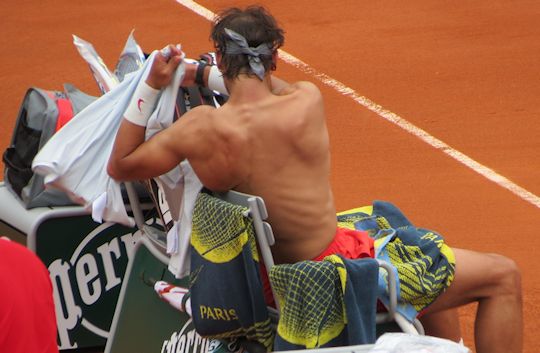 ©MAC for vamosbrigade.com
After Rafa broke serve for the first time at the start of the third set things started to get a little less tense. The crowd stopped baying for blood and there were even some cheers for Rafa to be heard. this graphic from the
Roland Garros website
shows the shift in momentum well. (Rafa is the peach line and Brands is the turquoise.)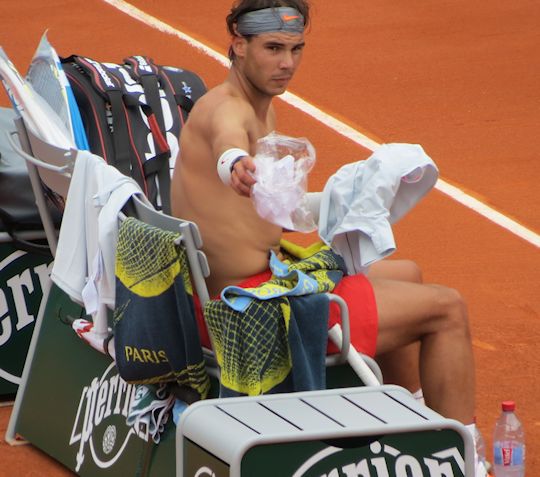 ©MAC for vamosbrigade.com
The final score was
4-6, 7-6(4), 6-4, 6-3
. "I know he was playing unbelievable tennis," Rafa said in his courtside interview. "I tried to find my game and to resist his fantastic shots. I am very happy to be through in this fantastic game."
He looked pretty happy, too. Here he is smiling at the reaction to his final shirt change.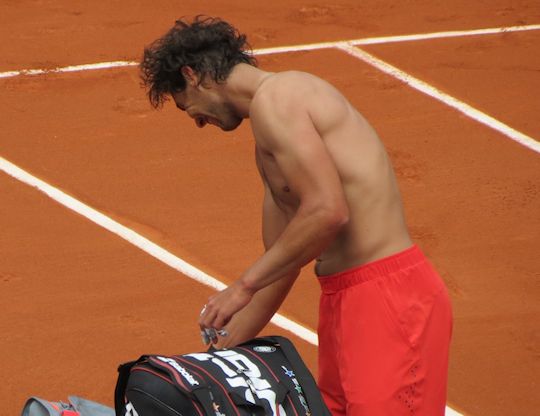 ©MAC for vamosbrigade.com
Here are some very brief highlights and an on court interview with Brad Gilbert.
I was expecting to see Rafa's second round match, too, but this time the schedulers stuffed him by deciding to make his the third match on a day when it was never likely to get more than two matches completed on each court. We got to see him arrive on court to rapturous applause, knock-up for a couple of minutes and then leave during the first few drops of what shortly became rain of biblical proportions.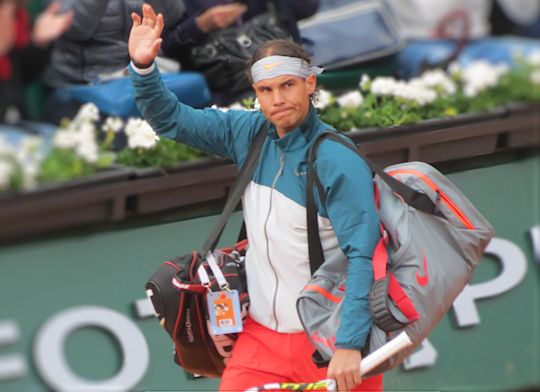 ©MAC for vamosbrigade.com
Thus it was that I was on the Eurostar back to London when Rafa finally got on court against
Martin Klizan
. Probably just as well since if I'd been at home I would likely have been cowering behind the settee when Rafa lost the first set. Yet again he was up against an unknown opponent. This time he was also hampered by the effects of three days kicking his heels and mulling over the dubious scheduling.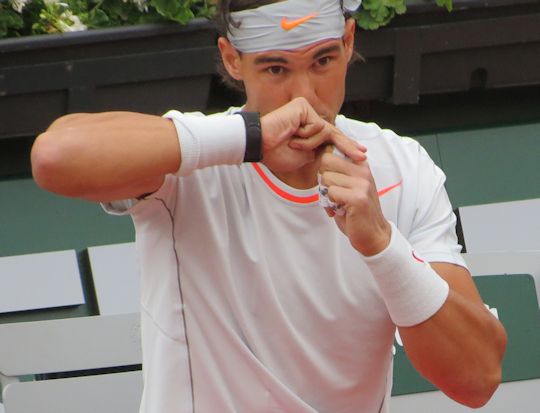 ©MAC for vamosbrigade.com
A single break point was all Klizan needed to take the first set. Thankfully, Rafa was a bit quicker to right the ship as this graph shows.

There was a trade of breaks in the second set and he got broken a couple of times in the fourth set but managing to make more breaks than his opponent meant he came out the winner in four sets,
4-6, 6-3, 6-3, 6-3
. Here's his on-court interview with Pam Shriver.
One could have been forgiven for expecting his third round match against
Fabio Fognini
to be a lot easier. After all, he'd thrashed him 6-1, 6-3 in Rome a couple of weeks ago. This time, though, Fognini was more ready for him and keen to display his flashy talents.

There were two traded breaks of serve before Rafa managed to squeeze through the tiebreak in the first set. Set two was more straightforward but Rafa squandered his first chance to serve out the match before finally prevailing,
7-6(5), 6-4, 6-4
. A very candid press conference followed.
So although each match has been tight and Rafa has been playing far below his best, he has still managed to win all three. And he has been improving with each round. Next week's weather forecast is a lot more encouraging so we hope for better things.
Vamos Rafa!
On to week two