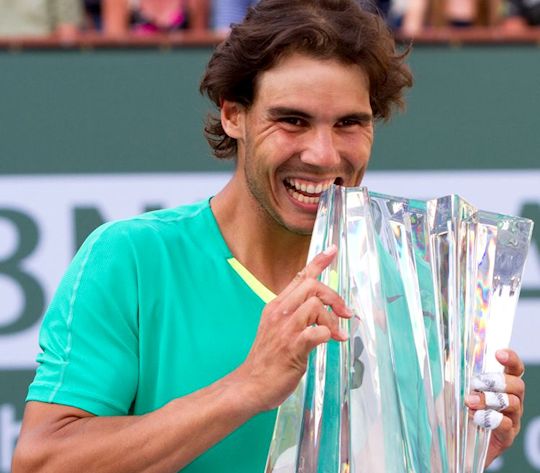 Wow. Just wow. That's all I can say as I sit here with a coathanger grin on my face. I think I may be smiling as much as Rafa has done this past 10 days.
No one could have predicted this fabulous win at the start of the tournament. Mats Wilander and Andre Agassi, to name but two, said that it would be months before Rafa would be back to being competitive enough to win tournaments after such a long layoff. Even after he'd won Sao Paulo and Acapulco back to back there were still many doubts that he could perform as well at a hard court masters. Even Rafa was not confident, saying, " I enjoy playing here and I will try my best but I donít expect nothing of results."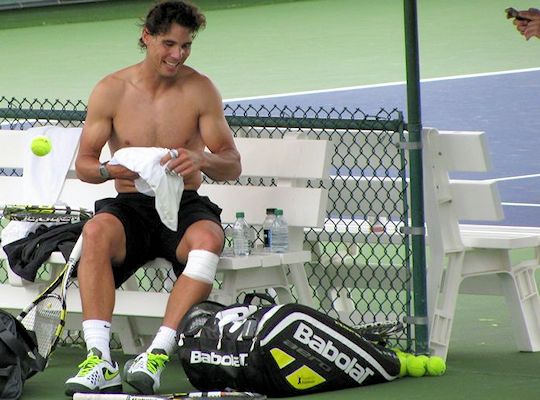 Gratuitous shirtless pic by Bluebird for vamosbrigade.com
We were especially nervous for his first match, against Ryan Harrison. A young, nothing-to-lose opponent that he's never played before is never a match-up we relish. Sure enough, the first set was tough and it took a tiebreak to decide it. the fight went out of Harrison in the second set, though, and Rafa came out the winner,
7-6(3), 6-2
.
I particularly loved Rafa's take on being broken in the first set, "I played fantastic game in the 4-2 with one double fault, three forehands outside of the stadium."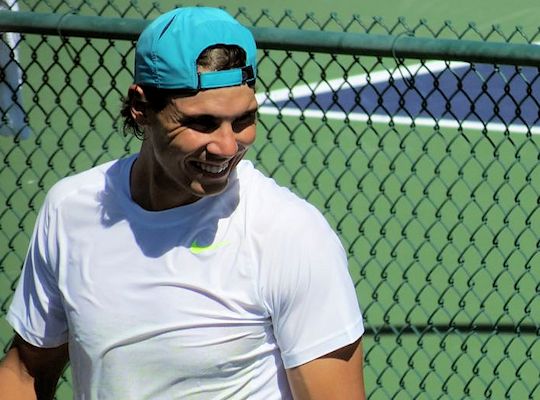 Bluebird for vamosbrigade.com
He got a walkover in the next round when Leonardo Mayer pulled out with a back injury. It was fine for us sitting at home when the withdrawal was announced on TV just as the match was about to begin but a lot more stressful for those VBers sitting courtside as Attitudette explained in
her blog
:-
We got ourselves situated, got our flags and pom-poms out, sipped our lemonade slushies and were all ready for our man! Then the emcee came out and explained that due to an injury, the match was cancelled.

Injury? Which player?

Don't shoot the messenger, people!

W h i c h p l a y e r???

We are very sorry, but we have managed to switch things around a little and playing here next will be Fish/Blake V Lopez/Raonic!!

WHICH FRIGGIN' PLAYER YOU TWIT!??!!! WHO GOT HURT??!!!! YOU TELL ME, AND YOU TELL ME NOOOOOWWW!!!!!

We all wish Mayer a speedy recovery, Nadal has won by walkover.

First of all: Whew!! Second of all: THAT'S WHAT YOU SHOULD HAVE OPENED WITH!!!! THIS IS WHY PEOPLE SHOOT MESSENGERS!!!


Wondering whether this was a good (saves the knees) or bad (less match practice) thing kept us all busy for the following couple of days.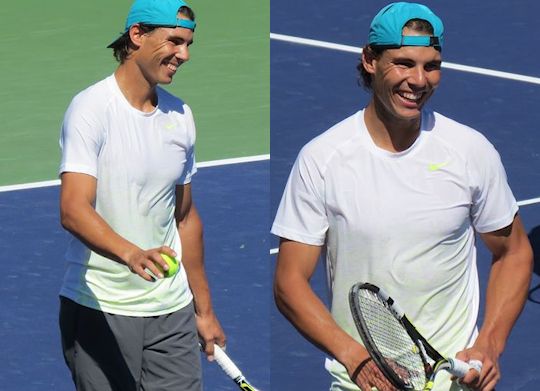 Bluebird for vamosbrigade.com
Ernests Gulbis was never going to be easy since he's always given Rafa problems and was, by all accounts, playing at his best. It wasn't an easy match to watch. I spent large parts of it cowering behind the sofa. Right up to the last couple of games the result was in the balance but Rafa prevailed,
4-6, 6-4, 7-5
.
To say there was a bit of hype surrounding the quarter final against Roger Federer is like saying that there's been a bit of rain here in the UK for the last year. It didn't live up to it as these sample headlines attest:-
Nadal crushes Federer (
Reuters
)
Rafa rips through Roger again (
Matthew Cronin
)
Rafael Nadal thrashes Roger Federer (
The Telegraph
)
The final score was
6-4, 6-2
.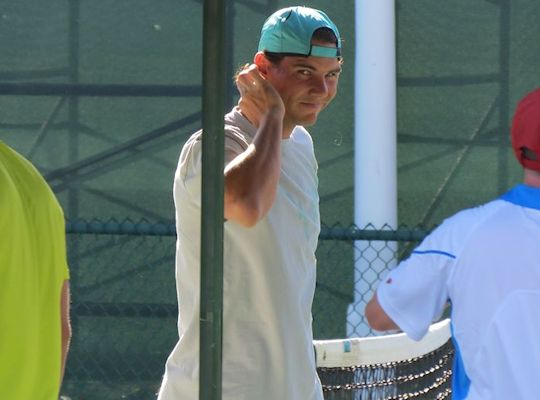 Bluebird for vamosbrigade.com
We were treated to a classic Rafa comeback in his semi final against Thomas Berdych. He was trailing 3-5 in the second set when he played what he called "my best game of the match" and then went on a tear to take the match,
6-4,7-5
.
I can't deny that we were mostly thrilled that he wasn't facing Novak Djokovic in the final. Del Potro wasn't going to be a pushover but at least if he won we'd be spared the obnoxious displays that have become the norm for the Serb.
It started really well, then went a bit pear-shaped for more games than we'd have liked. Trailing a set and a break, it all looked to be over. But once again, Rafa was Rafa. He upped his game and stormed through to a
4-6, 6-3, 6-4
victory.
So now he's got the record for Masters titles back (22) and this is his 9th straight year with at least one Masters title. It was his 600th match win. Some players don't even play that many, let alone win them.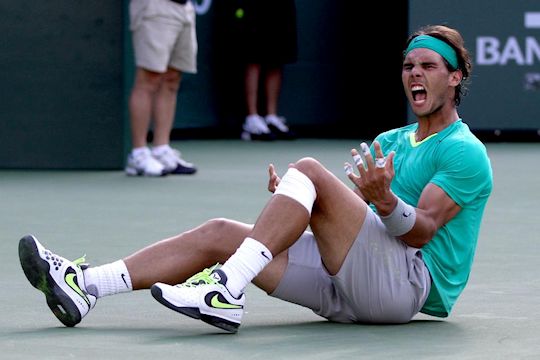 Once again (and I'll never tire of saying it),
Enhorabuena, Rafa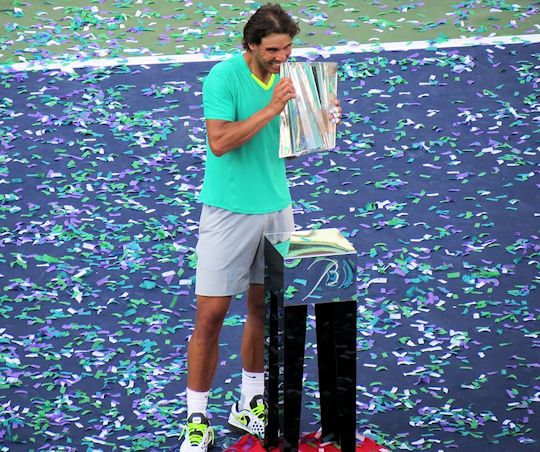 Bluebird for vamosbrigade.com