Screencap by MAC
This week we had the great news that Rafa is intending to get back to competition earlier than expected and play two tournaments before Acapulco. First, he will play at the Viña del Mar tournament in Chile, which starts on February 4th, followed by the Brasil Open 2013, in São Paulo, which starts on February 11th.
On January 16th, Rafa posted this on
Facebook
:-
Con mucha ilusión de volver a Brasil!
Happy to be back soon in Brazil!
This was followed the next day by this post:-
Estoy encantado de confirmar mi participación en el torneo de Viña del Mar en Chile. Me gustaría agradecer a los organizadores del torneo su invitación y decir que tengo muchos fans en el país andino, por fin podré ir en persona para estar con ellos y jugar mi primer torneo después de la lesión que me ha tenido apartado tanto tiempo. Muchas gracias y nos vemos en Viña.
I am delighted to confirm my participation in the tournament in Viña del Mar in Chile. I would like to thank the organizers of the tournament for their invitation, and say that I have many fans in the Andean country, finally I can go in person to be with them and play my first tournament after the injury that has taken me away so long. Thank you and see you in Viña.
(Translated by Bing)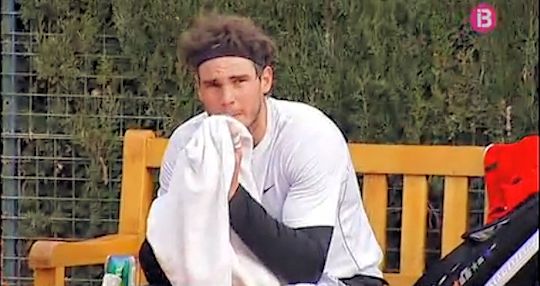 Screencap by MAC
On Friday he told us he's been practising all week in Barcelona:-
Esta semana estuve entrenando en el Real Club de Tennis de Barcelona! Agradezco el trato que me han dado allí durante estos días :)
This week I was practicing at the Real Club de Tennis in Barcelona! I appreciate the treatment they have given me during these days :)
...but we all knew that already, thanks to these videos from IB3.
and this one, tweeted by
Steven Diez
:-
Os dejo un video del calentamiento para el entrenamiento de ayer con @RafaelNadal.
Here's a short video from the warm-up for yesterday's practice with @RafaelNadal.
Back in Mallorca at the weekend, things were not so easy. (According to weather reports, it was 12° (54°F) and raining in Manacor. This was posted on Saturday:-
Intentando entrenar...
Trying to practice...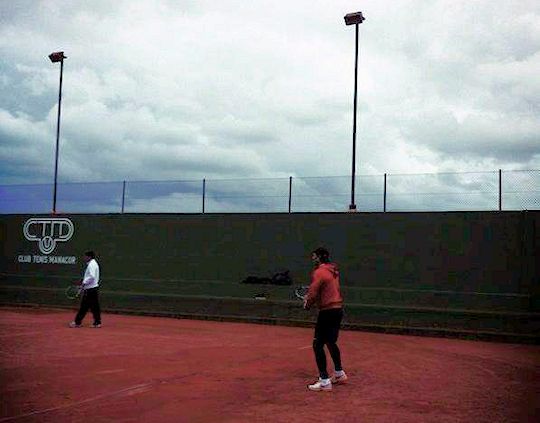 Needless to say, we are all thrilled by this news and are counting the days until we see Rafa back on court.
Vamos!