I'm almost too excited to write. I would be better were it not for extreme tiredness, having eschewed sleep in favour of peering at a livestream to watch every second of Rafa's return to competition.
Has a doubles match at an ATP 250 tournament ever received the level of coverage given to Rafa's first round match with Juan Monaco?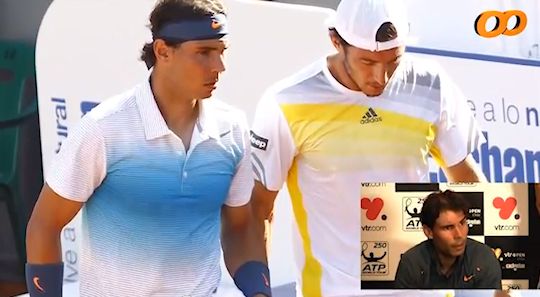 Just listen to the roar of the crowd when he steps on court.
They were up against the number 2 seeds, Frantisek Cermak and Lukas Dlouhy, but won 6-3, 6-2, with relative ease. Rafa looked a bit rusty but there were flashes of brilliance, particularly at the net.
He was cautious in his press conference afterwards. "I've gone seven months without playing but, even with that time taken away, the tennis feelings are not very different. I feel comfortable, I'm not playing badly, the important thing for me now is how I feel physically and how my knee responds," he said.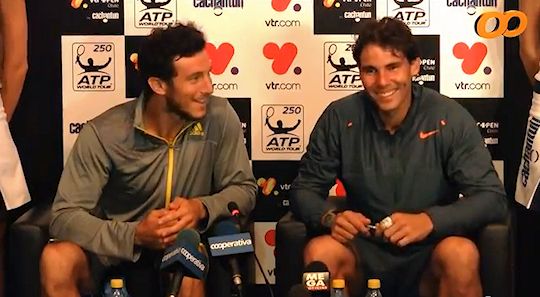 We knew that his first singles match, the next day, would provide a different sort of test.
He was playing Federico Delbonis for the first time. Delbonis must have won the toss since Rafa served first (something he would never elect to do at the best of times) and immediately capitalised on this strategy by breaking straight away. When Rafa went 0-30 down in his second service game a 0-3 deficit looked on the cards. But he is still Rafa so he held on and then broke in the next game to even things up. It wasn't hard after that for him to forge on to a 6-3, 6-2 victory.
When interviewed afterwards, he said that he couldn't have made his comeback in a better place.
The doubles match on Thursday was not televised so we have no idea how well he played. They beat Guillaume Rufin and Filippo Volandri, 6-2, 7-6(4), without dropping serve.
His fitness was challenged the next day by being scheduled to play both singles and doubles.
First up was the singles against fellow Spaniard, Daniel Gimeno-Traver. After an easy first set, the second was tougher though not a real problem. Rafa won 6-1, 6-4. Here are highlights from the first set. (You can watch the whole match
here
.)
He then had the opportunity to test out conditions at night when he and Monaco played the doubles semi final against Carlos Berlocq and Leonardo Mayer.
Rafa displayed some superb net play as they won relatively easily, 6-3, 6-4.
These are highlights - the full match can be found
here
.
Some of us were a little apprehensive about his singles semi final on Friday since his opponent, Jeremy Chardy, had shown some excellent results recently. We needn't have worried. In another improved performance, Rafa rushed through to the win in little over an hour, 6-2, 6-2.
Here are the highlights.
Full match
here
for Europeans who preferred their beds.
He says here that every victory is giving him positive energy.
Sadly we didn't get the fairytale ending we hoped for when he lost the singles to Horacio Zeballos,
7-6(2), 6-7(6), 4-6
and the doubles to Paolo Lorenzi and Potito Starace,
2-6, 4-6
However, Rafa said that on balance it was a positive week. "A week ago, I didn't know how my body would react. Today I can say pretty well." He got the game play that he wanted and had a fabulous reception in Chile. For us it was just a joy to see him on court again. Onwards and upwards!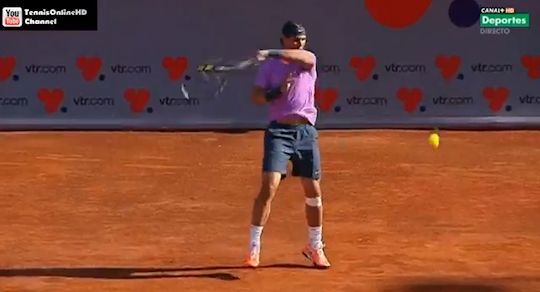 Welcome back, Rafa!