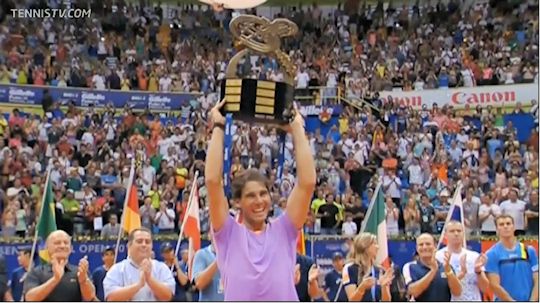 Another week and another tournament. Rafa flew the 1500 plus miles from Chile to arrive in Brazil on Monday. As usual he faced the press and fans at the airport.
Here is malimeda's translation of the questions and answers :-
Q: What do you expect from the Brasil Open?
A: Well, I expect to continue with my improvement. I want to enjoy my one week here in this great country with fair weather and also to enjoy Brazil, which I have not visited since 2005.
Q: How does your trip to Chile look so far? And how are you physically?
A: Looks good. We're still going little by little. As regards my physical condition, I have good days and bad days. But we hope that my body responds well.
Q: You will drop in to the Carnival as well?
A: No. I cannot.
Here's his official press conference at the start of the tournament.
bebe translated some of the more poignant answers for us.:-
"I'm a bit tired now…it was a long week."
"I want to feel like I'm doing everything in my power to be well tennistically and physically."
"I have trained very little to prepare for these tournaments.."
"During these 7 months, when all is said and done, it's not like when you tear your ACL and you have 8 or 9 set months of stopping It's a different type of injury of daily work, where you have to see day by day how everything is going…"
"The bad moments are when you have doubts..when you're working at the gym with the physio and when you see things change very little by little…when you don't really know when you'll be able to play."
"I think hard courts are the worst for the body….they are very hard for all the joints, ankles, back, knees. And this is not a player issue, it's a medical issue…. I think the ATP has to think about how to elongate tennis players' careers. I don't imagine football players playing on cement, I don't imagine other sports with aggressive movements playing on such aggressive surfaces. I think we're the only sport in world that makes this mistake, and it looks like it's not going to change for now…..It's not only about what happens during your career, but about what happens after, how your body ends up after your career. The ATP doesn't seem to worry about the players too much, but it should…[be concerned] about the years following a player's careers. Competing so much on hard courts, the only thing we achieve is that, maybe, when our careers are over, it's very difficult to continue to practice sport. I don't know how I'll end up when I finish, and I like to practice sports….Tennis is beautiful, and important, but life is much more so [sniff sniff : ( ]…so it would be nice to be able to continue to do what one likes to do after one's career. For me it would be nice to be able to keep playing football or tennis for recreation, and the way things are going now, I don't know if I'll be able to do so in good conditions."
"Long term, the big objective in my head is Brasil 2016. Not being able to be there in 2012 has left a need and a feeling that I need–that I want– to overcome and 2016 is a very long term objective but a very real one. I'll be there working every day to arrive there, to Brasil 2016; first, to arrive there being able to compete and second to arrive in good conditions to what could be my last Olympics."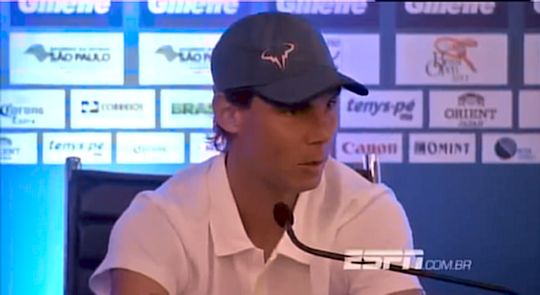 I'm pretty sure I wasn't the only one to go into mother hen mode when we heard the reports of the state of the courts. (Incidentally, it wasn't just Rafa complaining.
This article
, by tennis coach Josť Perlas, describes the conditions in detail.)
Sub-standard tennis balls I can live with but anything that could risk Rafa's precarious physical condition sets all sorts of alarm bells ringing. Knowing that he fell over during his doubles match didn't help matters.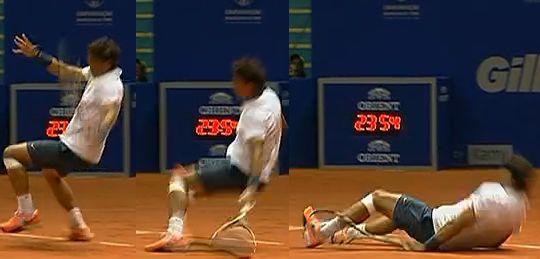 Of course we weren't able to watch the match because the overrunning of the preceding singles matches meant that the television coverage came to an abrupt halt before they took to the court.
Partnered by David Nalbandian, they beat Pablo Andujar and Guillermo Garcia-Lopez, 6-3 3-6 11-9. Someone who was there managed to capture match point.
More alarm bells rang when they subsequently pulled out of their next match, citing Rafa's desire to concentrate on the singles. It was with a fair amount of trepidation, therefore, that we watched his first singles match.
Some of his fans were clearly more than a little emotional seeing him in the flesh.
He was playing Brazilian Joao Souza and I have to admit to almost hoping he'd lose so as to minimise the chances of an injury. Of course, once the match started I was pulling for him with every fibre. It was not an easy match to watch, not helped by the mindless commentator who seemed to be reading from the "Rafa's career is over" script for most of the time. Still, the important thing is that Rafa did his fans proud and walked off court with a 6-3, 6-4 win.
Here are the highlights, (Be warned that this video is almost an hour long.)
And here's the on-court interview after the match.
His quarter final match against Carlos Berlocq was a tad more complicated. Again, it did not make comfortable viewing. (Though for me it was marginally better as my live stream had a French commentary which upset me a lot less than the British one the previous night.)
When he lost the first set I felt sure that this would be his final match here. (Actually I started to worry when he failed to convert all the break points he had in the opening game.) Hopes were raised when Rafa took the second set and then dashed when he dropped serve at the start of the third set. But he battled through to win, 3-6, 6-4, 6-4. Phew.
For his semi final he was up against Martin Alund from Argentina - yet another player he was playing for the first time. Alund had never won an ATP match before this week so, of course, he was without fear since he had nothing to lose. Have to say this is the scenario I hate most since I know there is scant chance of me deriving any pleasure from the match. I was back to the annoying British commentator who was spouting the same script so I had to have the sound muted. Since the quality of the stream was so poor that I couldn't see the ball, it was much like following a live scoreboard with the slight advantage that I could see exactly why the score had yet to change.
I emerged from behind my sofa just in time to see Rafa take the final point to win, 6-3, 6-7(2), 6-1.
This video shows the highlights of the match. (Again, it's very lengthy at over an hour.)
Here's his fairly sweaty on court interview after the match.
Here's bebe's translation of what was said :-
"How are you feeling ahead of the final?"
"Well the truth is that today I didn't feel very well. Today is the day I've felt the worst knee-wise, and, well, if the knee is bad, the tennis is much more difficult, no. But well, luckily, I was able to win, and I'm a final again here, very happy for the result. If after seven months without playing, I make finals without playing really well, it means that my level, without being super high, isn't bad, either….So it's important for the knee to recover more, for it to improve as the weeks pass, and if it happens like that, then the tennis level can return, no?"
"Before the tournament you said that a title here would be improbable. Do you still have that opinion."
"Yes, I think it's improbable, tomorrow we have a very difficult match. Today I didn't feel good, so just have to hope that tomorrow it improves. Well, we'll see, happy to be in a final whatever happens. I think that the title, with the conditions in which I'm arriving I'm not the favorite, but I'll try to do my best for the people that are here encouraging me."
"What do you find good in Nalbandian?"
(or something like that)
"Everything. He doesn't have any weaknesses. He returns very well, plays very well. and I think these very fast conditions suit him."
He wasn't alone in being cautious about his chances. I prepared a nice safe spot behind the sofa while worrying that it would be a repeat of last week. But what a difference a week makes! From the outset, it was a different Rafa who turned up. Possibly Nalbandian was nervous since he wasn't hammering down aces like he did in his previous matches. The first set was tight and then it looked like we were going to have a repeat of the Viña del Mar final when Rafa dropped his first two service games of the second set. But then he just went into another gear and stormed through the next six games to win the match, 6-2, 6-3.
Here's championship point.
How fabulous it is to see him biting a trophy again...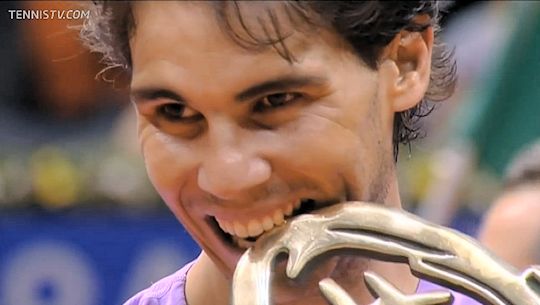 ...and how lovely it is to be able to end a home page with the words
¡Enhorabuena, Rafa!