Rafa launched the 2012 season by playing tennis with Roger Federer (who described the atmosphere as romantic) at sunset in the Katara amphitheatre in Doha, surrounded by more than 4000 burning Roman candles.
There had been concerns about the state of his shoulder and prior to the start of the tournament Rafa was cautious about his chances.
"Iím better now. All December, I had the shoulder injury and till just over a week ago, I didnít know if I will be able to play here.

"I somehow made it to Abu Dhabi and played two matches that helped me a little bit. I feel that my shoulder is better and thatís the most important thing. I havenít spent much time on court and have just managed to practice a little bit. This will be a test for me as there are some good players out here. But I will see how it goes. As of now Iím feeling good."
He was faced with a tough opener against
Philipp Kohlschreiber
who has always taken a set off him on a hard court. After a good opening set, Rafa dropped serve in the second, battled to get the break back and then played a dreadful tiebreak. An opening break by Kohlschreiber in the third set left us a bit nervous but Rafa broke straight back and then again to open up a 3-1 lead. That was all he needed and he closed it out,
6-3, 6-7(2), 6-3
.
"In general, for me, was a really positive match. I think a played a very good first set. The only moment that I didn't play well was the beginning of the second and after the tiebreak. For the rest, I think I played a very solid match.

"I'm very happy about my level. I really played better than what I thought. So everything was really positive. Most important thing is I played really correct, really well, and I am through. So that's, you know, very important to keep having matches on the court with what's going on."
It was a much more straightforward match (he only dropped 7 points on his own serve) in round 2 where he beat
Denis Gremelmayr
,
6-2, 6-2
.
"I think I did almost everything okay, no? I think I hit good forehands, I went to the net a lot of times, but that's important on my game. It's something that we are trying to do more often.

"I think I'm returning better than especially the last part of the season, 2011, no? So that's important, because the beginning of the points a lot of times are the key, no?

"So, in general, I hit good returns, aggressive ones, good backhands. I think I played a complete match. I will see. Tomorrow will be a difficult one.

"What is really important is to have hours on court, to spend hours on court. Yesterday was, I said, a very positive match for that reason. Today is another positive match, especially because tomorrow I will have another day.

"So I already will have three matches on my shoulders plus two of Abu Dhabi, so especially these three that's official ones, that's helped me a lot, so very happy for that. Try to have a good match tomorrow and try to win and have another match. We'll see."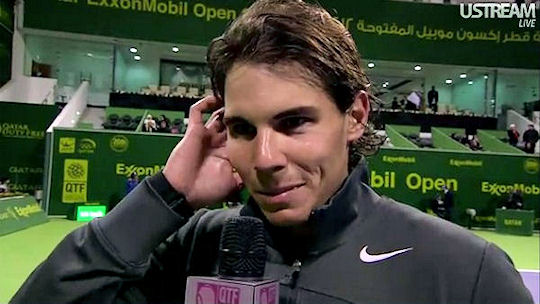 Screencap by elise
In the quarter final he was up against
Mikhail Youzhny
who had beaten him four times on a hard court. Rafa was almost sublime, prompting even the anti-Rafa commentators on Eurosport to grudging admiration. There was a slight blip in the second set (it wouldn't be Rafa if there wasn't) when Youzhny pegged back one of the breaks but Rafa held on for a
6-4, 6-4
win.
"Very happy. I think I played my best match here today. Doing a lot of things very, very well. Not like I read in some press. They said I did just a few things well yesterday, and I never said that. So I believed that I think I did a lot of things very well today, no?

"I returned the first set very well. I went inside the court. For moments I enjoyed a lot playing tennis tonight.

"But seriously, it's one of the days I go back to the hotel very, very happy about what I did. For a lot of moments during the match, I played at very, very high level, moving very well, going inside the court, having the control of the point most of the times against a player that I normally don't have the control of the point, because his level always put me in trouble in the past. It's his style of game. So that means that I did a lot of things very well, so very happy. For sure, keep working for tomorrow.

"Well, I think I am fresh mentally. That's important. But I want to do it well, and I really am motivated to try to play well.

"But, you know, I need more. Is not enough. I played very well today, but for sure I need more practice and I need time. But I said at the beginning of the tournament I played three good matches, but I cannot say I am in my best, you know, time just to play a few matches.

"I am in the right way. That's what I can say. My feeling is I am in the really right way. We'll see what's going on. I am doing much better than what I felt before this tournament, so that's a really positive thing. We'll see. I'm gonna keep working hard to continue with the same way."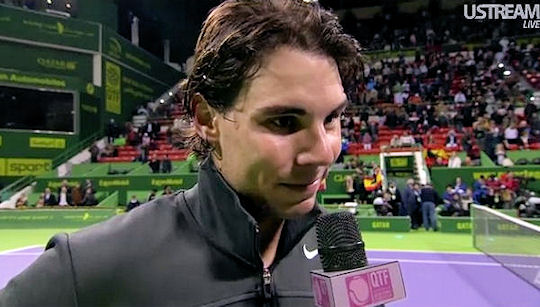 Screencap by elise
In the semi finals he came up against an inspired
Gael Monfils
whose only previous win against Rafa had been at this tournament 3 years ago. Unfortunately, it was the same result with a similar scoreline as Rafa lost in straight sets,
3-6, 4-6
.
"He take a lot of risk. I take more risk than him. That's my feeling. I didn't play the right way tactically in the first set, in my opinion. I wanted to play more aggressive than usual, playing more inside, don't wait. So just try to go more for the point than usual, and I think that's because I am trying to do it more than last year.

"But to play against him is not the right thing, but I really want to do it. So that's why I tried, no? He did well. He played very well. In my opinion, he had fantastic shots with very good backhands, good forehands, his movements was fantastic.

"So to play against him, I know that I cannot play like I did in the first set. I need to wait a little more. I need to play a little bit, you know, slower and wait my chance.

"Generally I'm happy, no? The second set, I started doing well, doing what I have to do to win a match against him. I don't think the match was bad for me. I didn't play well the end the match. I was a little bit unlucky in a few decisive movements, my opinion. He did better than me. I congratulate him. He's doing well. He's playing really well. All the best for tomorrow.

"I go to Australia very happy about what I did here. For sure I would love to win tournament, win today, have another match tomorrow.

"I am not lying to you, and my feeling is very positive. I think I played great tournament, much better than what I thought. So seriously, the only negative thing of today is to lose. For the rest of the things, I am satisfied.

"I played more aggressive than usual during all tournament, including today, even if I know that's not the right thing maybe to do it. I tried.

"I needed to be a little bit more consistent today for moments, but in general, I am doing the things that I have to do to compete against the best players of the world and to try to win at important tournaments.

"So I happy with almost everything, seriously. Maybe I may not gonna win Australia, but I have to keep working like this and I'm in the right way to win in the future. "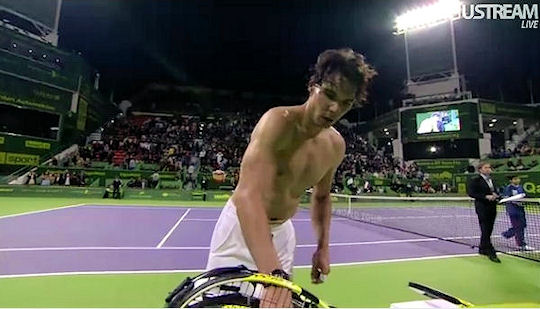 Screencap by elise
One thing this tournament will be remembered for is Rafa walking on court with a wheel-along suitcase. He was quizzed about it at his press conference after his second round match.
Q.
You came on court with a suitcase on wheels. Was it for protecting the shoulder? What was it? Is it new?
RAFAEL NADAL: You want the true?
Q.
Yeah, please.
RAFAEL NADAL: (Smiling.) Seriously, I forgot my bag at home.
Q.
At the hotel?
RAFAEL NADAL: At the hotel, no. I went on court yesterday - Majorca, the Hotel of Majorca, at home (smiling.)

So that's the bag that I bring all the, you know, computer, Play Station, everything there, all the cables, and I pulled out everything and I put the clothes there.

Another thing that's true, my pain in the shoulder is really on the top, so when I put something here is bothering me a lot. But that's not the reason, but that's the true. I cannot, for example, when I am having the bag on the shoulder, I cannot put one and one and put the racquet back like this, because that's bothering me a lot.

So anyway, even if I want to have the normal bag like I used today, I will do it. Just to go on court for 50 meters, that not gonna happen, nothing, but, no, that's the new style.

Do you like, by the way (smiling)?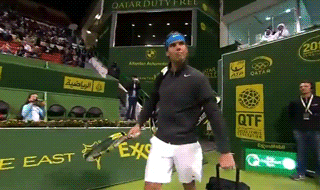 (Members can read
Rafaís WheelieÖMy Story written by bluebird
.)