How great it is to have a trophy bite at the top of the page.
It's 12 years since he won his first trophy here. The first time I came to Monte Carlo was the year after. I didn't expect him to win back to back so was thrilled when he did. I kept coming back and saw him win another 6 titles. It became the norm for April for me. Then came the first loss. Then another. It seemed Rafa would never get the elusive 9th title. Until last year. And now he has an astonishing 10 titles here.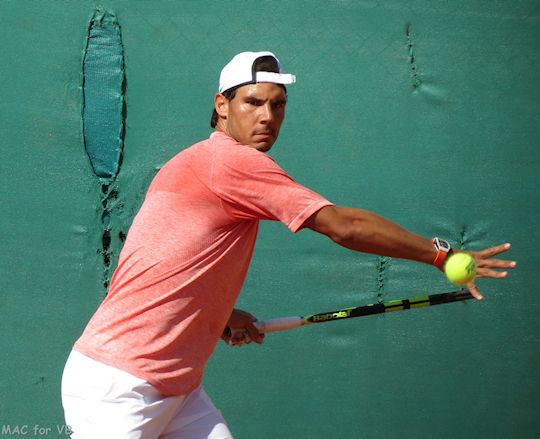 © MAC for vamosbrigade.com
One of the joys of attending a tournament is the opportunity to watch practice sessions, particularly at the start when 2 hours is the norm. The problem with Monte Carlo is that they keep the location secret so one has to make a guess and keep fingers and toes crossed that you are correct. The other problem is that there is one court where you either have to stand at the top where the view is distant and into the sun or fight off small children to get a spot where you can peer through the fence.
This is, of course, where Rafa chose to practise every day. The picture above is from the latter position. You can see the repairs that the staff have had to make to last years tears. I did manage to get a half decent shirt change shot which made the uncomfortable standing position worthwhile.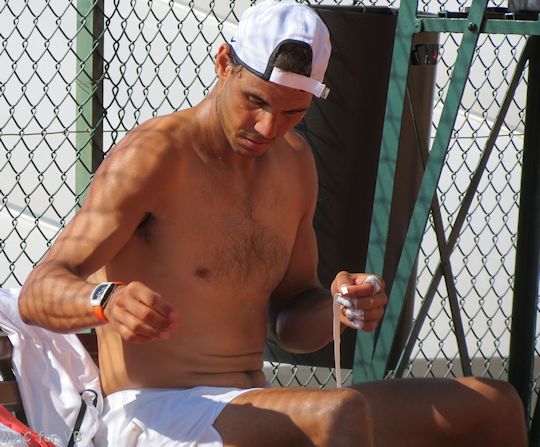 © MAC for vamosbrigade.com
I could witter at length but, to be honest, you're much better off reading
JLB's blog
which is full of pertinent observations and her fabulous pictures.
On to the matches.
Stupidly, we weren't too nervous about the match against
Kyle Edmund
. I almost relaxed after the easy first set when Edmund was spraying shots over the baseline and into the net. But then the weather turned grey and chilly, Rafa took his foot off the accelerator and Edmund started hitting winners from everywhere. A nervous (for me) couple of sets followed before Rafa got the win,
6-0, 5-7, 6-3
.
After that, I was very nervous about his meeting with
Alexander Zverev
. In my defence I refer you to their last meeting at the Australian Open which went to five sets. Of course, this meant that it was over in about an hour with Rafa winning easily,
6-1, 6-1
.
We weren't expecting to have any night matches at Monte Carlo but, for reasons best known only to themselves, the powers that be decided to schedule Rafa's quarter final last. This wouldn't normally be a problem but the first three matches all went the distance so it was around 8:30 when Rafa and
Diego Schwartzman
took to the court.

My main concern was how Rafa would play in the unfavourable conditions. My next concern was just how cold I was going to feel by the end of it. Thankfully, it was the quickest match of the day with Rafa winning, 6-4, 6-4.


Conditions were much better for his semi final. He was playing
David Goffin
for the first time so it was hard to know how the match would go. I was relieved it wasn't Djokovic but you always have to be careful what you wish for. What was unexpected was the furore over a misjudged overrule of a line call by Cedric Mourier. I can understand that the crowd was miffed but what upset me was that they took it out on Rafa. (As did a couple of media people who, frankly, should know better. But they have their own agenda.)Goffin let it get to him more than it should have and only won a single game after the incident. The crowd weren't exactly ecstatic about Rafa's
6-3, 6-1
win - but I was happy.
So we got Rafa's 11th final here. We didn't expect
Albert Ramos-Vinolas
to be his opponent when the draw came out but I can't say we were unhappy. It was just so wonderful to see him standing beside the flag again.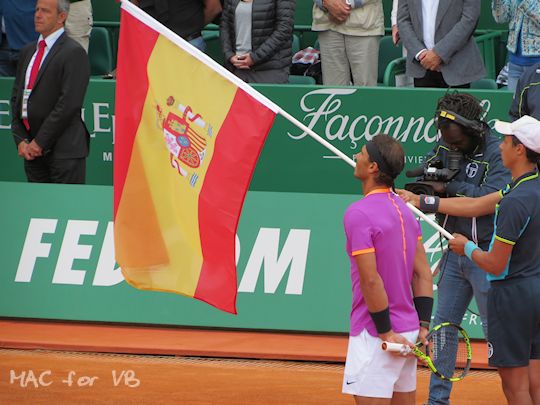 © MAC for vamosbrigade.com
As those of a less nervous disposition would have expected, it was not a tough final. I was fine with that.
Rafa won,
6-1, 6-3
.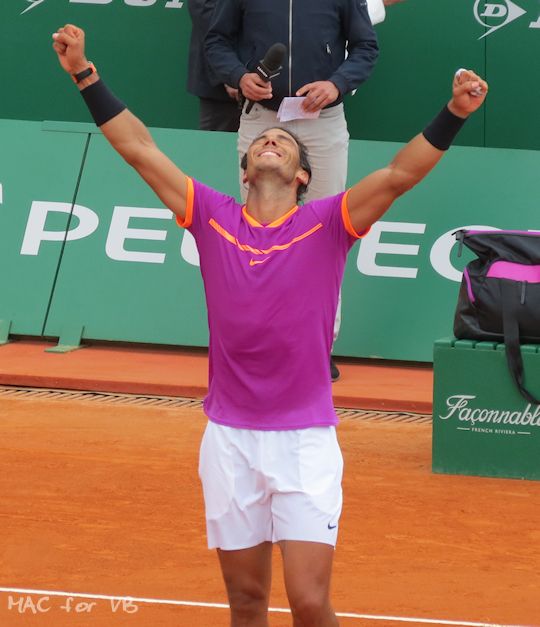 © MAC for vamosbrigade.com
So that's 10 Monte Carlo titles - just amazing.
It's also Rafa's 50th title on clay -- another record -- his 29th Masters trophy, and 70th title overall.
He looks pretty relaxed about it.
¡Enhorabuena, Rafa!