It had been 10 years since Rafa last appeared at a tournament in Buenos Aires. On that occasion he lost to lost to Gaston Gaudio in the quarter finals with the bizarre scoreline of 6-0, 0-6, 1-6. Back then he had just the one ATP tournament win. It was just over a week later that he began his extraordinary run of 11 titles that year. Now he was poised to equal Vilas's record of most clay court titles. No pressure, then. (There is now some dispute over whether Vilas has 46 or 49 clay titles.)
He started off the tournament in the doubles where he was partnered by his great friend, Juan Monaco. Some very rough livestreams enabled us to catch a glimpse of their matches, though the quality was such that one had to make a best guess of where the ball was landing.
They beat the number 4 seeds, Frantisek Cermak and Jiri Vesely,
4-6 7-5 10-7
in their opening match before losing to the home team of Federico Delbonis and Andres Molteni in their second,
4-6 6-3 7-10
.
Here are a couple of highlights videos.
To get to the final in singles, he had to defeat three local players.
In the round of 16 he took on
Facundo Argüello
for the first time. I'm sure I'm not the only one who gets nervous when he's playing someone new and it was not a surprise to me when he got broken in the first set. However, he raced away with the second to win
6-4, 6-0
and notch up his 714th match win to give him the No. 10 spot on the Open Era match wins list.
Highlights.
His quarter final opponent was
Federico Delbonis
who he'd lost to in the doubles on the previous day.
In singles, of course, things are always a bit different. He had played, and beaten, him once before in singles (in Viña del Mar in 2013) and this time was little different. Rafa won,
6-4, 6-2
without ever facing a break point. There was this superlative point to savour.
He played
Carlos Berlocq
for a place in the final. He's played him a few times before and it's not always been plain sailing. At 1-6 down in the tiebreak it looked like things would get very tough but he turned that around. Berlocq continued to play an aggressive game and was the first to break in the second set but then Rafa got a grip on the match. Despite a minor blip when he went break point down when serving for the match, he won,
7-6(7) 6-2
.
Highlights
When Rafa and Pico lost in the doubles, there was speculation that they might have been saving themselves for singles. If that was their plan, it worked out very well since they both made it to the final. Rafa had played
Juan Monaco
6 times before and only lost once, when he was forced to retire in Cincinnati in 2007. In their other 5 matches (all on clay), Pico only managed to win 13 games out of 12 sets. Would today be different?
For a long time, we wondered if there would actually be a match today. Rain had interrupted the preceding doubles final and then poured again just as the pair of them came on to warm up. There was another delay, they played a couple of games and then yet another delay. The court was beginning to look more like they should mud-wrestle for the title (a possibility I was not entirely averse to) than attempt a tennis match but wheelbarrow loads of dry clay were spread over the surface and things got underway in earnest.
The first set was tighter than any of their previous clay encounters with Monaco getting four games but set two was a more familiar story. Rafa won the match,
6-4, 6-1
for his 46th clay court title.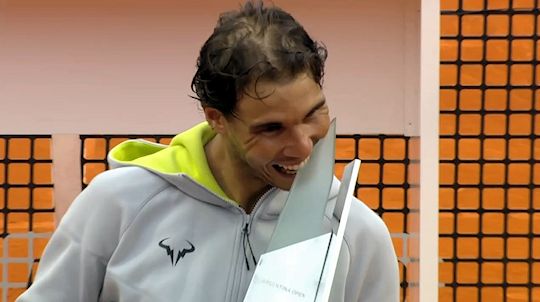 Screencap by elise
¡Enhorabuena, Rafa!