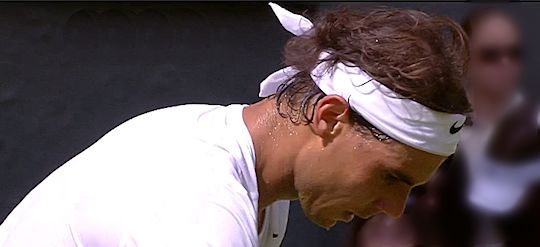 Screencap by MAC
It's blindingly obvious that the last couple of years at Wimbledon have not been great. Rafa came in this year having lost his last three tournament matches on grass. (He did slip in a couple of wins at Hurlingham but they don't count for the record books.) It was with some trepidation, therefore, that we girded our loins to watch him play.
"
I don't see farther than today
," Rafa said. "
I have a tough first round against Klizan. For the last two years I lost in the first and second roundÖI start from the first round in every surface. You can imagine even more here on grass.
"
He was right to call it a tough first round since
Martin Klizan
had taken a set off him at last year's French Open. Just to add to our confidence he came out with all guns blazing and did the same thing here.
Screencap by MAC
Rafa soon found his grass feet, though, and never looked back once he got the all important break in the second set. Spookily, Rafa achieved exactly the same score as he had done last year at Roland Garros and won,
4-6, 6-3, 6-3, 6-3
, to become only the 11th player in the Open Era to record his 700th match win. He then celebrated like he'd won the entire tournament.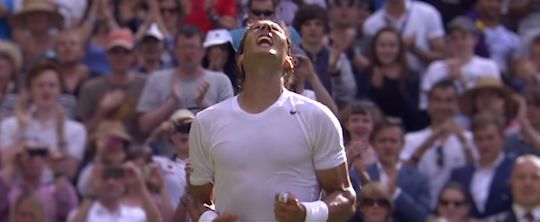 Screencap by MAC
Gratuitous shirt change.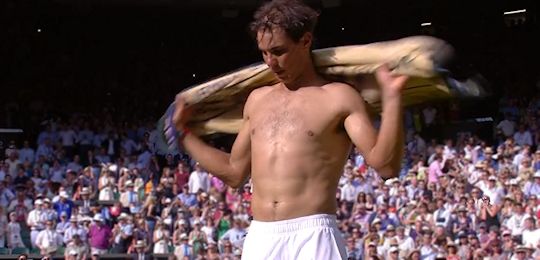 Screencap by MAC
"
Well, was a positive match for me. First thing because I won. That's the most important thing. I didn't play much on grass for the last three years. So always is like you restart.
"
So happy for the victory. In the end the match was difficult. After the first set was even more difficult. So I was able to fight. I was able to try to find some solutions, some changes during the match. I think I can do it better than what I did today, but at the same time I know I will not play today at my 100%. I will not play perfect today after not playing in grass for a while.
"
So you need to find the routines again. You need to find the confidence on some shots. The only way to find that things that comes automatic, the only way is play matches.
"
To say there was a lot of hype around his second round match against
Lukas Rosol
is like saying things get a little hectic in the week before Christmas. No journalist or commentator is ever going to let us forget that it was Rosol who beat him in the second round two years ago.
Despite the fact that Rosol has done diddly squat ever since, after the first set and a half it looked, scarily, like history might just repeat itself.
But Rafa was not going to let that happen. He regrouped and got the break back in the second set and then went on to win a hotly contested tiebreak. Eventually, his superior class began to show. By the time he was a break down in the fourth set, the only tactic Rosol could think of was to knock over Rafa's water bottle. Very mature.
Having prevailed,
4-6, 7-6(6), 6-4, 6-4
, Rafa once again celebrated like he'd won the tournament.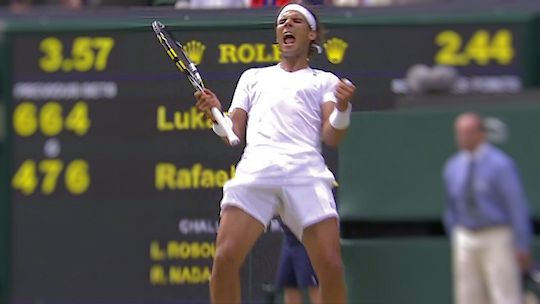 Screencap by MAC
"
When I am playing the match today, I am not thinking about the match two years ago. I am thinking what I have to do to win the next point in that match. What happened happened. Thatís it. We already congratulate him for what happened two years ago.
"
Today is another history, another story. I needed to find the solution. Finally I did. Thatís the most important thing.
"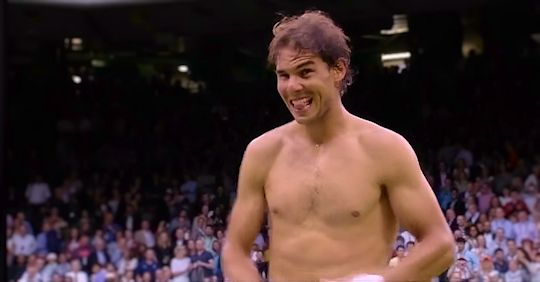 Screencap by elise
I, for one, wasn't expecting his third round match against
Mikhail Kukushkin
to present any problems. That's the trouble when I get confident. There was an additional factor to take into account. The roof was closed and we all know Rafa prefers to play in the open air in sunshine. Once again, Rafa lost the first set - in a tiebreak this time. But it would appear that Kukushkin had used up all his game in that set because Rafa stormed through the next three to record a
6-7(4), 6-1, 6-1, 6-1
win.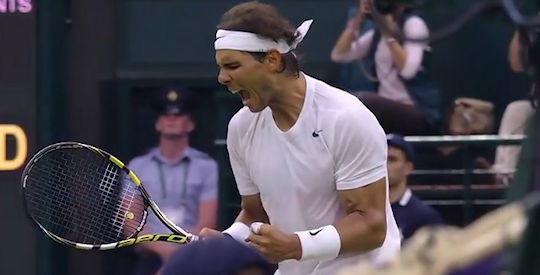 Screencap by elise
"
At the beginning he was playing really well and I made a few mistakes on his second serve and that led to the tie-break where I didnít serve my best. I finished all my matches better than I started and that is all that matters.
"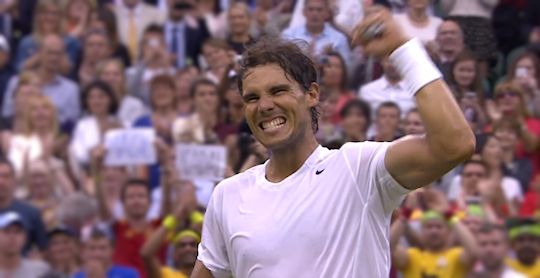 Screencap by MAC
Because of Saturday's rain, there was not time to play all the third round matches in Rafa's half of the draw. In a masterpiece of scheduling, therefore, Wimbledon has decided to leave all their fourth round matches until Tuesday. This means playing at least two (and possibly three) days in a row for those players who win. The top half of the draw will have a normal schedule with one day off after each match.
While I would prefer it if Rafa did not have to play two days in a row, on this occasion I hope he does since that means he will have won another match.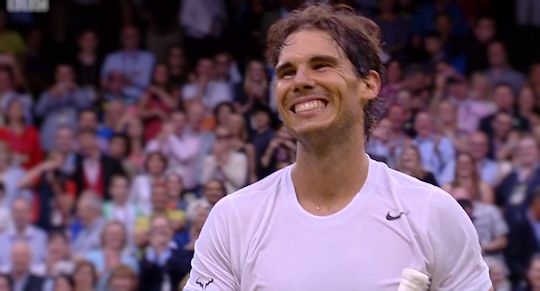 Screencap by MAC
We had high hopes going into week two but they were dashed by yet another big server -
Nick Kyrgios
and Rafa lost,
6-7(5), 7-5, 6-7(5) 3-6
.
As always, Rafa has the best take on the match.
"
I tried. I lost. That's the easiest way to explain that.
"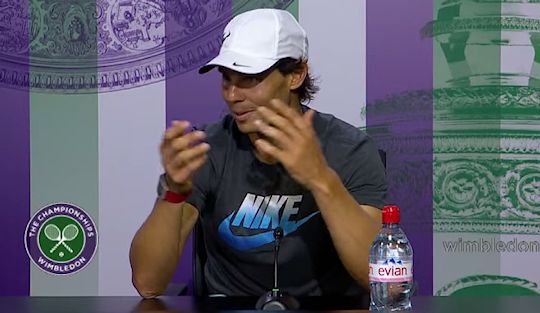 Screencap by MAC
"
The thing is this surface, when you have an opponent that he decides to serve and to hit every ball very strong, you are in trouble.
"
I think that I didn't play really bad. But that's the game in this surface.
"
I think in the second and the third set I was better than him, but I was not able to convert that opportunities. And for the rest, I think he play better than me.
"
So, in general, talking about what you need to win in this surface, he did the things better than me.
"
Oh, I am satisfied the way that I played this Wimbledon. Is true that my draw was not the best one. All the matches were uncomfortable against players that didn't give you the opportunity to play a lot.
"
I fighted until the end in every single match. I was able to play some good tennis on this surface. That's something that I was not able to do in the last two years.
"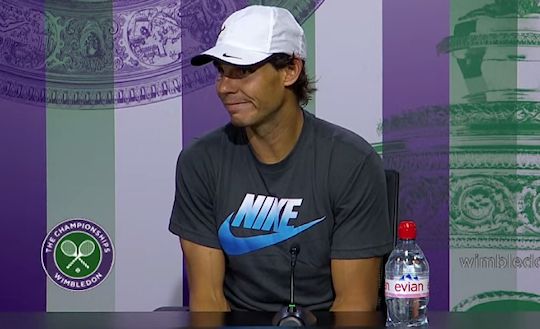 Screencap by MAC
"
Congratulations to him. For me, beach (smiling). For me, I going to go to the beach in Mallorca.
"
Enjoy the beach, Rafa