Pics © MAC
Last year I started the awards page by saying, "What a difference a year makes". Unfortunately, the same can be written this year. In 2013 Rafa exceeded our wildest expectations. In 2014, though, he (and we) had to suffer through a series of injuries and health issues which caused a number of unexpected defeats and withdrawals from important events. Consequently, there were some who couldn't bring themselves to nominate for an award and we had our lowest ever electoral turnout.
Still, there were plenty of people who felt there was enough to celebrate so I've put on my best frock to present this year's awards.

Pics © MAC
What was Rafa's best tournament of 2014?
This was a landslide victory (95%) for Roland Garros. Admittedly it was hard to even think of another nomination so this result didn't come as a surprise. In an additional vote for favourite tournament regardless of Rafa's performance, Monte Carlo, with 65% of the vote, beat Indian Wells.
What was the best match of 2014?
There were 6 nominations in this category but two matches got the lion's share of the vote. In second place was the Australian Open semi final in which Rafa beat Roger Federer for the 23rd time. The winner, not surprisingly, was the Roland Garros final with 55% of the vote. For the record, Rafa defeated Djokovic, 3-6, 7-5, 6-2, 6-4.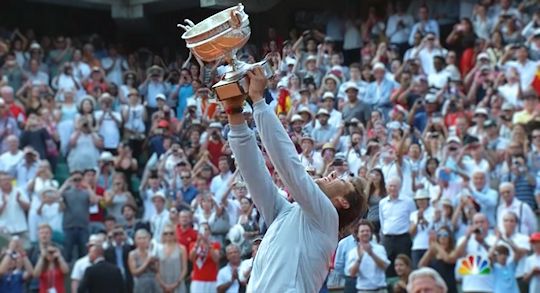 Screencap by elise
What was the best point of 2014?
With 46% of the vote, our winner comes from the Australian Open quarter final. Dimitrov is serving at 3-6 in the 2nd set tiebreak. After Rafa executes a sliding, stretched-wide forehand, he makes it across the court to a Dimitrov drop shot and (seemingly casually) flips it cross-court out of Dimitrov's reach, to take the second set. (Rafa's celebration after this point deserves a category of its own.) It starts at 4:28 in the following video. (You can see some more contenders to make up your own mind which was the best.)
What was your favourite on court moment?
Our winner with 78% of the vote is match point in the final at Roland Garros (Djokovic double-faulted), how Rafa celebrated it (by dropping to his knees and putting his face in his hands) and after
when Rafa climbed into his box
.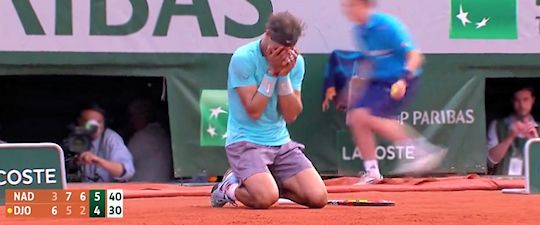 Screencap by MAC
What was your favourite on court outfit?
Another winner for Roland Garros (we
really
enjoyed that tournament) with 65% of the vote.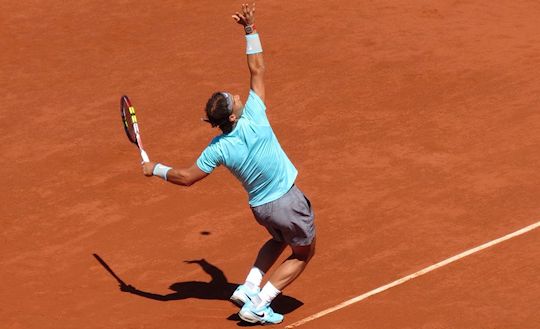 ębluebird for vamosbrigade.com
What was your least favourite on court outfit?
A very narrow vote here. The dark grey and orange outfit worn for Doha and the Australian Open (52%) just edged the blue top and light grey shorts worn for the European clay court season(48%).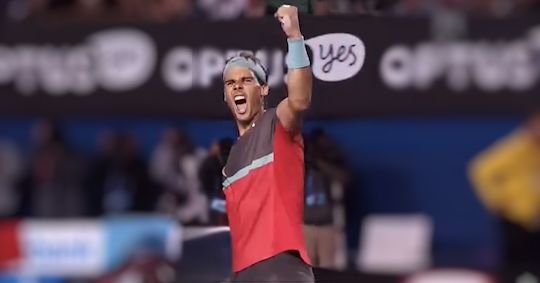 Screencap by MAC
What was your favourite off-court outfit?
Our winner, with 32% of the vote, is the medium grey button-down shirt and charcoal grey trousers, as seen on 16 October during the shoot for Haute Time magazine.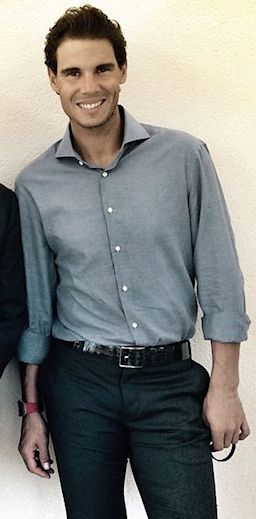 Which was your favourite of the various swimwear Rafa wore this year?
The winner, with 30% of the votes, is the pale pink shorts he wore in Ibiza at the beginning of July. I'd love to show you a picture but I can't find one that isn't shrouded in copyright.
Which is your favourite of the various hats Rafa wore this year?
58% of the votes went to the white fedora with clay-colored band worn at the cake party for his 28th birthday in the Roland Garros Players' Lounge on June 3. (You could buy this hat from the Roland Garros shop; one of ball-kids was wearing it, but then suddenly put it on Rafa's head.)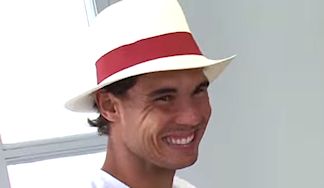 Screencap by MAC
What was your favourite off-court moment?
This vote was incredibly tight with only one vote separating the top two. With 41% of the vote, though, our winner is Rafa playing around with his young cousins during a practice session in Manacor.
What was your favourite quote about Rafa?
The narrow winner in this category (with 27% of the vote) was this quote from Jimmy Connors from
this article in tennisworldusa
.
"In this game we need someone like Rafael Nadal to be World No.1. He puts such passion in his game in a way that never fails to excite me. Roger Federer and Novak Djokovic sure have the talent, but Rafa has it as well, but he brings a whole lot more of emotions together with that. . . "
What was your favourite Rafa quote?
The winner (with 29% of the vote) comes from an interview (translated for us by nou.amic) by Joan Solsona for Marca after Rafa's 9th Roland Garros victory
"I realise [that I am a living legend in sport] because of the number of titles, the years I've been at the top, the time I've been competing, what I've achieved. I know I have a place in the history of tennis but I don't know where. It's one thing being humble and another being stupid. Reality is what it is and what's been achieved has been achieved. I'm here to continue enjoying it and fighting for things. The personal satisfaction is in feeling very much loved wherever I go, more than in what I've achieved. That's very nice, especially in Spain."(smiles)
What was your favourite fun video?
A new category with a very clear winner. 68% of the vote went to Rafa bluffing about being a helicopter pilot for PokerStars.
What would you most like to see happen in 2015?
It is a given that our primary wish is for Rafa to remain healthy and happy throughout the year. Once again, aside from that it would seem that our main hope is for more Grand Slam (Major) titles. Winning Roland Garros for a 10th time just edged it over winning the Australian Open for a second time to complete a double career slam.
| | | |
| --- | --- | --- |
| 1. Regain Year-End No. 1 ranking | | 7% |
| 2. Complete a Calendar Slam (win all four Majors in 2015) | | 21% |
| 3. Win Roland Garros for a 10th time | | 32% |
| 4. Win the Australian Open for a 2nd time to get a double Career Slam | | 29% |
| 5. Win Wimbledon for the 3rd time | | 1% |
| 6. Win a Masters 1000 tournament that he hasn't won before | | 1% |
| 7. Play at least one tournament in sleeveless kit | | 5% |
A very healthy and happy 2015 to everybody!