On November 3rd Rafa went into
the Hospital Quirón Teknon in Barcelona
for his appendectomy. For all us mother hens it was great that he and his team kept us up to date with events.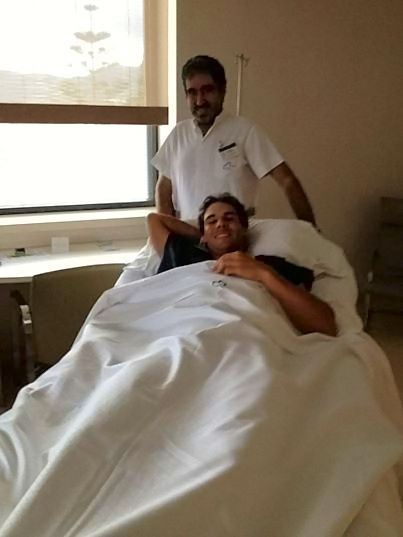 Gracias por vuestros mensajes de apoyo! Camino del quirófano para una pequeña operación.

Thanks for all your support! On my way to the operation room for a small surgery.


Immediately after the op (and looking a bit wan) he posted this.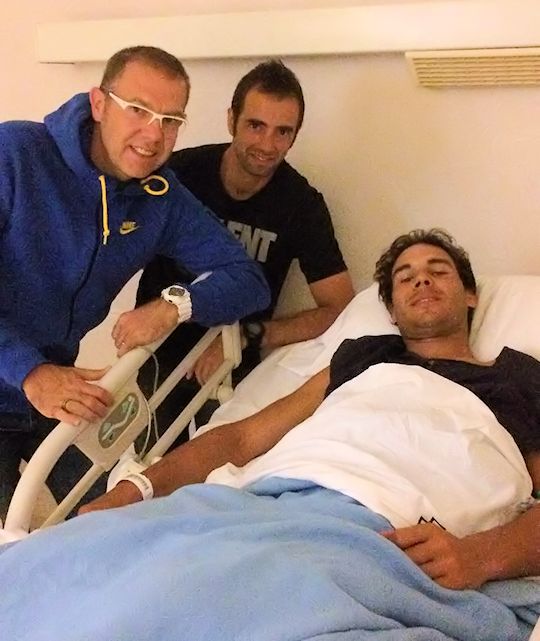 Todo ha ido muy bien. Muchas gracias por vuestro apoyo. Abrazo!

Everything went great. Thank you very much for your support. Big hug!
The second he left the clinic, on November 5th, he was bombarded by press and autograph hunters.
In
this article from El Mundo Deportivo
he is reported as saying, "
Everything turned out well, it was a simple and common operation. My goal is to arrive home. Practising again? When I'm well. We'll talk afterwards, we'll balance the season later on. I came to the front door of the hospital just to face you and thank you for your interest in my recovery and for your concern. I feel fine, thank you everybody.
" (Translation by
malimeda
)
This is what he said according to radio reporter, Javier de Diego
@dediegoRNE
:
@RafaelNadal a su salida del hospital:'mi objetivo ahora mismo es dejar d tener dolor'
@RafaelNadal :'acabo d pasar x el quirófano.Os agradezco el interés q habéis tenido.Todo ha salido bien.Ya habrá tiempo d valoraciones'.
(Translation by
malimeda
)
Rafael Nadal upon leaving hospital: "My goal right now is to stop getting pain."
Rafael Nadal: "I've just undergone surgery. I'm thankful for your interest. Everything turned out well. There will be time for assessments."
Once he was back home, he responded to some of his well-wishers on Twitter. (Translations by
malimeda
.)
@paugasol
:
Me alegro que tdo fuera bien @RafaelNadal! Ahora toca recuperarse. Con ganas de verte en la pista!
I'm glad that everything went well, Rafael Nadal! Now you need to recover. Looking forward to see you on court!
Gracias Pau! Ya estoy en casa recuperándome. Te agradezco los ánimos
Thanks, Pau! I'm already recovering at home. I'm thankful for you cheering me up.
@rafffffa1986
:
Que buena noticia!! Me pone muy feliz Rafa
What good news!! It makes me very happy, Rafa.
Gracias por tu apoyo!
Thanks for your support!
@honesgirl
:
Yay! So happy to hear. Rest up well so we will see you soon! ¡Vamos!
Yes! I'm resting these days to be back as soon as possible! Thanks for your support!
@genny_ss
:
Vemos que estás en buena compañía... Gracias por las buenas nuevas! Descansa bien y a ponerte fuerte. Besos y abrazos!
We can see you're in good company... Thanks for the good news! Rest well and then start getting strong. Kisses and hugs!
Sí, muy buena compañía la verdad! Te agradezco el apoyo.
Yes, very good company indeed! I'm thankful for your support.


@FansNadalARG
:
@RafaelNadal Sabes que siempre tendrás nuestro apoyo, ahora a recuperarse muy bien
Rafael Nadal, you know you'll always have our support, now recover well.
Gracias Argentina!!
Thanks, Argentina!!
A couple of well wishers from the WTA also tweeted their support -
Victoria Azarenka
@vika7:
Wishing @RafaelNadal a speedy recovery!!!
And Serena Williams posted a pic & tweet on behalf of her Yorkshire Terrier (whose full name is 'Christopher Chip Rafael Nadal')
@serenawilliams
:
Mr. rafaelnadal my Mommy and I hope u get well soon, your #1 fan, Chip R.N
And now he's up and about.
Empieza el proceso de recuperación. Primer paso: paseos por Porto Cristo.

The recovery process starts. First step: walking in Porto Cristo.
We wish you a speedy and straightforward recovery, Rafa.