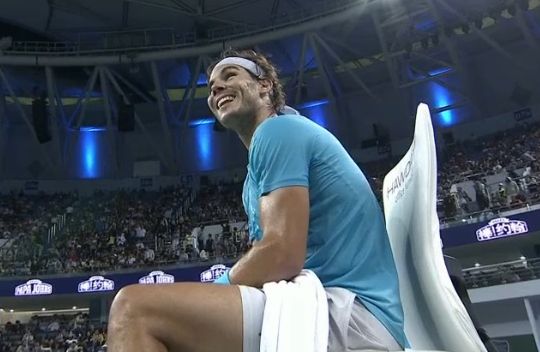 Screencap by elise
In his first outing at the Shanghai Masters back in 2009, Rafa made it to the final. Since then his results here have been less than stellar, losing in the round of 16 in 2010 and 2011. This year, he was, as always, going to try to do his best.
His first match was against
Alexandr Dolgopolov
, a player who has yet to take a set off him. This time, Dolgopolov didn't even manage to get a break point and Rafa wrapped up the match,
6-3, 6-2
, in just under an hour.
Post match press conference
"Is normal to have problems in the early matches in Masters 1000 because best players are here. Is true that sometimes in the end of the season I didn't arrive with the best feelings in my body and the tennis. I lost against players that they decided to play aggressive, like Mayer did, like Melzer did a few years ago. Understand in 2009 I played the final too.

"The court is fast, faster than the previous years. I like the ball much better than last week. I think I played a good match. Win against Dolgopolov the way I did is because I did a lot of things well.

"In the beginning I couldn't do nothing. He was playing amazing, hitting every ball very hard, playing winners from every place. Positive thing is that I resisted well at the beginning and I converted the second chance I had on the breakpoint. I was lucky that he missed that smash, is true. But after that I think I played a great match.

"The serve worked great. Something that didn't happen last week. That's very important thing. I don't know, maybe the ball and the court help me little bit more here for the serve. Hopefully that's a real thing, is not a thing of one day. We'll see tomorrow. I have another tough opponent in front.

"But generally happy. All the victories are important, and more at the end of the season."
It took nearly twice as long for Rafa to get past
Carlos Berlocq
despite, once again, facing no break points. After an easy first set, the second set went all the way to a tiebreak. When Rafa was 2-5 down in that, it looked inevitable that we would have a third set but Rafa is Rafa and he won the next 5 points to take the match,
6-1, 7-6(5)
.
Post match press conference
"The situation today with the humidity was not nice. When you play these crazy points with the good conditions it's fine because you feel fine for the next point. With the conditions of today, not comfortable to play with this situation. Too much humid, sweating too much. Feels like every two games I can change the T-shirt. Crazy humidity.

"Berlocq is a great example of player who never give up, a player who always improved all during his career. Good guy, good fighter. Very good example for the rest of the players. Very good example for the kids, I think.

"But happy the way I played at the end. I think I played a fantastic first set. The second I felt a little bit more tired. Even like this, I had a lot of opportunities. Love-40, two more breakpoints. But is true that I never had the chance to play one of those breakpoints with a second serve.

"But anyway, I had to convert one of that. If I was able to do it, probably the match will be not that difficult because at the end was really close. He had a big opportunity in the tiebreak with the 5-2. So was lucky I played three great points in that moment. Unfortunately for him, he had the double-fault.

"At the end was close, emotional. Very happy to be through. "
So, for the first time in four years, Rafa was through to the quarter finals. Here he played
Stanislas Wawrinka
, another player who has yet to take a set off Rafa. It certainly looked like that was set to change when the first set went to a tiebreak that took almost 15 minutes to complete. However, once Rafa had taken that, the second set was nearly a whitewash. Final score,
7-6(10), 6-1
.
Post match press conference
"Match in general, first set especially, was very, very hard one. I think I played a great set. But court is fast. His serve was huge. He came to the court with that determination to hit every ball by taking the ball earlier, hit the ball very quick, go for the big shots in every moment. So was very difficult to stop him.

"Positive thing, when he was playing well, I was playing well, too. I was able to resist. If I was not playing well, I going to lose that set. So I played a great set.

"After that I was able to maintain the level. Breakpoints, first game of the second set, had that break. Very happy to be in semifinals in this tournament. Is a great new for me. Very happy. Is a very important tournament that always was tough for me to play well here. Last tournaments of the year. Semifinals on a Masters 1000, fast court, hard court, always have to be very positive new for me. So very happy. "
The semi final was a very different story. There was nothing Rafa could do against an inspired
Juan Martin Del Potro
and he lost in straight sets,
2-6, 4-6
.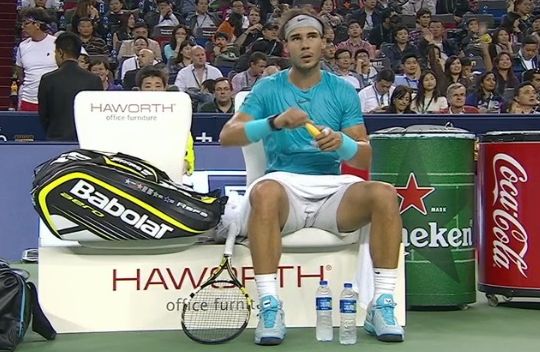 Screencap by elise
It's worth reading
Rafa's post match press conference
for his amazing humility, common sense and optimism.
"So I go home with the calm that I did all what I had to do and I played today against a player that was better than me tonight. That's all. Is fair to say that. I really go home with the feeling that I didn't play bad. That's the real thing. Is fair to say that. I am enough humble to say that, that I played well, and I lost 6 2, 6 4.

"At the end I played this year seven Masters 1000s. I played six finals, five victories, one semifinals. You cannot expect to be in the final in every week that you are playing and in every week that the best players are there.

"When days like this, only thing you can do is congratulate opponent, keep working the same way. I am in the right way. I enjoyed playing this week. I am very happy the way that I played this week, even if I lost in semifinals.

"I consider my level this week very high. Yesterday was a great victory for me. If I am able to keep playing at this level, I am confident that I will keep having positive results. Not everybody going to play like he did tonight.

"Win six Masters in one year is a joke. Is too much. Is very difficult to do that, no? Played already seven finals. That's much more than what I ever thought. Is something that I never think about. But I going to go to Paris with motivation to keep playing well, keep enjoying the season. At the end, the rest of the season is to enjoy what I had.

"What happened to me this season is just very emotional and fantastic. So what remains on the season is to play with the right attitude, positive, try to keep playing well, try to arrive to the last tournament of the year with better feelings than what I had in the past, and try to give me an opportunity. "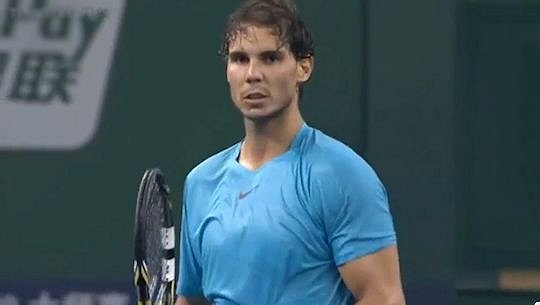 Screencap by MAC
Good luck for the rest of the season, Rafa