For the first time in nine years, Rafa didn't hoist and bite the winner's trophy on the final day of the Monte Carlo Rolex Masters. As Rafa often says, "This is sport": sometimes you win, sometimes you lose.
The fact that Rafa reached the final in all five tournaments that he has played since he returned from an eight-month injury layoff is unprecedented. The fact that he won three titles – including one on hard court (the Indian Wells Masters) – was unimaginable when he started the long road back to competition in February.
He's still on that road, and he managed to play five matches in Monte Carlo that will get him closer to his destination.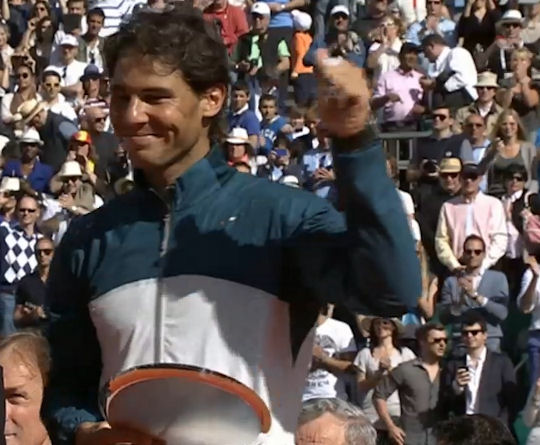 Screencap by elise
Round 2: Rafa def Marinko Matosevic, 6-1, 6-2
Rafa was the third seed this year in Monte Carlo (Novak Djokovic and Andy Murray were the first and second seeds). His first match on European clay was against a player Rafa had never faced before. The match was notable for Rafa's dominance, Matosevic's spirited fightback in the second set, and execution of something a number of commentators had discussed before but no one had ever tried: Matosevic deliberately knocked over Rafa's water bottles with a swish of his racquet as he passed them during a changeover in the second set. Rafa's reaction was typical. He looked a bit surprised, and he laughed.
Courtney Nguyen
jen's eyewitness account
:
Just moments before Rafa had done that incredible passing shot to take the game and Matosevic laughed and applauded him by clapping his racquet. He then walked towards Rafa's bench and as he passed stuck out his racquet and gently pushed the water bottles over. He was smiling mischievously as he walked to his own bench. Rafa saw him and (as we can see from the vid) laughed. What the vid doesn't show was that Rafa then sat down and started talking to his team sitting on the other side of the court opposite him. He was explaining what had happened to them and he pushed his bottle over with his own racquet, mimicking Matosevic. He was laughing all the time. The crowd opposite (we were on that side, almost directly in front of his bench) were clapping and laughing at Rafa doing that and just being so cute. It was a really nice moment.
Those commentators and pundits, who had theorized that knocking Rafa's water bottles over would disconcert him, now know that all it will do is make him laugh - and break in the next game to win the match.
Round 3: Rafa def Philipp Kohlschreiber, 6-2, 6-4
Playing against a right-hander who has a single-handed backhand? Rafa has the strategy for such a situation down pat: he peppered Kohlschreiber's backhand throughout the match. Rafa's serve, forehand-down-the-line (FHDL) and his backhand seemed to be working fine. He was moving well, too. He made more unforced errors than usual, but he was trying to play aggressively and, after all, this was only his second match back after month's layoff and a week or two of practice.
One exchange was exciting enough to become the ATP "Hot Shot" of the day:
ATP 2013 Monte Carlo Thursday Hot Shot Nadal
Quarterfinal: Rafa def Grigor Dimitrov, 6-2, 2-6, 6-4
It was during the quarterfinal that we first observed that Rafa had taping on the left side of his back. It was also during this match that Rafa met a right-hander with a single-handed backhand who seemed able to cope with Rafa's assaults on his backhand (probably the damp, slow courts, which prevented Rafa's shots from jumping as high as usual, helped Dimitrov deal with Rafa's spin).
We noted that Dimitrov moved well; at points, Rafa seemed surprised that Dimitrov was so fast and returned so many balls. He showed good touch at the net and made more than his fair share of passing shots. Rafa's backhand seemed off: he wasn't coiling around as far as he usually did before striking the ball. After the match, Rafa offered his assessment of his performance and Dimitrov's future:
ATPWorldTour
When some of us obsessed about what the taping on Rafa's back was for,
rudy3 advised
,
"The Kinseo tape he is wearing on his back is not usually used for an injury. The tape is flexible, and pliable. It is mean't to move with you, not prevent you from moving. This type of taping is usually used to help support muscles that are sore, and retaining lactic acid."
While somewhat reassured, we hoped for sunnier skies and warmer conditions in Monte Carlo.
Semifinal: Rafa def Tsonga, 6-3, 7-6 (3)
Instead of sunny and warm, we got windy and cool weather for Rafa's next match. Rafa coped with the wind well and managed to break Tsonga twice in the first set (once in the fifth game and when Tsonga was serving to stay in the set at 3-5). Both Rafa and Tsonga were playing well.
The sun came out for the second set. After the first five games,
dafunk observed in the Cheering thread
that Rafa was
"handling the conditions really well. The margins built into Rafa's game really help on a day like today. . . . Rafa's movement looks very good, and he is coiling more on his backhand today than he did yesterday, so hopefully that's a good sign for the back issue. His serve is kicking nicely, and he's hanging on the baseline for most of his rallies, which is an indication of confidence. But his shot selection is superb. Something about this surface is in Rafa's DNA. His intuition on clay is a pleasure to observe. The only thing that isn't working on all cylinders yet is his serve return, but that will come with more time."
After Rafa broke Tsonga twice and was serving for the match at 5-1, we thought that the semifinal was over. But it wasn't. Tsonga got both breaks back and forced a tiebreak. Rafa played an excellent tiebreak and, after having had several match points before the tiebreak, he shut the door on the match on his next opportunity.
In his post-match interview, Rafa analyzed what had happened:
ATPWorldTour
Final: Rafa lost to Djokovic, 2-6, 6-7(1)
To many, Rafa "owned" Monte Carlo, he "couldn't" lose in Monte Carlo, and so they expected him to win, even though Rafa was still recovering his form. Even though Rafa has been quite candid about
his needing more time
to be "100% fit."
Rafa tried, but a ninth consecutive title at Monte Carlo was not to be. After the match, he looked serene as he waited for the ceremony.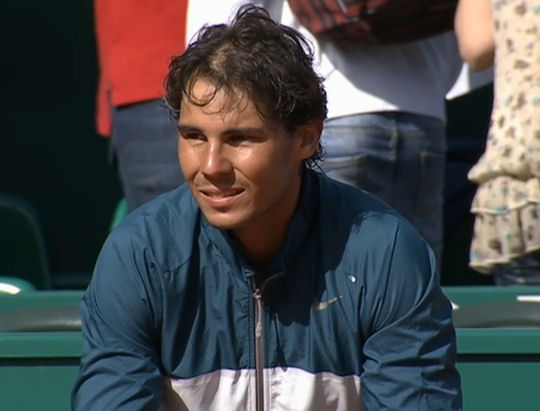 Screencap by elise
Rafa acknowledged that he had had his chances in the second set. His on-court interview after the final is classic Rafa: thoughtful, realistic, honest:
ATP 2013 Monte-Carlo Sunday Final Interview Nadal
Rafa's performance since his return to the ATP tour has been so impressive that it is hard to remember that he
is
just returning and still in the process of getting himself "100% fit." He'll be in Barcelona this coming week. We hope that he will get the chance to play five more matches, to bring him closer to full fitness.
Good luck in Barcelona