This article by Juan José Mateo
appeared in his
Ojo de halcón blog
on 18 February 2013. The following translation was done by
nou.amic
for vamosbrigade.com.
Ten year tears
Juan José Mateo
| 18 de febrero de 2013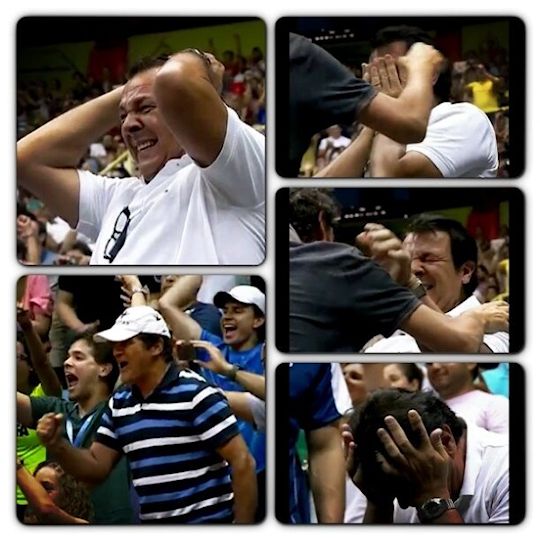 In the player's box, Rafael Nadal's father burst into tears. He covered his face with his hands. Others put their arms round him. Toni Nadal, uncle and coach to the world number five, clenched his fist. They had not just seen the Mallorcan win a title. They had received the first positive news since Roland Garros 2012, after seven months spent watching the tennis player recover from a partial tear and inflammation of the patellar tendon of his left knee. Nadal had just won the Brazil Open.
For the tenth consecutive year, the Mallorcan has won at least one title. It is a considerable record, but it is also of the least importance: Nadal is searching for Nadal, although he still has far to go, and this Brazilian title is more than anything a positive boost to the tennis player's morale and to his tennis, because he showed marked improvement during the tournament, starting out with things not very clear and finishing with his best match since he returned to competition.
Nadal, world number 5, takes 400 points away with him from South America, which is almost a third of those he lost in Australia, when he did not appear in Melbourne to defend the place in the AO final he obtained in 2012. He is now 1110 points behind Ferrer, the world number 4, who this week will be competing in Buenos Aires and the following week will play in Acapulco, like the Mallorcan, whose calendar after that is a mystery. Not even he knows if he will compete in the two Masters 1000 on cement in the United States or save himself for the European clay court season.
His family's tears, however, reflect the fact that the statistics, data, mathematics, are the least of it. What is important is the suffering that has been left behind and will be overcome in future, the emotions that have been experienced and are yet to be felt, the fight that has been fought and has still to be fought: only his family and his team know how much it really hurt the eleven-time Grand Slam tournament winner to miss the 2012 London Olympics, two Grand Slam tournaments, the Davis Cup final and the Masters Cup (WTF). Only those closest to him have seen him in those winter days, ill at Christmas, always suffering. Only his most intimate, the ones that cry and cover their face so that their sentiments cannot be seen, know the inside story: how much effort it has taken Nadal to fight every day to return to being what he was.