Having eschewed Miami, Rafa has spent the last 3 weeks practising at home in Mallorca on his favourite clay courts. He has been keeping us all up to date via
his Facebook page
.
March 21
Noche tranquila en casa en casa
Relaxed evening at home
(Need any help with that cushion?)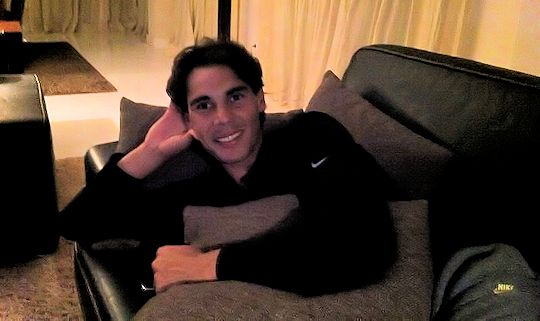 March 22
Apoyando la roja con mis amigos!
Supporting la roja with my friends!
(OK, but when are you going to get out on the court?)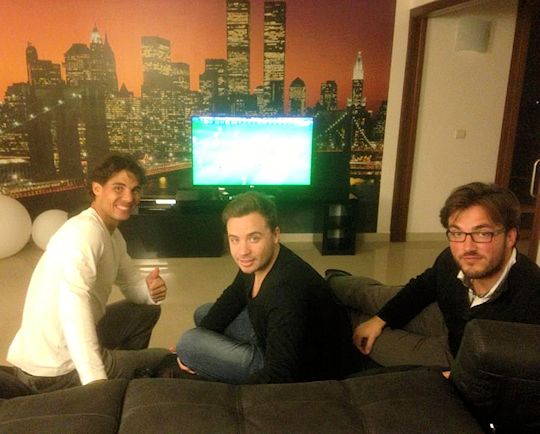 March 25
Vuelta a los entrenamientos en tierra con un día muy agradable!
Back to the practice on the clay court. A nice day!
(Yay! Thank you, Rafa!)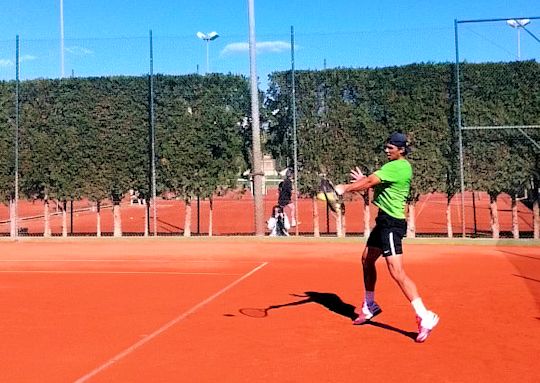 March 26
Muchas felicidades a la Roja!
Congratulations to Spain!
(He does love his football.)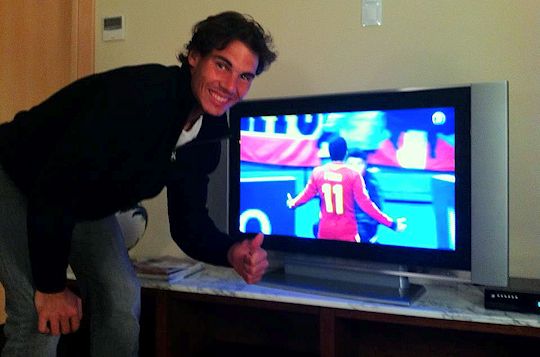 March 29
Hoy despues de entrenar recebi una visita muy agradable.
Today after my practice I received a very nice visit.
(Just a couple of people. These are kids from the Global Tennis Team international tennis academy in Mallorca.)
March 31
Tarde de entrenamiento en Manacor.
Practicing in Manacor this afernoon
(Where is everybody?)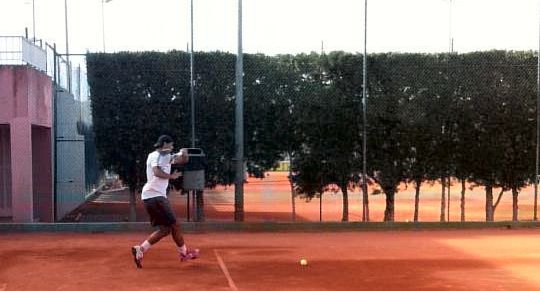 April 2
Un día fantástico de entrenamiento en Manacor
A great day to practice in Manacor
(Thanks, Rafa, it's freezing here.)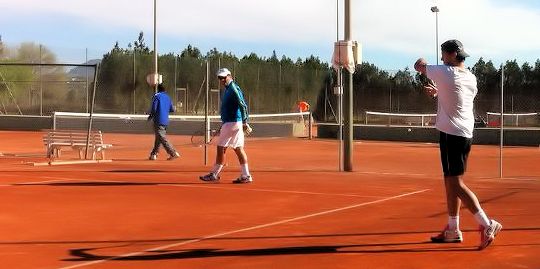 April 4
Entrenando un dia más con Federico Zeballos, de Bolivia!
One more day practicing with Federico Zeballos, from Bolivia!
(Any relation to Horacio?)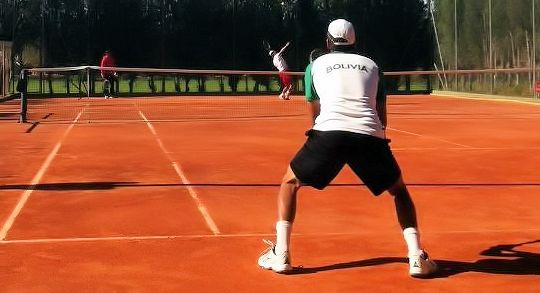 April 5
Después de entrenar toca dejar la pista bien arreglada para los siguientes jugadores.
After practicing it's time to get the court in good shape for the next players.
(I love the way he still does this - just like anyone using these courts and not the world's greatest clay court player.)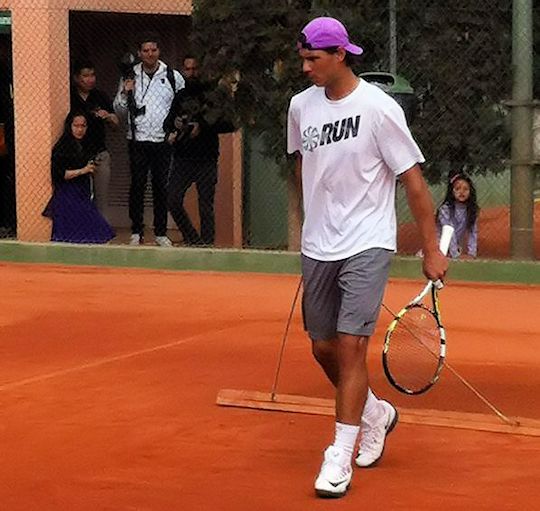 April 5
Paseando por palma despues de una sesion fotografica con Nike
Having a walk in Palma after a Nike shooting.
(Now why weren't you there when I was?)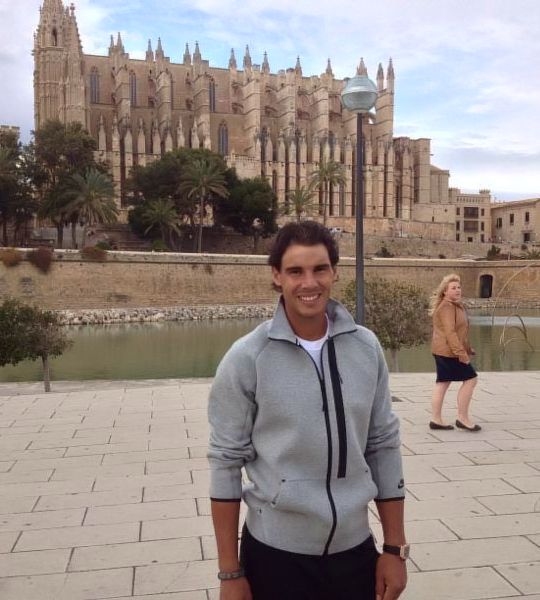 April 6
Tarde libre y acaba de llegar Alfonso. Mientras comemos planeamos una tarde de poker y amigos. Quién se apunta?
In my free afternoon, Alfonso has just arrived. While we've lunch, we are planning a poker & friends night. Who Is in?
(I'm in.)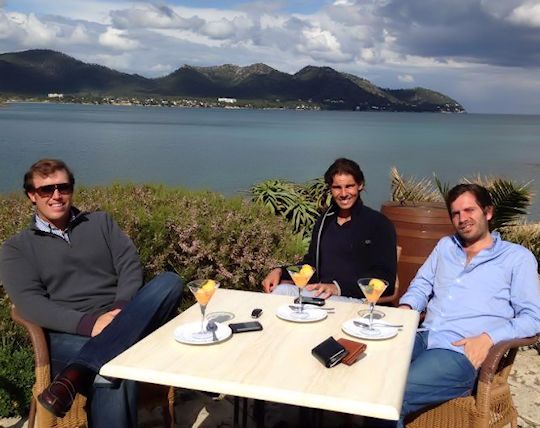 April 6
Ya estamos todos en la mesa! Quien pierda deberá hacer 50 flexiones/abdominales donde decida el ganador.
We are all at the table. The loser will have to do 50 push-ups where the winner decides to.
(OK, maybe I'm not in.)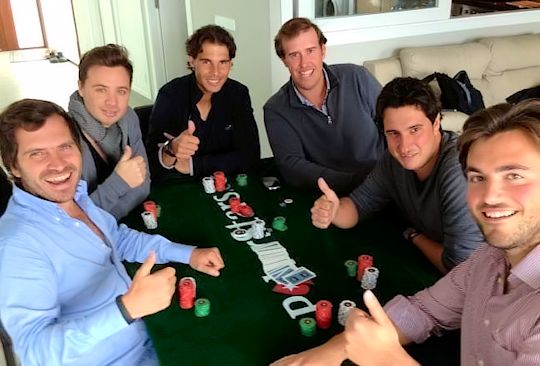 April 6
Al final ya veis lo que ha pasado. Yo aprendiendo a jugar al póker y Alfonso poniéndose en forma.
At the end you can see what happened. I'm learning to play poker and Alfonso is working out...
(If I'd known you would be holding my ankles I would have been in.)