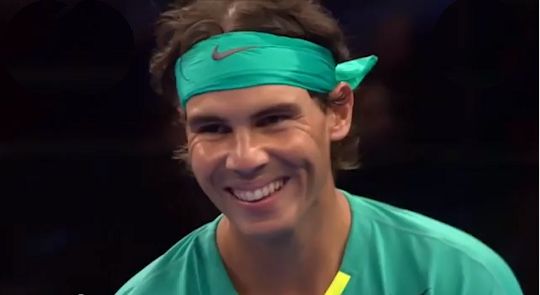 Way back in August 2012, it was announced that Rafa would play Juan Martin Del Potro at the 6th Annual BNP Paribas Showdown at Madison Square Garden on Monday, March 4, 2013. In October, Rafa said, "Iím very excited itís something different itís something special to play, itís very special. "
As the months went by with no Rafa on court, we began to wonder whether this would actually happen. When he returned on clay, we worried about whether this would be a good idea.
As it turned out, it was great!
There's always a sense that the players probably toss a coin to see who will win so the score is never important. (And I'm not just saying that because Rafa lost.) What was important was seeing Rafa have so much fun out there. I don't think I've ever seen him smile so much on a court.
Here are the highlights. (You can see the full coverage
here
.)
There was the usual fun interlude in the second set. This time, Rafa asked Ben Stiller to help him out and Del Potro got a young girl from the audience. Everyone was amazed by the little girl's play but it turns out she was a junior player in the USTA programme. Even if she never reaches the heights as a professional, she will have this moment to treasure.
The following footage was taken by @RomiCvitkovic who was at the match.
After the match, when the players were interviewed on court by Mary Jo Fernandez, Rafa melted all our hearts when he said he'd missed us more than we'd missed him.
We hope you carry on enjoying yourself next week in Indian Wells, Rafa.