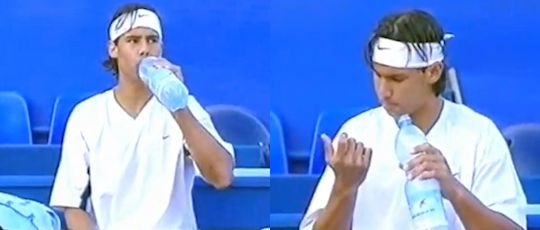 Screencaps by MAC
While we wait (as patiently as possible) for Rafa to return to competition, I thought it might be worthwhile to delve deep into the archives. Almost 10 years ago, back in April of 2003, Rafa played his first ATP Masters tournament - in Monte Carlo. He was 16 years old (despite what it says in the video) and had been playing on the professional circuit for about 18 months at that point. 2002 had seen him win 6 Futures tournaments and rise from 762 to 238 in the rankings. In 2003, he had made three Challenger tournament finals and he came into Monte Carlo on the back of his first Challenger tournament win, in Barletta, at the dizzy ranking height of 152.
In the first round he stormed past Karol Kucera, 6-1, 6-2. His second round opponent was Albert Costa, at that point the reigning French Open champion.
Here's what happened (note just how much smaller the stands were back then): -
These are some of the press reactions.
While Johan and Jordi Cruyff may be the best-known father and son in the world of football, sporting talent often runs in the family and produces prodigious offspring who excel in different sports.
Take, for example, the ex-Belgium international Clijsters. His daughter Kim has not only climbed right up to the top five of women's tennis, but also captured the heart of the world number one, Lleyton Hewitt.
This week, a sixteen-year-old Rafael Nadal has been catching everybody's attention on the clay court of Monaco. Rafael is the nephew of Mallorca's ex-Spanish international defender Miguel Angel Nadal and has been discovered by the same coach who also discovered Moyà in their native island. Built like a small ox, he is showing plenty of fighting spirit like his uncle and is only the second player after Michael Chang to reach the world top hundred at that age. A future world number one? (16.04.03)
soccerspain.com

Screencaps by MAC
Teenager Nadal-Parera downs reigning French Open champion Costa

MONTE CARLO (AP) - French Open champion Albert Costa of Spain was knocked out of the Monte Carlos Masters on Wednesday, losing 7-5, 6-3 to Spanish teenager Rafael Nadal-Parera. The 17-year-old Nadal-Parera,
[he was 16, actually]
playing in his first major tournament, dominated Costa. He dropped his racket and held his head in his hands after the final point, then punched the air in delight before shaking hands with his opponent. Costa patted his countryman on the back and wished him luck.
"I am so very, very happy to win such a great match," Nadal-Parera said. "You have to respect players like Costa, and I was a bit afraid at first, but then I played better and better."
The 27-year-old Costa saved five set points in the first set. Costa trailed 4-1 in the second set before rallying to within 4-3. Nadal-Parera broke serve as Costa tried to tie the set.
"I thought he may be scared as well playing against a younger player," Nadal-Parera said. "But at the start, I never really thought I could win this."
Nadal-Parera advanced to face Argentina's Guillermo Coria, who beat 15th-seeded James Blake of the U.S. 6-0, 6-7 (3), 6-3.
The Canadian Press April 2003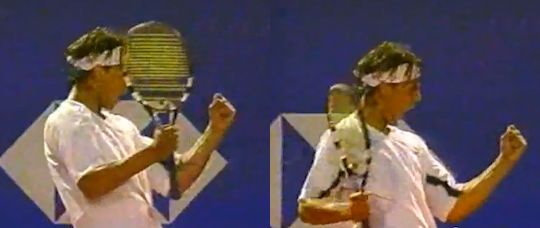 Screencaps by MAC
Costa stunned by teenager

French Open champion Albert Costa sensationally crashed out of the Monte Carlo Masters at the hands of 16-year-old Spanish compatriot Rafael Nadal.
Costa, the fourth seed, went down 7-5 6-3 to Nadal, who along with France's Richard Gasquet, is being touted as a future top 10 player.
Gasquet became the youngest player to win a Masters match at 15 years and 10 months on the same court last year, but Nadal is playing in only his second ATP event and the win over his vastly more experienced opponent was only his fourth match at this level
"I am really happy to win this though it wasn't a great match. I have a lot of respect for Albert but I try to always do my best and give my all," said Nadal, the nephew of former Spanish international footballer Miguel Angel Nadal.
"I was very eager to play that match and I hoped he would be a little afraid of playing against a young player like me.
"But seriously, I did not really believe in my chances."
bbc.co.uk April 2003

Screencaps by MAC
One player who appears destined to do much for the game is the 16-year-old Rafael Nadal, whose uncle is the former Spain football international Miguel Angel Nadal. The youngster won his first-round match yesterday against Slovakia's Karol Kucera 6-1, 6-2.
The Guardian April 16 2003
Sixteen-year-old nails champion of France

Stephen Bierley in Monte Carlo
Spain's Rafael Nadal, a left-handed prodigy to rival France's multi-talented fellow 16-year-old Richard Gasquet, pulled off an extraordinary 7-5, 6-3 victory over Albert Costa, the reigning French Open champion, in the second round of the Monte Carlo Open last night.
Costa, who won an all-Spanish final against Juan Carlos Ferrero at Roland Garros last year, knew he was in for a tremendous battle from the first game. It took him nine minutes to break Nadal's serve, but any thoughts he might break the young man's spirit were quickly disabused.
Nadal is an exceptional talent, remarkably quick on his feet and with powerful ground strokes on either wing. More importantly, he has a wonderful temperament. Costa tried everything to impose his greater experience, but Nadal - the nephew of Barcelona's central defender Miguel Angel Nadal - ran down everything and produced winners of startling quality for one so young.
He was a qualifier for this tournament and the win will launch him into the world top 100. "He's the best 16-year-old I have ever seen," said Carlos Moya who, like Nadal, comes from Majorca. "I think he has more potential than Gasquet and in two years maximum, he's going to be a top-10 player."
The match was the last on court and finished with only a couple of hundred watching. But by the end, Costa was not simply beaten but well beaten. He clasped Nadal's hand at the close and patted his stomach, but there was a glazed look of shock in his eyes.
Nadal plays Argentina's Guillermo Coria today for a quarter-final place.
"Before the start of the year I had no idea things would happen so fast," said Nadal. From now on the 16-year-old will be a marked boy-man by all the players.
The Guardian April 17 2003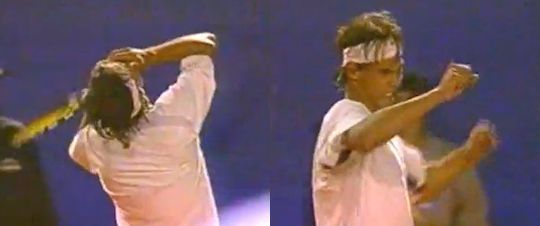 Screencaps by MAC
Nadal leaves his mark for the French

Stephen Bierley in Monte Carlo
The focus of attention here yesterday, other than the abundant food and wine, and the views of a pellucid Mediterranean, continued to be the young Spanish left-hander Rafael Nadal, who had reached the last 16 with a startlingly mature straight-sets victory over Albert Costa, the reigning French Open champion.
By beating Costa, Nadal became the first 16-year-old to break into the world's top 100 since Michael Chang in 1988. The following year the American won his one and only grand slam title at Roland Garros and it is not beyond the bounds of possibility to imagine Nadal emulating this feat, such is the young man's exceptional ability and confidence.
"He's very strong and already has the physique to stand the physical effort needed," said his fellow Spaniard Juan Carlos Ferrero, last year's beaten French Open finalist and the reigning champion here, though perhaps not yet. Neither Ferrero nor Carlos Moya, the only two seeds left in the draw, had expected Nadal to defeat Costa, and they were mightly impressed.
Moya, who like Nadal comes from Majorca, has always taken an especially keen interest in the youngster's progress from the junior ranks. "I've known Rafael since he was 10 and day after day he keeps impressing me more and more," said Moya, who believes Nadal will be a top-10 player inside the next two years. Certainly he will not lack advice and companionship; the Spanish are one big family.
Understandably Nadal, wearing a shirt as blue as the sea and skies, suffered an anti-climax after his huge win over Costa late on Wednesday. Argentina's Guillermo Coria, only 21 himself, arrived early for practice yesterday and was clearly in the most determined of moods when the match began in late afternoon, winning 7-6, 6-2.
Coria was a semi-finalist here two years ago when he was already being spoken of as a future French Open champion, but that same year he tested positive for nandralone and was banned for seven months. Coria has always claimed his innocence, though before the ban his fellow countryman Juan Ignacio Chela had also tested positive for the same substance. Today they will meet each other for a place in the last four, Chela having defeated Finland's Jarkko Nieminen 6-4, 6-2.
As against Costa, Nadal produced some fabulous winners but here Coria was every bit as quick as the Spaniard and rather more stern. Notably he attacked the 16-year-old's serve, breaking him twice early on.
Undaunted, Nadal hit back to level but after losing the tie-break he suddenly looked weary, which was hardly surprising. So ended an extraordinary week for the teenager. His debut in next month's French Open will be eagerly anticipated.
The Guardian April 18 2003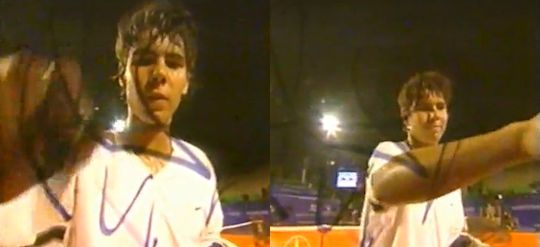 Screencaps by MAC
As the last article notes, Rafa went on to lose to Guillermo Coria in the next round. He missed 2004 with a foot injury but got his revenge in the 2005 final.
Here's to more successes in the future!