Screencap by mamasue
Cincinnati has not been the happiest of hunting grounds for Rafa. In eight previous attempts he has not progressed further than the semi final, he has lost his opening match three times and last year he wasn't present. Even Rafa himself couldn't account for his lack of success.
Expectations were not high.
In his first match, against
Benjamin Becker
, however, Rafa was imperious and improved on his previous result against him with a
6-2, 6-2
win.
"
I played well, I think, tonight. I should be very happy the way that I played since the beginning. Just for a few games the serve was down a little bit. I served with too much second serves just a few games. For the rest, I think I played a great match.
"
Full match
for those who missed it (especially for those Europeans who need to sleep on a school night).
(Note to Cincinnati tournament organisers - could you try and put the TV cameras just a tad higher so we get to see the whole court?)
I daresay quite a number of expensive manicures were ruined before and during Rafa's second match against
Grigor Dimitrov
. (Many of us are still in therapy after their match in Monte Carlo.) Rafa was typically cautious beforehand, saying, "
Yeah, he's a great player. He's a young player. He's really destined to be in the top positions in not a very long period of time. He's doing well, and I had a tough match against him in Monte Carlo this year. He had already tough matches against Murray, Djokovic. He's a player that has great potential. Tomorrow will be a tough match for me, so I have to keep playing this way and play very well. When I have chances, I'm going to try.
"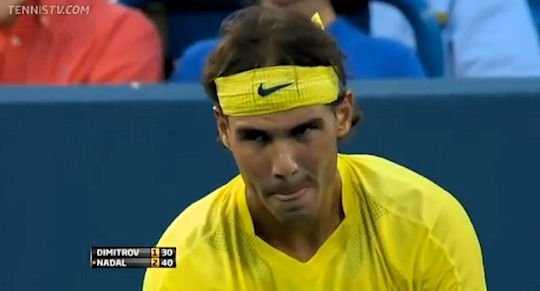 Screencap by MAC
For most of the match Rafa played well and used his experience to full effect. However, a blip at the end of the second set let Dimitrov back in and the match ended up going the distance before Rafa won in just over two hours,
6-2, 5-7, 6-2
.
The highlighted part of this excerpt from his post-match press conference speaks volumes about Rafa's attitude.
"
I was playing right the first set. I played a good level in the first set. Then his serve was working well in the beginning of the second. I was having trouble, so just wait for my moment. That moment happened, so I had the break, 40-15, and then I played a few bad games in a row so I lost the set.
Positive thing, I was ready to accept that situation, accept that I played a few bad games. I played more defensive than what I was doing the last couple of weeks. And from behind, the shots here are not the same than from inside the baseline, so I started the third set trying to go another time inside the court and trying to have the control of the point from there, and I think I played a good third set in general.
"
Full match video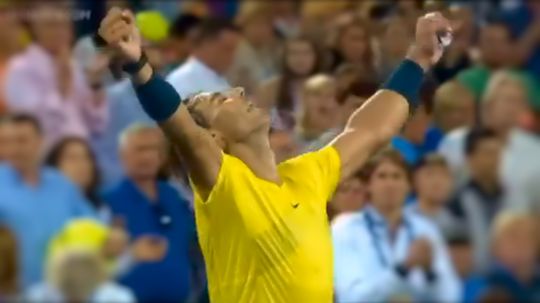 Screencap by MAC
We'd just about recovered from that when it was time to start fretting over what certain elements of the media liked to dub Fedal XXXI, i.e. the thirty-first match between Rafa and
Roger Federer
(I still wonder why they go on about this rivalry when the Rafa versus Djokovic rivalry is much closer and has been played out over 36 matches but no matter.)
Going into this match, Rafa led their head-to-head 20-10 but honours were even on a hard court at 6-6. Federer had not been playing that well all season so I, for one, was not prepared for the tightness of this contest. For a set and a half it looked like Federer was going to be the one to benefit from the defeat of the top two seeds but, as he has done so often in the past, Rafa managed to turn things around and won,
5-7 6-4 6-3
in just under two and a quarter hours.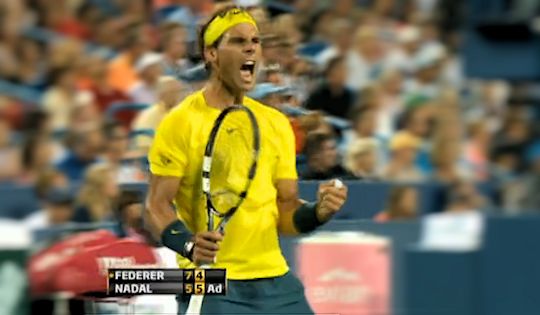 Screencap by MAC
Full match with English commentary
Full match for those who prefer not to hear English speaking commentators -
Part One
,
Part Two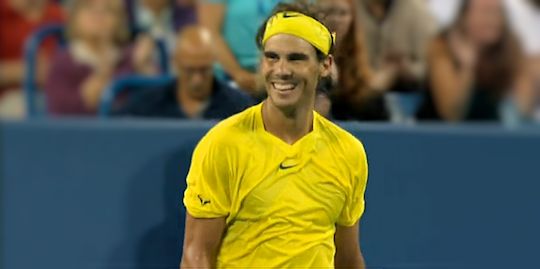 Screencap by MAC
On Saturday we had our first chance of the week to see Rafa play a daytime match. His semi-final opponent was
Tomas Berdych
who had beaten Andy Murray in the previous round. After the run of three Berdych victories in 2005-2006, Rafa has been the winner of their last thirteen matches. It turned out to be one of their closest contests but Rafa managed to win in straight sets,
7-5, 7-6(4)
to put him in his first Cincinnati final.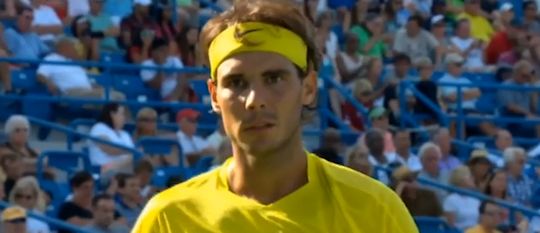 Screencap by MAC
Full match with English commentary -
Part One
,
Part Two
I'm sorry, but we need at least one shirtless picture.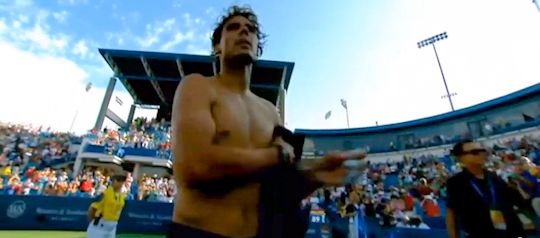 Screencap by MAC
The final was against
John Isner
who took out Novak Djokovic and made an amazing comeback to beat Juan Martin Del Potro in the semi final. He plays so much better on his home turf so it was never going to be easy.
Isner's superb serving meant that Rafa did not get one single break point for the entire match. Isner got three on Rafa's serve but Rafa saved them all. So it was decided by tiebreaks. The first seemed interminable as I squinted through my fingers from behind the sofa. The second was just a tad easier but nerve-wracking nonetheless. Still, all was well and Rafa won both and thus the match,
7-6(8), 7-6(3)
.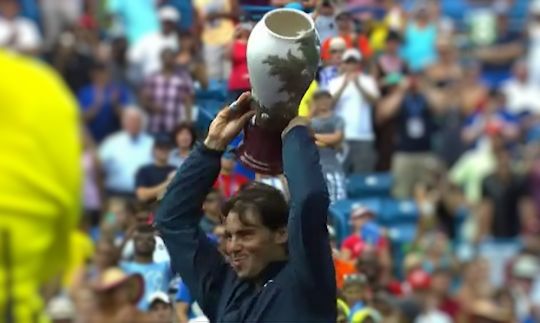 Screencap by mamasue
So...
that's his 9th title of the year (out of 12 tournaments), 26th ATP Masters 1000 title and 59th career title.
His win loss record for 2013 is an astonishing 53-3 and on hard courts it's a perfect 15-0.
He's done incredibly well on hard courts this year winning more Masters titles on that surface than on his beloved clay. He's one of only two men to win 5 masters titles in a single year and one of only four players to win the Roger Cup and Cincinnati double.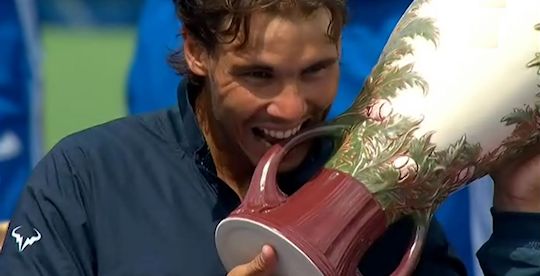 Screencap by mrmarble1
I have to stop now as I am running out of superlatives.
He is the most amazing player and I am hugely proud to be one of his many, many fans.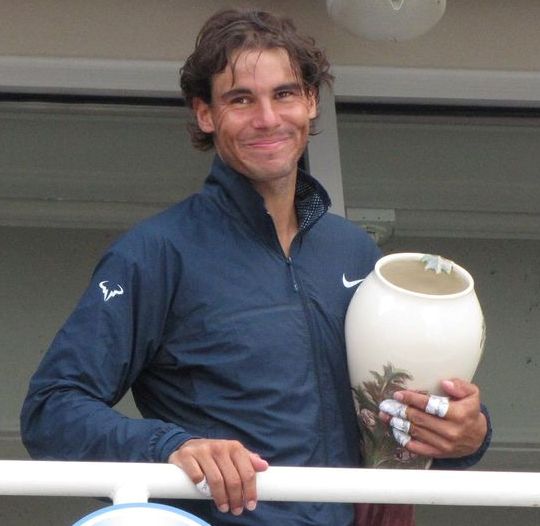 ¡Enhorabuena, Rafa!