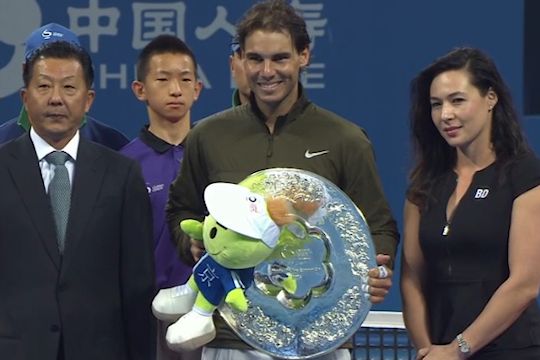 Screencap by elise
To be honest, the best part about this tournament was that it marked the moment when Rafa regained the number one spot. Considering that many people had written him off after his seven month layoff, it is an amazing achievement. When it comes to the actual matches, however, it wasn't really a keeper.
He had little trouble in his opening match against
Santiago Giraldo
, winning
6-2, 6-4
, but then it would have been fairly alarming if he had struggled.
Philipp Kohlschreiber
is never easy but Rafa came through that one OK,
6-4 7-6(3)
.
It was the quarter final that proved to be a surprise. Admittedly,
Fabio Fognini
is having a great year but I don't think any of us expected him to run away with the first set and be within one point of going 5-1 up in the second. But, of course, one should never, ever, under any circumstances, on any surface, underestimate Rafael Nadal. Once Rafa had held to make it 2-4. he only allowed Fognini one more game and won the match,
2-6, 6-4, 6-1
.
The semi final was something of a let down when
Tomas Berdych
had to retire when trailing
2-4
. But who cares when this was all Rafa had to do to regain that all important number one ranking. The Chinese fans were well prepared for this.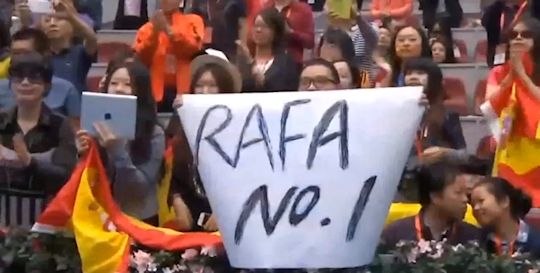 Screencap by MAC
We won't know whether it was the emotion of achieving that, tiredness after playing so many matches this year (more than any other player despite missing all the tournaments in January) or just
Novak Djokovic
's superior play on the day but sadly Rafa lost the final in straight sets,
3-6, 4-6
.
He didn't seem too downhearted by the result...
...and he certainly liked the toy.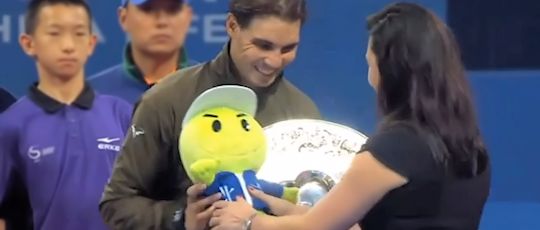 Screencap by MAC
Congratulations on regaining the number one ranking, Rafa