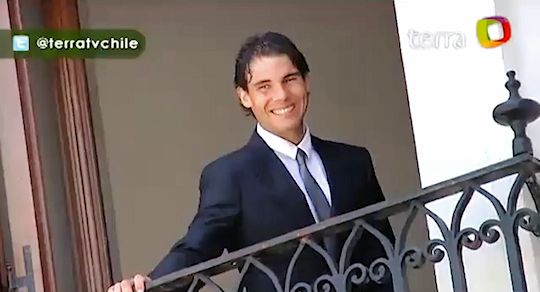 It cannot be denied that Rafa has been sorely missed - and not just by us.
Tennis legend Pete Sampras said in a recent interview, "He's missed. He might not be missed by the players, but he's missed by tennis people and by the fans." (
Source tennisworldusa.org
)
American author and sport journalist Howard Bryant wrote this on
espn.com
:-
"His rivals need him back. Tennis needs him back.
"...whenever a champion is crowned in a tournament field without Nadal, the game is a little less energetic, a little less historic and a lot less fun."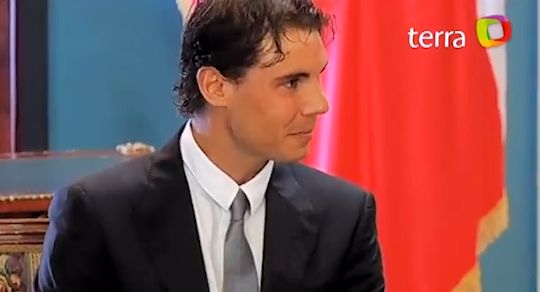 When it was first confirmed that Rafa would end his long absence at Viña del Mar, we weren't the only people to get excited. Tournament director, Alvaro Fillol, expressed his gratitude for Rafa's decision to come to Chile in fulsome terms. "He is a figure of world sport, not just tennis. Having his presence is not only an honor for the tournament, it is a gift to Chilean sport, for tourism in the region, to position Chile, its ATP, its sport, in the first line of the world's news agenda. It's a way, the best, to give thanks to our sponsors and sponsors who have supported us all these years, is the best gift we can give to the country on this date that we will make the twentieth ATP de Chile." (
Source vtropen.cl
)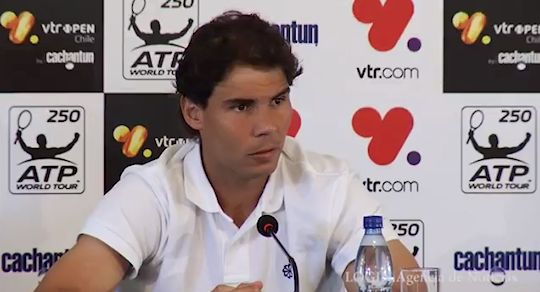 If Rafa was hoping to fly under the radar then he's in for a shock. A Mallorcan journalist,
Pau Ferragut
tweeted this:-
El 'efecto Nadal' en Viña del Mar. 220 periodistas han solicitado ya acreditació para un ATP250. Increíble repercusión...
The 'Nadal Effect' in Viña del Mar. 220 journalists have already requested a press card for an ATP 250. Incredible repercussions...(
translation by malimeda
)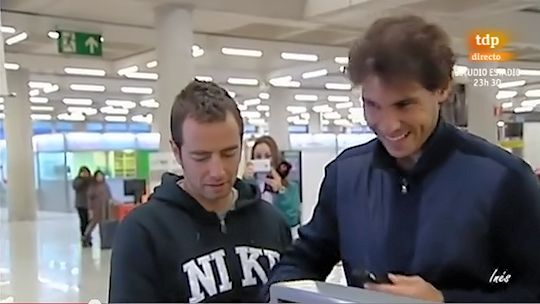 We've all been counting the days and finally were rewarded by airport footage of Rafa leaving for a tournament.
He arrived to face a barrage of reporters (if that's the correct collective noun).
He was whisked straight from the airport to the Palacio de La Moneda, to be received by the head of state, Sebastián Piñera.
Then, at long last, we got to see him at practice...
...with the attendant mob scenes with which we are so familiar...
...and following practice, the obligatory press conference.
Rafa played down expectations saying,
"Hay que ser pacientes. Voy a ver si puedo jugar a un nivel aceptable. Pero el resultado es un pelín menos importante."
"You need to be patient. I'm going to see whether I can play at an acceptable level. But the result is a bit less important." (
translation by malimeda
)
So now all we can do is wait to see what happens next week. We're all just a little bit excited that after seven loooong months we can finally cheer him on.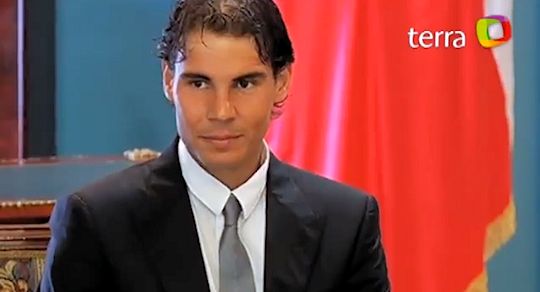 ¡Vamos Rafa!