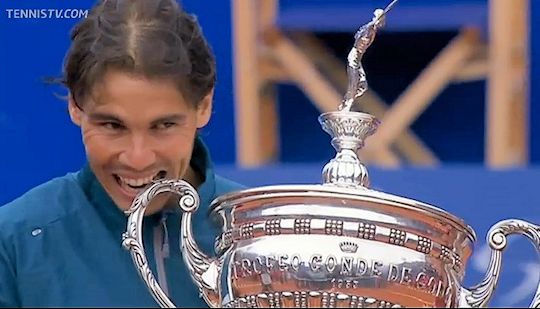 Screencap by elise
We all grew up knowing that "the rain in Spain falls mainly on the plain".
Barcelona-tourist-guide.com
tells us, "most of the time it sunny with some cloud during the month of April. Make sure to carry an umbrella if going out on cloudy or overcast days as there will be a possibility of rain. Generally however it is pleasant and mild at this time". Hmmm. Didn't quite work out like that this week.
Rafa's first match was on Wednesday, against
Carlos Berlocq
of Argentina. He'd played him once before, in the quarter finals in Sao Paulo, when he beat him despite losing the first set. This time, in very windy conditions, it was a bit easier. (Although Rafa later said of the conditions, "
It was not very comfortable and it affected my game
".)
You can always tell when Rafa has lost the toss since his opponents always make him serve first because they know he hates that. It didn't get Berlocq very far. Rafa took the first three games and then it went with serve to 5-3. At that point, inexplicably, Rafa dropped serve when serving for the set but he broke straight back in the next game to take it. He broke serve in the fourth game of the second set and then again in the last game to take the match,
6-4, 6-2
.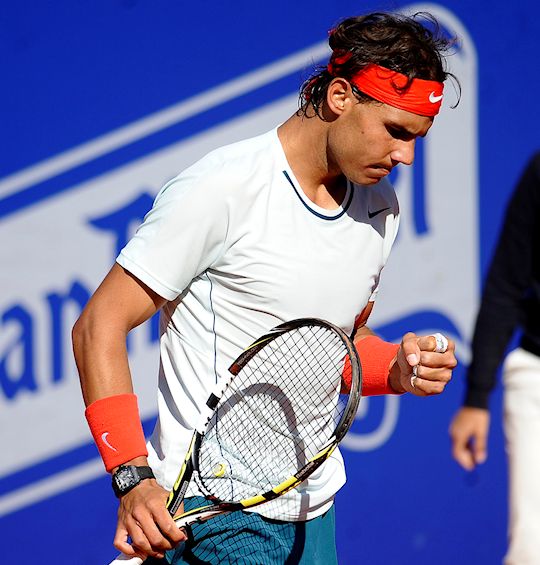 His opponent in the round of 16, Benoit Paire of France, was someone he'd never played before. That always makes us nervous. The rain that started just as he was about to step on court did not help matters. We hung around patiently hoping it would stop (much easier in the comfort of my living room than it would have been on site) but at 7pm the organisers gave it up as a bad job and play was cancelled for the day. The forecast for Friday did not provide much hope that he'd get in the two matches he needed to play but we all kept our fingers crossed.
He started the match against Paire at an ungodly 9:30 in the morning (a time we'd previously felt Rafa was unaware existed). Like Berlocq, Paire won the toss and elected to receive. This time it worked for him and he broke Rafa straight away. It took Rafa until the 6th game to break back and then it went with serve until the tiebreak. Rafa won that easily and then took apart Paire's game in the second set, breaking him twice to win the match,
7-6(2), 6-2
.
Here's the last game. The
full match
has been uploaded to youtube by
TennisOnlineHD
.
Last week in Monte Carlo they were drinking out of what looked like vodka bottles. It would appear that in Barcelona they are giving them methylated spirits.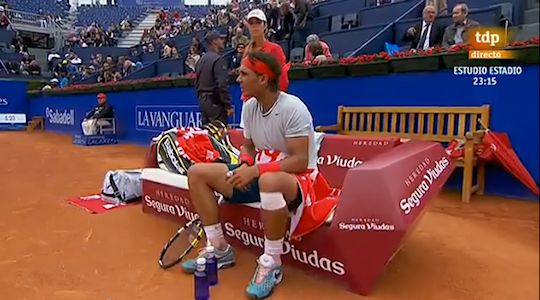 Screencap by MAC
After a couple of hours rest he was back out to play Albert Ramos of Spain - another player he'd never played before. Yet again, he was made to serve first and yet again, a fat lot of good it did his opponent.
Rafa took the match,
6-3, 6-0
.
Here's the last game. A
longer summary
has been uploaded to youtube by
RAFApedia
.
We spent much of Saturday panicking that Rafa's match would not get played. The organisers were stubbornly holding on to their original order of play which had Rafa's semi final waiting until after Almagro's. Luckily, sense prevailed when it finally stopped raining after a four hour delay and they opted to play the semi finals simultaneously on different courts.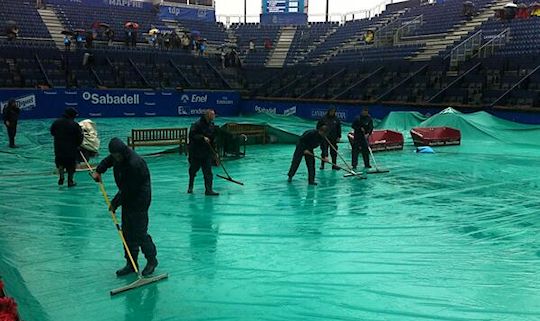 He'd played
Milos Raonic
a couple of times on hard courts and beaten him both times in straight sets so despite the hype we didn't foresee any problems. And we were right. Despite an early loss of serve (once again he was made to serve first), it only took just over an hour to dispose of him,
6-4, 6-0
.
Here's the post-match on court interview. The
full match
has been uploaded to youtube by
TennisOnlineHD
.
After the match, Raonic said this: "Everyone knows it's very tough to play him on clay. No matter the conditions, he has the belief and the knowledge that he's the best clay-courter in the world. That's not just in his mind, it's in everyone's mind."
His opponent in the final was
Nicholas Almagro
who had not managed to beat him in 9 previous attempts. Despite Almagro being second behind Rafa on the list of clay court tournament wins for active players, seven of those beating have been on a clay court. That did make us slightly less nervous than we might have been but we all know that things can always change.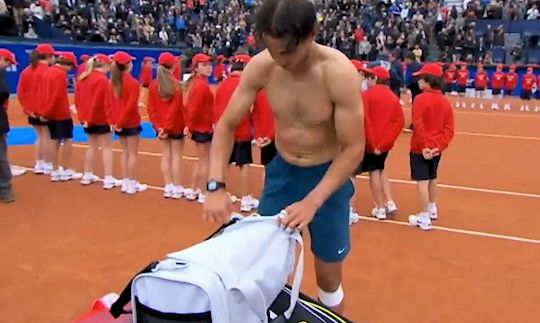 Screencap by elise
Once again, Rafa had no luck with the toss and was made to serve first. And was promptly broken. It started to drizzle and Almagro held and then broke again. It was starting to look horribly like a repeat of last Sunday in Monte Carlo (without the sun). But then Rafa won the next four games and things were back on track. He had to fight for the ninth game but won it and took the momentum into the next to break and take the first set.
He made it easier in the second set by breaking in the fourth game and then holding on to that advantage throughout. Final score -
6-4, 6-3
.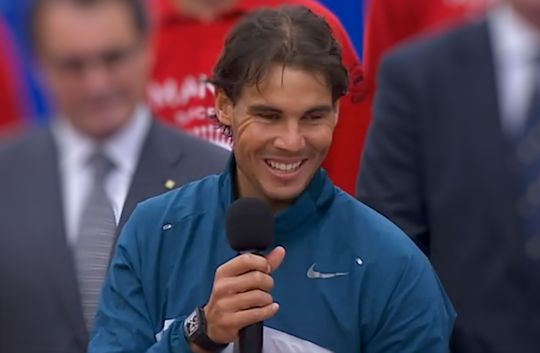 Screencap by elise
So that's 8 Barcelona trophies to add to his huge collection. He's not been beaten there for 10 years. Just amazing.
¡Enhorabuena, Rafa!