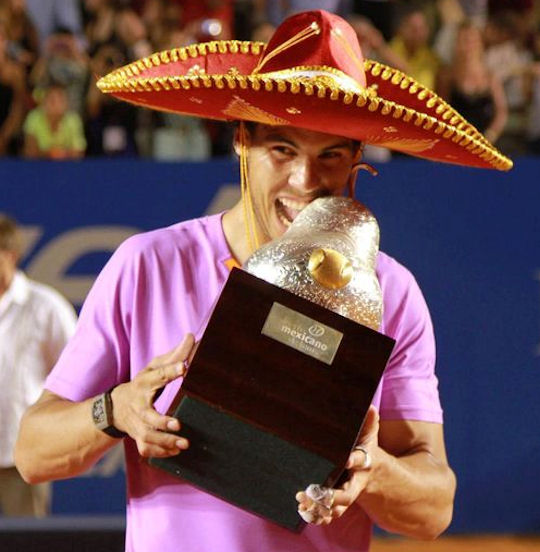 Abierto Mexicano de Tenis Facebook Album
The last time Rafa played in Acapulco was 2005. It had been his first time at the tournament and he'd won it. This time around, I had high hopes and low expectations. Rafa was still "feeling" his knee, still finding his range, still shaking off the rust.
Annoyingly, work threatened to get in the way of my following Rafa's matches. My whole department was off to a three-day team retreat and I was supposed to prepare a presentation. Thankfully the fact that Acapulco is one hour behind my time zone and Rafa's matches were scheduled for the late evening helped. I thought that I would be able to follow the scores at least.
I couldn't follow all of the pre-tournament hoopla, although I was able to glance at some of the photos from Rafa's various sponsor appearances and interviews.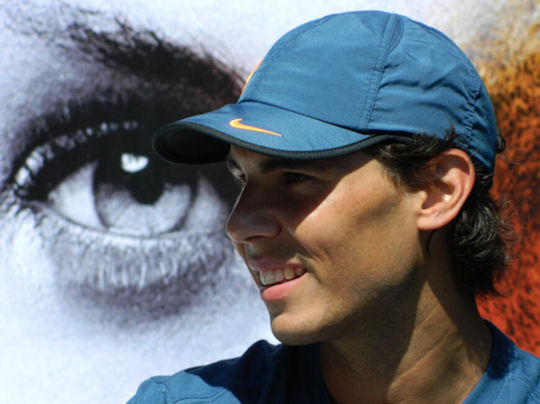 Round 1: Defeated Diego Sebastian Schwartzman, 6-2, 6-2
Rafa played his first-round match the night before I was to leave.
malimeda
shared a livestream link that worked well. (BTW, thanks to all the VBers that share livestream links – you have my gratitude and the gratitude of many others who would otherwise be relegated to watching the numbers on a scoreboard change.) In addition, I was able to join the
cheering thread
. (As many of you know, I'm addicted to our cheering threads

.)
Schwartzman was a diminutive 20-year old right-handed Argentine, ranked 157, who had come through the qualies. He hit some occasional winners and, despite appearing to swing for the fences, didn't seem to have any weaponry to bother Rafa. In the cheering thread, I described Rafa's performance in the first set (which he won in just over 28 minutes) as "He's making more mistakes than one would expect, but he seems to be moving well. I also don't think he's gotten out of second gear yet."
Rafa continued to have a lot of support from the crowd.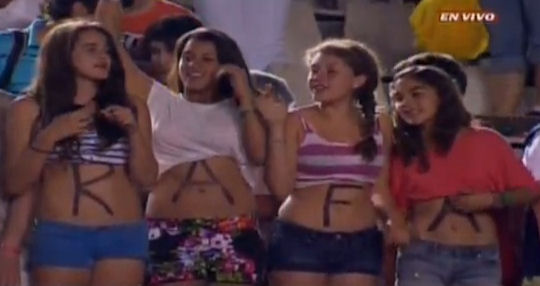 In the second set, Rafa seemed to take his foot off the gas a bit and Schwartzman raised his level. Schwartzman was using drop shots far too effectively for my liking and, after securing two breaks, Rafa's serve let him down and Schwartzman got one of the breaks back. But Rafa broke him again and successfully served it out.
Here are some highlights from Rafa's first-round match:
Round 2: Defeated Martin Alund, 6-0, 6-4
Alund had taken a set off Rafa in the semifinal of the Brasil Open, so I expected a tough match. I also expected to be able to follow the match only via the scoreboard but VBers reported that ESPN3 was showing the match and I learned of the existence of the WatchESPN for Android app for smartphones so I was able to see some of it. And I was able to join the
cheering thread
.
It seemed like in two blinks of an eye, Rafa had broken Alund twice and held twice, and led 4-0. Rafa was animated, moving well, and sweating buckets.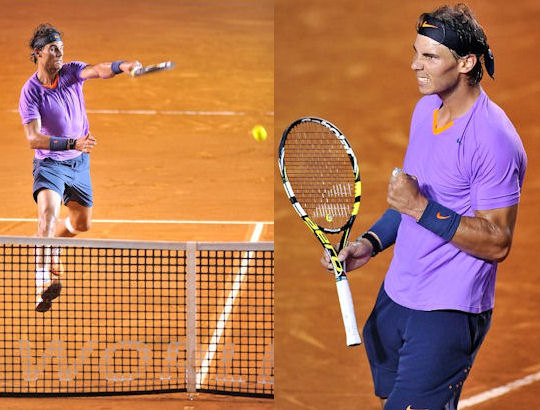 Abierto Mexicano Telcel Photo Gallery
Alund tried to put up some resistance, but it was no use; in a few more minutes, Rafa had broken Alund again and held his own serve to take the first set.
In the second set, Rafa broke in the third game but then either took his foot off the pedal, or Alund started swinging more freely and more of his shots started to go in, or both. It seemed for a while that Rafa had as many winners as errors and his strategy for handling Alund's drop shots was not effective; so Alund kept using them.
But there were more and more flashes of the "old" Rafa: he was going for forehands-down-the-line, moving well and hitting with authority. Most of the time, he kept good length on his shots and that meant that he was getting his timing back.
Although Rafa failed to convert any more of his break chances, he held his own serve and needed only that single break to take the second set.
Here are some highlights of Rafa's second-round match:
Quarter final: Defeated Leonardo Mayer, 6-1, 7-5
Again, I was following Rafa's match on my smartphone, but even with the small image, I could see streaks of "old" Rafa peeking through. He was finding his range on his forehands-down-the-line; his inside-out forehands, which in Chile and Brazil had sailed wide and long as often as they had dropped in, were working more consistently, and Rafa's movement seemed unimpeded.
Rafa stormed through the first set but Mayer started serving better in the second and gave Rafa no sniff of a break. The set contained some classic Rafa passing shots and gets, though. In the tenth game of the second set, with Mayer serving at 4-5, 30 all, Rafa hit a shot that I've never seen tried before: a backwards backhand slice down-the-line. Folks in the
cheering thread
were as amazed as those in the stands seemed to be.
It was a winner and finally gave Rafa a break point, a match point. Mayer saved it and Rafa held. Then Mayer was serving to stay in the match again. An unforced error from Mayer, a vintage Rafa curling passing shot and a double fault gave Rafa two match points. He took the second, with an inside-out forehand drawing the error from Mayer.
Rafa seemed
very
happy with the win.
Semi final: Defeated Nicolas Almagro, 7-5, 6-4
I missed Rafa's semifinal against Almagro.

Our transportation back to the City was delayed and I arrived home later than I thought – I was also more tired than I thought and fell asleep in my living room and slept way beyond Rafa's match. Although I was very disappointed to have missed the match, I was overjoyed to learn that Rafa had dispatched Almagro in straight sets. I read through the
cheering thread
to find out how the match had gone. Apparently it was really close with lots of good tennis.
Rafa seemed very happy when it was over.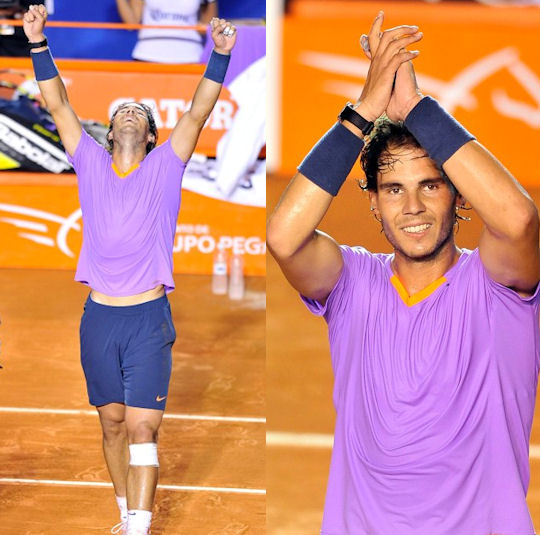 Abierto Mexicano Telcel Photo Gallery
Here's the whole match. Maybe we can watch it together.

Final: Defeated David Ferrer, 6-0, 6-2
Rafa was amazing in this match!

Every shot was clicking: forehands-down-the-line; inside-out forehands, smashes and serves, and his backhands were picture perfect. I loved the way he dealt with drop shots: powering them down the court instead of gentle drop-shot-ing back. And he kept the ball deep.
dafunk's
summary analysis is spot on:
What a match. What an unbelievable match!
Obviously, all facets of his game were working, especially the backhand . . . . But to me, this match came down to depth. Rafa was not leaving short balls for Ferrer to hit that cc angle that he likes so much. Even Ferrer's very few winners were balls he took right at the baseline and squeezed dtl, and he hit far more of those out than in. When Rafa hits deep, it mean his timing is on. I was watching his movement into his shots, and he had every ounce of his momentum going into the shot, not backward, not sideways, but forward. That means his footwork got him to the ball in time to get everything on his shot, which resulted in the excellent depth.
I have to admit, I didn't think I would see Rafa play a match like that against a top player for some time yet. I think we can safely say the rust is off.
Here is the full final:
Here is what Rafa said in his on-court interview after the final:
How fabulous it is to see him biting another trophy . . .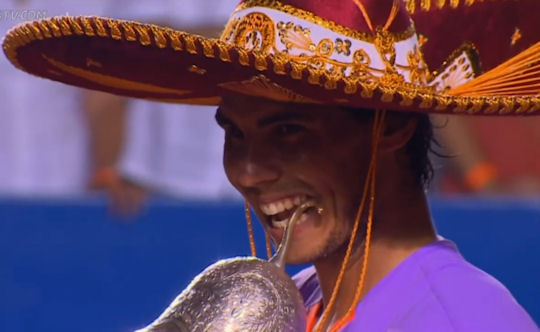 ... and how lovely it is to be able to end yet another home page with the words
¡Enhorabuena, Rafa!