Once again I've struggled up into the loft to dig out the camping equipment for the annual pilgrimage to Wimbledon. As has been reported for many years, tackling the rigours of The Queue is the best way of securing great seats for Rafa's matches.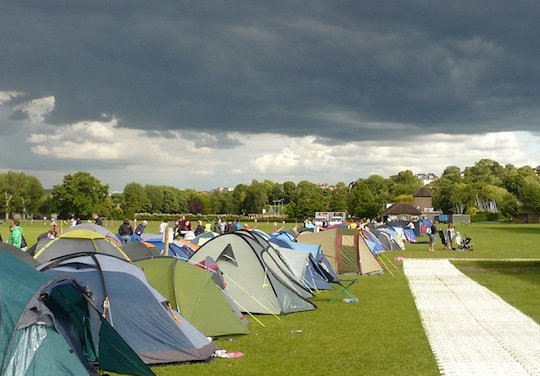 © woody for vamosbrigade.com
If you want to get yourself in the mood just go and relive the experiences of
MAC and others
,
Electricwitch and others
and
woody
at last year's championships.
The weather has not been kind in dear old Blighty so far this summer. But we are keeping our fingers crossed that it will be warm enough for plenty of this -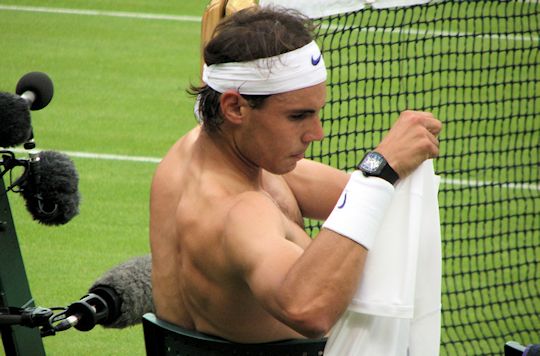 © MAC for vamosbrigade.com
If you check out
last year's on court pics in our gallery
it does seem that we are obsessed with shirt changes. I maintain that this happens because a) we're all too involved in the action to take pictures while Rafa's playing and b) it's the one time he's relatively still. That's my story and I'm sticking to it.
Another common theme in the gallery is the water swigging since this follows the same rules as above (i.e. not playing and relatively still).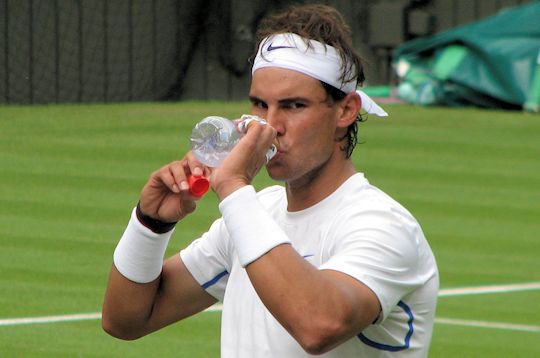 © MAC for vamosbrigade.com
Just occasionally, one does manage to get an action pic that is in focus. (Many are only suitable for the highly popular
Woody's School of Sports Photography
thread which celebrates those wonderful pictures that would have been great had Rafa not moved out of frame at the crucial moment.)
Getting the tummy in shot is just a lucky bonus.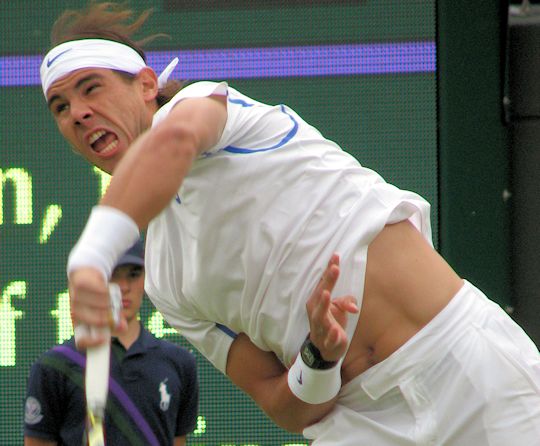 © MAC for vamosbrigade.com
If we're really lucky and manage to be in the right place at the right time, we get to see a practice session. No times or courts are publicised so we just have to hope our Rafa radar is in good working order.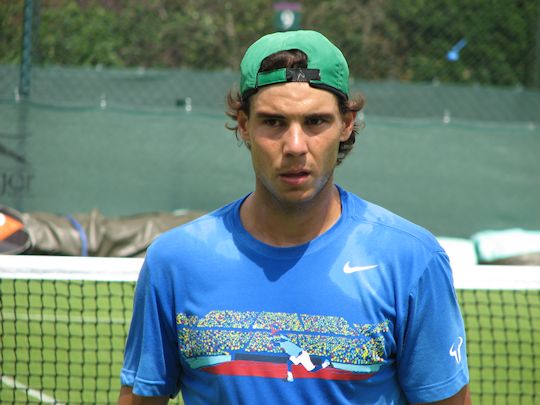 © MAC for vamosbrigade.com
So think of us as we hang around in Wimbledon Park for around 24 hours discussing the economic situation to while away the time before getting our sticky hands on those precious tickets. You can follow
loobyloo
,
jen
and
me
, as we do our best to tweet any updates.
Buena suerte, Rafa