We can't deny that it's tough being a Rafa fan at the moment. It's been more than four months since we've seen him on court so how have people been coping? I've been following tennis for many years (many, many years) but have found it impossible to get enthused about tournaments without the most charismatic and exciting player in the ATP. (That being Rafa, of course. Do try and keep up.) I asked people to
share their strategies
on our messageboard.
In the post that inspired this home page,
ladydks
wrote "Tennis is no longer a nail-biting, hair-greying, early-morning-shouting-at-my-carpy-livestream event. In fact, my small Spanish flag is gathering dust."
tamsin
says, "I've been slowly going through my Rafa matches on DVD of which I've got gazzilions since 2008, only of matches he won. Whilst it lifts my spirits up it reminds me what we are missing with Rafa sidelined. He is the shining light in tennis and right now, tournaments without him are just like watching a load of 'B' movies."
(She also notes that she has "taken my survival plan to the extreme because I've been suffering from pain in my left knee for about 3 weeks and could hardly bend it but the inflamatory tablets seem to have done the trick.")
marron
feels the same. "I am clearly in tennis hibernation. Don't watch it. Don't think about it. Don't care about it. All I want is my Rafa back!"
A solace for many is to watch old matches. The only problem is that when you see things like the following clip, it just makes you miss Rafa all the more.
In Moscow,
hen
has been "watching kids in my tennis club imitating the best players. A new huge screen is installed in the court space running the vids of the best players in action. Kiddies are looking for their heroes and trying to imitate them I am not surprised that about 90% boys are rafanadals. What is amazing that 100% girls are little rafaelas instead of being sharapovas, kvitovas, ivanovics, etc. Very inspiring."
Many have found a new interest in the anatomy of the knee. Thanks to many of our members who scour the internet for every scrap of information, people who like to analyse every snippet have plenty of material to dwell on. Being part of VB is cited by many as the one thing that keeps them going.
feetofclay
has a unique (presumably) way of coping. "If all else fails I look through my window and watch Rafa working out. I will explain. After Wimbledon, when Rafa first stopped playing, my husband made me a gift to cheer me up. Here it is in picture form."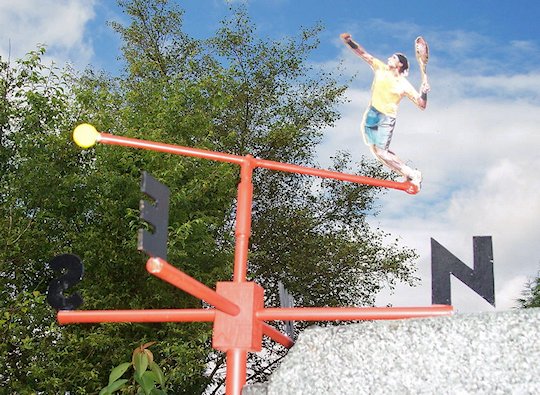 tamsin
cockneygirl
says "I think Rafa is trying to help us with his postings on facebook which cheer me, there seems to be more than usual, he looks as though he is making the best of a bad job, probably handling this better than some of us."
In answer to the question, "How are you surviving the Rafa Drought?",
midsun
was succinct - "Not well."
serene
agrees. "Iím not coping well. I watch and rewatch many of Rafaís old matches. Sometimes they help, sometimes they make me miss him more. I know Iím a sad case I log on even more frequently to VB, many times a day, looking out for any updates posted by kind VBers."
alegriaH
noted "the pleasure of spotting Rafa on random bus stop adverts in Maidstone".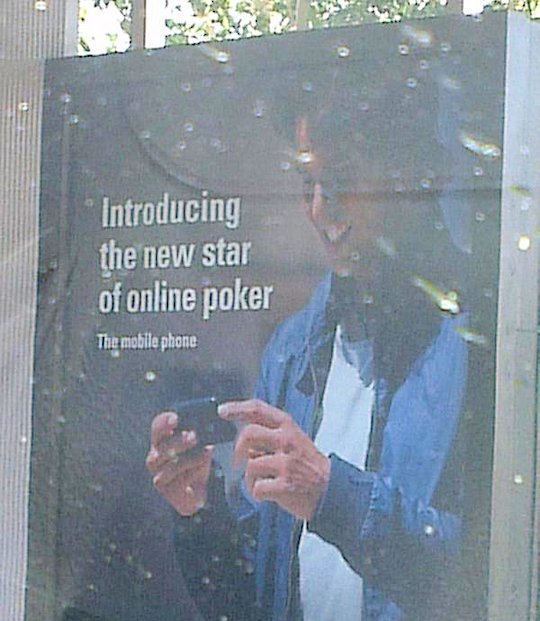 Taken by jen whilst driving in East Sussex
oliva
reckons, "There are no good coping mechanisms for the This Tournament is Worthless Without Rafa Syndrome. Sometimes I almost resent the players on the tour for continuing on and winning matches -- RAFA should be there, his name should have the check mark, his picture should be featured."
She also has an interesting strategy, "Playing with his pictures has been therapeutic. I use them for examples in class Ė rule of thirds, framing, cropping, adjustments, etc. I have to do it anyway, and this way selecting photos is an enjoyable process and I donít feel guilty about pouring over them. Making puzzles and games, maybe a little. "
Looking at pictures is a common practice amongst fretful VBers.
LynneH
says, "Luckily I have some 1500 pics of Rafa on my PC, and spending a lot of time every single morning deciding which will be my background for the day has been very therapeutic. (Some pics have to be stared at for ages in this important decision making process.)"
ladydks
prefers printed matter, "I pull out Vogue, Men's Journal, Hola and various keepsakes and wallow in them."
cathieb
says she's "a bit lost really".
"There are plenty of pics coming in of happy-looking, smiling, socialising Rafa, Rafa in the gym etc etc but it awful to not to have any focussed, snarling, powerful on-courts pics to show his wonderful other side, and I miss these SO MUCH! Looking at old match videos just makes me sad. The good bit is not having to get up in the night to watch matches, not worrying about draws or tight matches, not wrestling with lousy livestreams etc and having the time to clean out my cupboards, do some gardening and be a bit more organised. But basically this is boring

(yes, I'm even doing some knitting!) and I so want things to get back to the NORMAL heart-stopping, routine-disrupting round of tournaments!
"My only bit of respite was spending a few days last week with my daughter in-law's long-haired chihuahua in the house. His name is Rafa so I could legitimately throw him his tiny tennis ball and say soppy things like 'come and sit on my knee Rafa and I'll give you a cuddle' and 'Rafa you are a gorgeous boy'. He's a lovely dog but no real substitute!!! "
JLB
says "It's now probably a month since I watched any live tennis. Old Rafa matches come out fairly frequently though - fancy that! In fact, Rafa won the French Open again, just last week...."
I hope that clip isn't too much for
flo
who says she prefers not to watch old matches, but the other day, was missing him so much that she " decided to watch the RG 2012 ceremony... I have been crying for 20 minutes... "
jharper
has "been working hard all summer to get my tail into a healthier place. I have gone to the gym consistently and used Rafa and many VB'ers as inspiration (attitudette, sw828, maggy bassett,etc) I have had great results blood sugar wise and I plan to keep it up- at a pace right for me, not right for Rafa, as I learned a couple of years ago the hard way.
She also has "an ipod full of songs that remind me of Rafa or that Rafa likes to get me through when I am in what I call 'howl mode'. When I miss him too much, I tend to want to sound like a wolf howling at the moon (I used to have a beagle) I put that music on and throw down. Some of it's romantic, some sexy, some fun. I remember him singing to 'La Bamba' and I have 'Antes Que Ver El Sol' things like that."
dria
has also been working on fitness. "I've rededicated myself to my exercise routine, 3x a week for an hour. I've buried my head with school work and medical school applications. I've avoided all tennis tournaments and put my focus on football and basketball."
grafa
"Can't wait for that 1st jump up and down at coin toss, the sprint to the baseline, the water bottle line up, the butt pick from his FA, some dripping sweat from his beautiful brow."
We are surviving but are also waiting breathlessly for that moment when he begins practising.
I'll end with this thought from
JLB
.
"I continue to believe he will come back, and come back strong - however long it takes him. The man is nothing if not determined. I also think there are plenty of good times to come in the future. So, I'll take the opportunity to say something we haven't had the chance to say too much recently, and which I believe we will have plenty of chances to say again -
Vamos Rafa!!!