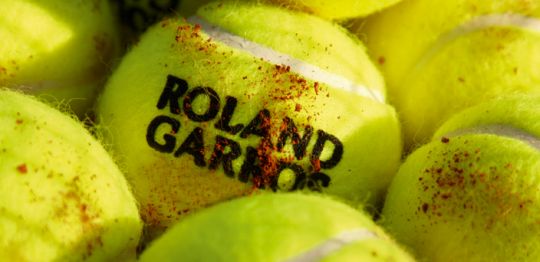 Rafa has an incredible 45-1 win-loss ratio at this tournament - a winning percentage of around 98%. He has only lost 13 sets against 157 sets won. In both 2008 and 2010 he went through all seven matches without losing a set.
This year he is out to break Bjorn Borg's record of 6 titles. He comes into it having won all the lead-up tournaments on red clay - Monte Carlo, Barcelona and Rome - without dropping a set. This has prompted tennis pundits to make him the favourite but what does Rafa think about it all? The following extracts are from an interview by Rémi Bourrières and Antoine Couvercelle in the May edition of the French
Tennis
magazine. The interview was conducted during this year's Miami tournament.
The full article was translated for vamosbrigade.com by Moondancer
.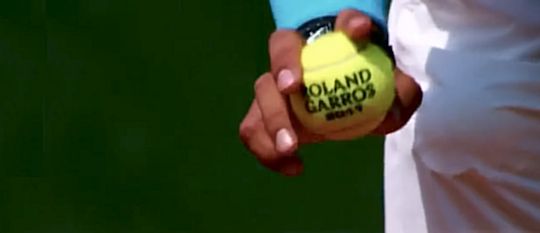 Screencap by MAC
Tennis Magazine:
Rafa, Roland Garros is fast approaching. When people mention ďRoland GarrosĒ to you, what sort of image first springs to mind?
Rafa:
Roland Garros will always be the first major tournament where I felt that I had a chance of winning. More generally, itís of course the tournament that gave me my best souvenirs. Roland Garros has always been important for the Spanish players. And itís an honor for me to maintain that tradition.
In Paris, I had tough moments and happy ones. There will never be a tournament like that in my eyes. That tournament has given me so much Ö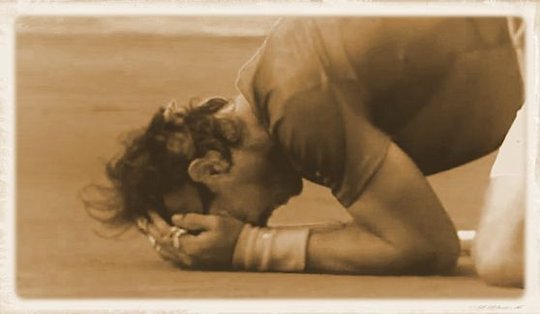 Screencap by rafafanatic, edited by MAC
Tennis Magazine:
Of all the big matches you played in Paris, is there one in particular that you hold in mind?
Rafa:
(he thinks about it for a long time). Maybe the 2010 final. That match against Söderling was particularly important in my eyes,
1
I won that. I was very, very happy because I came back from a very difficult season in 2009. So, that victory had a very sweet taste. Other than that, my best Roland Garros, when I played my best tennis, was 2008, without any hesitation. But if I had to keep one title, Iíd say the first, in 2005, incredibleÖ
1
Nadal won that match 6-4, 6-2, 6-4 against the player who gave him his only defeat at RG. Itís even more traumatising for the Spaniard because he was injured at the knee and he and to endure the support of the partisan crowd rooting for his opponent.

trinity77
Tennis Magazine:
In all of Roland Garros, whereís your favourite place?
Rafa:
The place I prefer in Roland Garros are the locker rooms of the Philippe-Chatrier court.
Tennis Magazine:
Where you have locker nį 159
Rafa:
MaybeÖIím not sure (laughter)!
Tennis Magazine:
Weíre sure!
Rafa:
Really? I know very well where I need to be but Iíve never really paid attention to the number on the locker. In fact, Iím always in the same area in the locker rooms but I donít know if Iíve always had the same locker.
Tennis Magazine:
We thought that the nį 159 held special significance to you but apparently notÖ
Rafa:
I do like the number 9, though. I donít know why but thatís always been my number.
Tennis Magazine:
Maybe itís because you will win Roland Garros 9 timesÖ
Rafa:
Weíre still far away from that (laughs)!
Tennis Magazine:
Well, if you win it this year, thatíll make 7 and you will go one up against Bjorn Borg to become the only record title holder in RG. Now, thereís a record that should be important in your eyes, no?
Rafa:
Even having 6 on my counter is already a dreamÖIf you would have told me that seven years ago, I would have taken you for a fool! No, 6 titles in RG is already more than I hoped and more than I dreamed about. All of it has been constructed day by day and it will be similar this year: I will go to RG to give it all that I have, to play my best tennis and we will see what that brings me. I donít think about the record. I take things one by one. To equalise Borg, given all that he represents for tennis, is already incredible. I will now fight to surpass him. But to win a tournament like that remains extremely difficult. So, itís too soon to talk about a record.
Screencap by MAC
Tennis Magazine:
Do you follow the discussions around the new stadium?
Rafa
: A bit, yes, but not into detail. Iíve heard that they wanted to make a new court in the Bois de Boulogne, is that it?
Tennis Magazine:
No, in the greenhouses of Auteuil, across court nį1Ö
Rafa:
(he gestures with his hands) The main entrance of RG is there, opposite Philippe Chatrier and the new court will be on the other side, is that it?
Tennis Magazine:
Thatís it, yes.
Rafa:
Yes, thatís what I understood. Well, why not? You have to move forward anyway. Times have changed and a lot of tournaments have changed as well. The Australian Open has changed and they have new projects. Wimbledon now has a retractable roofÖyes, itís necessary to move on. If I understood it correctly, the city of Paris wanted to keep RG. They have to do whatever they can to make sure that it stays that way. I canít imagine a RG in Versailles or anywhere else, as Iíve heard people mention.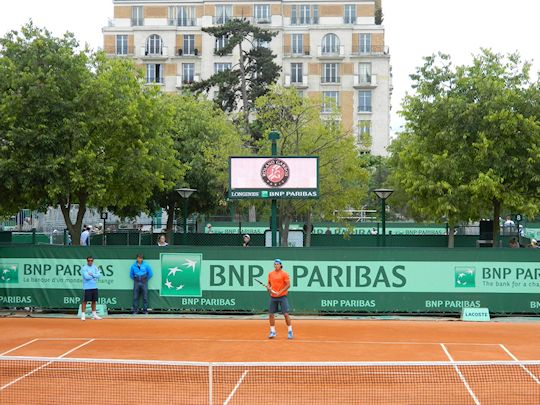 bluebird
Tennis Magazine:
You want the stadium to stay there because itís your home in a way, right?
Rafa:
No, because I love tennis and Iím attached to tennis history. RG has been there for such a long time. When you arrive in that stadium, you breathe tennis history. To leave would mean to lose somethingÖ
Tennis Magazine:
If you had to change something in that stadium today, what would it be?
Rafa:
They really need to put a roof in, like Wimbledon has managed to do. Thatís a necessary change for the good of the sport. Out of respect for the tv networks, for the public, for all those who pay to watch tennis, we should be able to guarantee that they will get what they paid for. Otherwise, the stadium could improve in the relaxing areas. Around Suzanne-Lenglen, itís doable but elsewhere, everything is a bit narrow. Thereís always something you can improve, of course, but that doesnít change the fact that RG is one of the most beautiful stadiums in the world.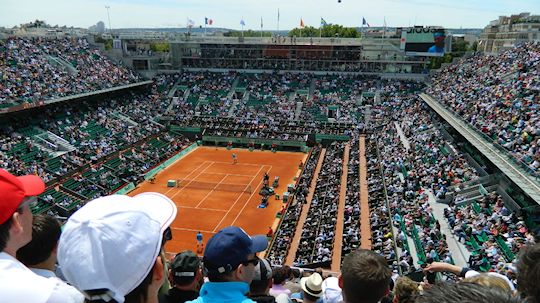 bluebird
Tennis Magazine:
You know that the managers of RG are talking about getting blue clay like in Madrid?
Rafa:
What, blue clay?
Tennis Magazine:
Weíre joking.
Rafa:
Ah (he laughs)! Thatís better. Donít repeat the mistakes of others.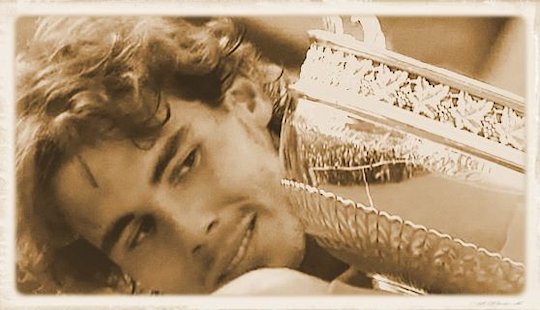 Screencap by meriko, edited by MAC
¡Buena Suerte, Rafa!