The following article by Lola Galán appeared in elpais.com
under the heading
Las vacaciones forzosas descolocan a Rafa Nadal
. It has been translated for us by
nou.amic
.
Nadal's enforced vacation
Kept out of competition and off the practice courts by injury, the tennis champion is recharging his batteries on his island, concentrating on his recovery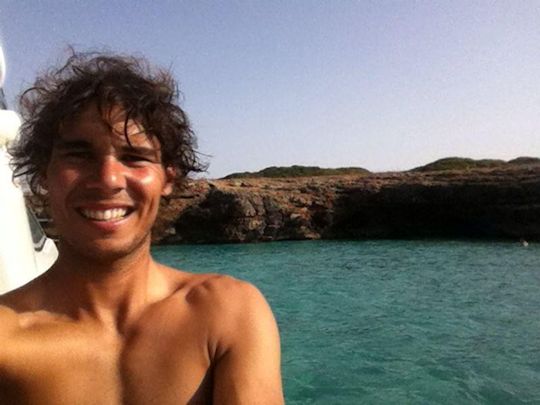 In the pictures of himself Rafael Nadal has posted on Facebook, he is wreathed in smiles and bronzed, surrounded by bathers as smiling and tanned by the Balearic sun as he is, giving an impression of what it means for the champion to go without playing tennis that is not completely accurate. Tennis is his profession, his passion, and, at the age of 26, in all probability, his future. "Rafa is not very pleased at not being able to exercise his profession, but he has accepted it," his uncle and coach Toni Nadal has confirmed.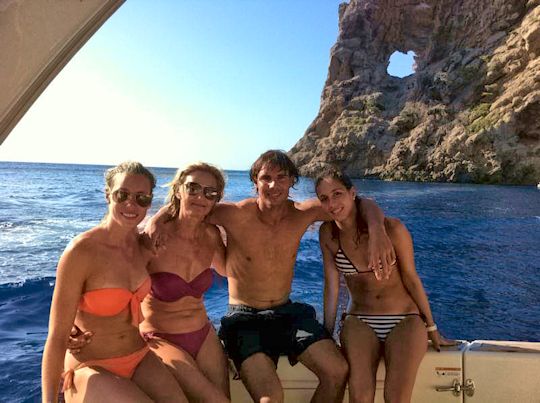 Yet, there are those photographs: Nadal in a swimsuit, happy and smiling with his girlfriend, Xisca Perelló, his mother, Anna María Parera, and his sister Maribel; the winner of eleven Grand Slam titles having a very relaxed breakfast at the family's summer residence, perched above the entrance to the harbour of Porto Cristo (Mallorca); posing with his cousins, or with a group of friends on what appears to be a yacht, with majestic rocks and a transparent sea as background. "He himself has said it before, Mallorca is the best place to be injured. It's the strangest thing in the world for him to be at home at this time of the year. So he's taking the best advantage of it he can," says Benito Pérez Barbadillo who looks after the champion's image and his dealings with the press. Even so, I do not think these photographs on his social network page give any idea of how much Rafa is working on his physical recuperation. "He gets up early and he goes to Manacor, where he has his gymnasium, and he spends all morning with his physiotherapist, Rafa Maymó, and his physical trainer Joan Forcades. It's intense work. He also plays a bit of golf because his doctor has allowed it. What he can't do is practise on a tennis court with his uncle."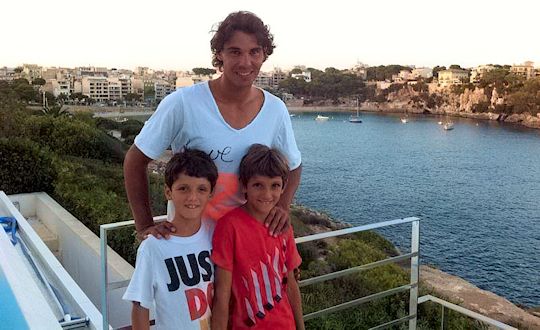 Nadal will not pick up his racquet until at least November, to the desperation of his fans and sponsors; though the champion keeps attending to both groups as best he can. That also explains the photographs taken in the recondite coves of Mallorca, which he gets to by boat or water-scooter. As well as illustrating his hours of free time, they are part of a contract he has with a big Spanish tour operator to promote the island. When you get to the very top of world class sport money comes chasing after you and sponsors inundate you with tempting offers. Although he is not at the United States Open, which ends today, the company that supplies him with the clothes he wears on court have made a pile there. "His shirts are selling more than ever in New York," said Pérez Barbadillo. "His pulling out of the tournament has aroused a lot of interest. One newspaper had a headline saying something like 'the boss is missing'." Bill Dwyren, of the Los Angeles Times, bewailed that without Nadal the US Open had become "a little flat", while other experts have not stopped speculating about the true nature of the tennis player's injury. The news of his successive withdrawals from tournaments have come one after another, like bitter medicine administered drop by drop. First he cancelled the exhibition match for charity he was going to play in the Santiago Bernabéu Stadium against Novak Djokovic on 14 July. Later on he pulled out of the Olympic Games, practically the day after a great song and dance had been made about announcing he would be the Spanish team's flag bearer. The final blow for fans, after he withdrew from the Toronto and Cincinnati Masters 1000 and, above all, the US Open, was his saying goodbye to the possibility of playing the Davis Cup semi-finals against the United States.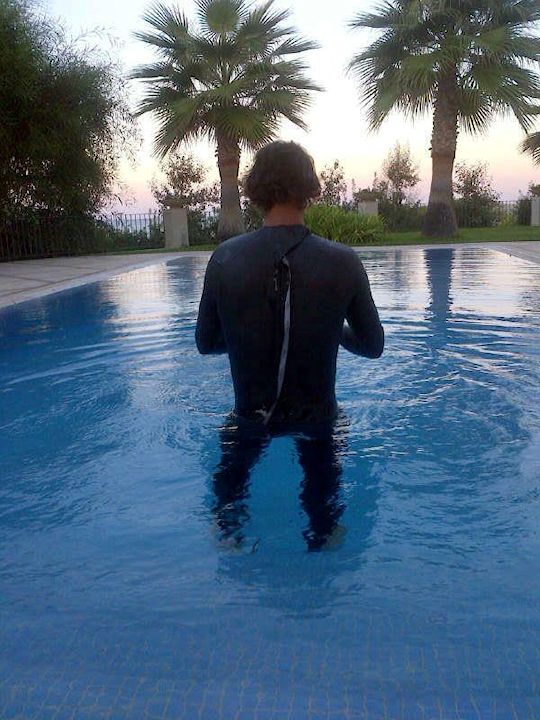 In Nadal's unusually emotional reaction to winning his seventh Roland Garros, more than one fan saw a sign that the tennis player was already not feeling 100% in that tournament. His defeats in Halle and, above all, to Lukas Rosol (now ATP No.91) at Wimbledon, would be confirmation of the physical difficulties that became evident afterwards. Toni Nadal plays down any hint of drama. "His career is not in danger," he said, and Pérez Barbadillo is exceedingly optimistic. "Rafa will be back soon, stronger than ever." His fans, and his sponsors, need him.