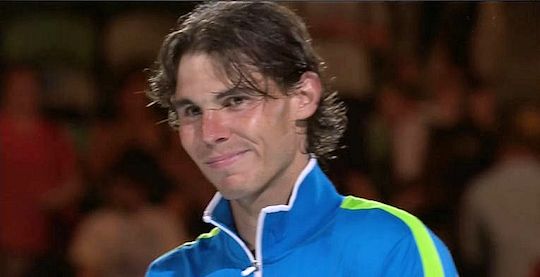 Screencap by elise
After last week's Australian Open final akalilith wrote this -
A champion wins a title and holds the trophy. A TRUE champion wins our heart and we HOLD him there.
That was just one of many supportive and proud posts from our members. But what does the rest of the world think? Here are some of the tweets that the media and other players put out there.
Tom Perrotta
, tennis writer for Wall Street Journal
For a man who has won and won and won for most of his life, Rafael Nadal knows how to lose.
Brad Gilbert
Rafa showed so much class in his speech
Chris Oddo
, freelance tennis writer
I didn't know it would be possible to respect Rafa any more than I did before the match, but...it is. More than tennis, HUMANITY.
Patrick McEnroe
Often you see ones true character in defeat. @RafaelNadal
James La Rosa
, Tennis Channel writer
Huge respect to Rafael Nadal. He never stops fighting and giving himself chances. That is the mark of a true champion.
Dan Walker
, sports journalist for the BBC
I know he lost but Nadal might be the ultimate sportsman. Outrageous talent, physically immaculate & gracious in defeat or victory.
Sports Illustrated Beyond the Baseline blog
Rafael Nadal is the greatest loser this sport has ever seen.
Pau Gasol
, Spanish basketball player
But now we must say louder than ever how proud we are of @RafaelNadal .Our champion now and forever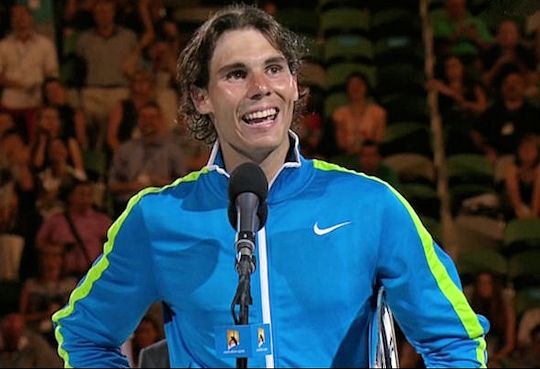 Screencap by elise
Raemon Sluiter
, Dutch former tennis pro
Neemt niks weg van Djokovic..maar hoe Nadal gestreden heeft,en die beuken dan zo op je kin te nemen,en dan zo'n speech..HELD,HELD,HELD.
ik vond het altijd al een beest en een mooie man..sinds zondag ben ik fan
Translated by Moondancer
-
Not to take anything away from Djokovic...but how Nadal fought, all those hits he took on the chin and to follow that up with such a speech...HERO, HERO, HERO
I've always found him an animal and a beautiful man...since Sunday, I'm a fan
Ana Belén Roy
, Spanish journalist Rafa Nadal es el claro ejemplo de deportista que no necesita ganar para demostrar que es excepcional. Bravo Nadal!!!
Google translation
-
Rafa Nadal is the clear example of athlete who does not need to win to prove he's exceptional. Nadal Bravo!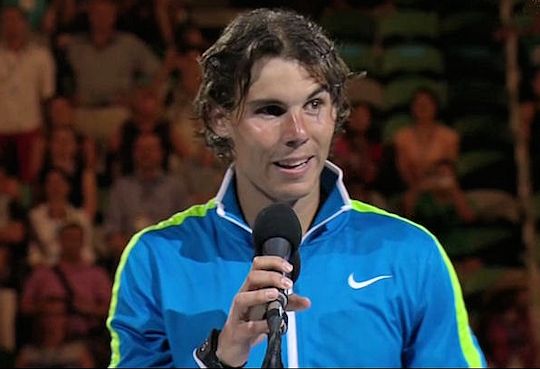 Screencap by elise
And a final word from
Musa Okwonga
( football writer) in the Independent
Goliath triumphs, but Rafael Nadal wins hearts.
In the space of a few compelling points, I had become a Rafa fanatic...
For someone so overwhelmingly successful, for someone so technically accomplished, he plays the underdog with surprising conviction. The crown of dominance was never one that he wore lightly...
And thatís the thing about Nadal. I think that he appeals to every one of us who has visibly had to scrap to get anywhere in life.
Good to see it's not just us