It's never much fun to write up a tournament that Rafa has not won. It's even worse when he's had to pull out because of an injury and, sadly, that's what I have to do this week.
After week one we were cautiously optimistic since he'd only lost 6 games in his first two matches. His match against
Kei Nishikori
, though, was much tougher than Rafa's winning scoreline of
6-4, 6-4
would have one assume.
Here are a couple of great Rafa shots from the match.
Post match press conference - FastScripts by
ASAP Sports
.
Q. Well done. The score didn't quite reflect the match. It was a bit tougher than that, wasn't it?
RAFAEL NADAL:
"
At the beginning, yes. The beginning was a very tough match for me. I think I start playing more aggressive, I started playing shorter, so I suffered a lot with my serves the beginning of the match.
"
But seriously later, at the end of the first set, I felt that I start to win my serves easier than him. So the last couple of games of the end of the first set, I believe that I had more the control of the game, you know.
"
On the second set I started well, 3 Love, so after I didn't suffer a lot with my serve. Just in the last game with the 5 3 that I didn't play my best game there and he break me, no? Happy to have the break back later and finally win the match.
"
Q. In the first set you took a trainer break. New injury? Left knee? Is it okay?
RAFAEL NADAL:
"
Yeah, well, I had this since Indian Wells. During the week of Indian Wells, the knee was getting a little bit worse, so I arrive here so so, and happy I still play in quarterfinals.
"
I am not probably at perfect conditions today with the left knee, but important thing is try to win as many matches as possible. For me here is important tournament, and every victory have, you know, very, very big value for me, especially without being perfect.
"
But important thing after this is I have two weeks to recover for Monte Carlo. I'm happy to be in quarterfinals, and I will try my best for the next round, for sure.
"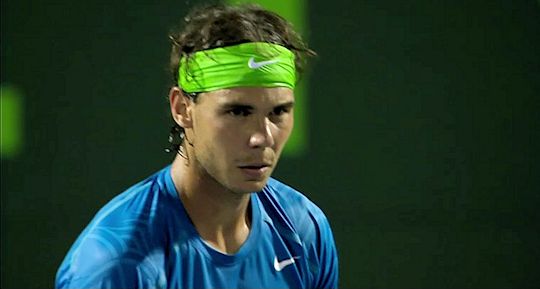 Screencap by elise
His quarter final, against
Jo-Wilfried Tsonga
, was very tough - both to play and to watch as a Rafa fan. He dropped serve when serving for the match at 5-4 in the second set and then went on to lose that set. It took three hours for him to prevail,
6-2, 5-7, 6-4
.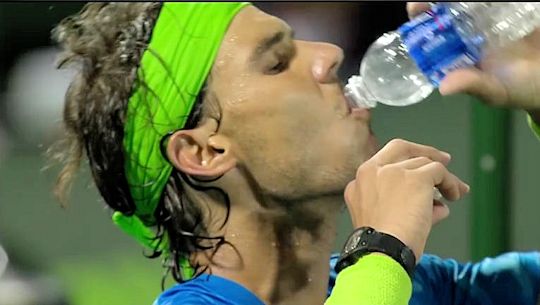 Screencap by elise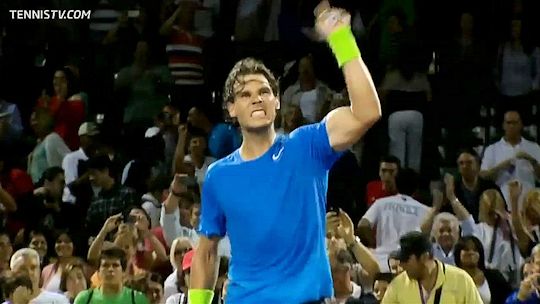 Screencap by elise
Of course, the scariest part was him having to call the trainer again. It was clear that something was seriously wrong with his knee.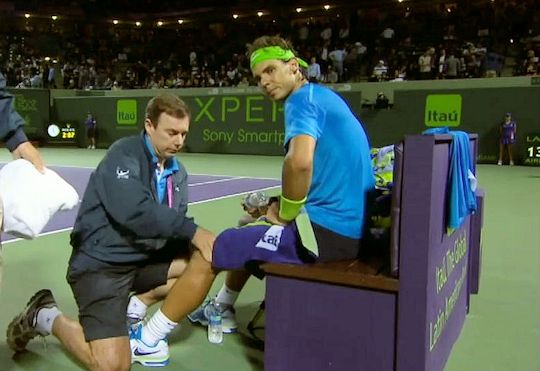 Screencap by elise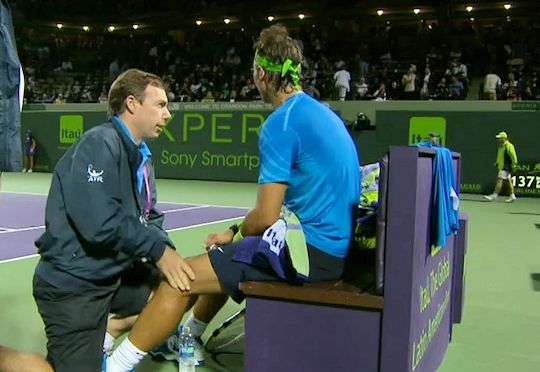 Screencap by elise
Post match on-court interview
Post match press conference - FastScripts by
ASAP Sports
.
Q. How would you rank your level on that match?
RAFAEL NADAL:
"
My level? It wasn't one of my best matches. That's the real thing.
"
I didn't play very well tonight. I think I started match playing really well, but later when I had the break at the second, after the break of the second, I don't know which game I had the break of the second, but after that I started to play more defensive, no? To close the match, I played very bad. That's my feeling.
"
Before, no. Before, I believe Jo had much more mistakes than usual. That's makes the match make the match less complicated for me at the beginning.
"
But, you know, when he started to play a little bit better and I have advantage in the score in the second set with the break, I started to play more defensive. Finally, I played a really bad game serving for the match at 5 4, and then he started to play better. That's the true. And I happy about my third set.
"
Q. Can you explain why you played more defensive? Do you know why? Confidence?
RAFAEL NADAL:
"
I don't know. Seriously my feeling was Jo was he was having much more mistakes than usual, so the match didn't have the right rhythm.
"
When I arrive to that moment to serve for the match, you know, for moments I didn't know if I have to play more aggressive, I have to play just defensive because, you know, he was doing almost everything, having few winners but at the same time having lot of mistakes.
"
So for moments I had the feeling that just playing solid without risk was enough for moments. So when I arrived to that last game, I really didn't had the right line how to win the points.
"
So that's the thing. My serve was bad. I really served bad tonight. Much worse than the previous days.
"
Q. You said that you played well the beginning and then you played bad as the match was going on. Do you think it's a fitness issue?
RAFAEL NADAL:
"
No. Well, I have problems on my left knee. That's the thing. I'm not feeling great. I don't know what's gonna happen in the next match, because gonna be a big match against one of the toughest opponents on tour, and probably I don't arrive in my perfect conditions to that match.
"
But, you know, we talking about physical performance, I am feeling great, no? I am not tired today now after three hours' match. My fitness is perfect. It's not a problem, that. I don't know the problems.
"
Q. Andy Murray in the semifinals. You each have a mutual respect for each other. What do you think of that matchup, meeting here in Miami for the first time?
RAFAEL NADAL:
"
Always playing Andy is a pleasure for me, and exciting playing against a player like him that push you at the limit on everything.
"
The negative thing is I have to recover well. I have to improve my knee if I really want to have any chance to win.
"
If not, gonna be almost impossible. But always is fantastic being in semifinals, first two Masters 1000s of the year, being in both semifinals in hard court are fantastic results.
"
So happy in that. Right now hopefully I can recover and can enjoy the match.
"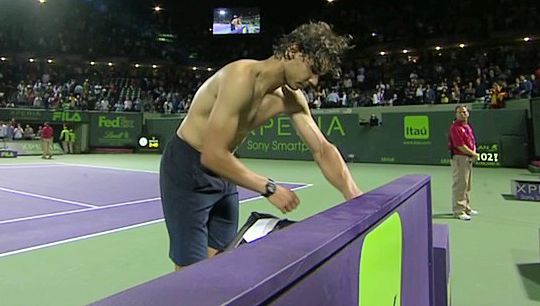 Screencap by elise
Unfortunately, he was not able to recover sufficiently and on Friday morning he pulled out of the tournament.
Here's a short extract from the press conference. Those of a nervous disposition might prefer to pause it before the TV pundits start to talk.
Transcript of the press conference from
Ubitennis
.
Q. Perhaps you could just take us through the situation you're faced with. We assume it's your knee. Could you tell us the story of the last couple of days?
RAFAEL NADAL:
"
Oh, I started the since the beginning of the tournament I have problems, but the real thing is growing worse every day.
"
So after the last match, I saw that the situation were going to be complicated to play today. But, as always, I always believe that the things can improve.
"
So I waited until today in the morning. I did a lot of treatment yesterday, waiting, that we can recover a little bit for today.
"
But I am not ready to compete today. I am very sorry for the fans. I'm very sorry for the tournament. I'm very sorry for everybody who were ready to watch the match on the television, for television, for everybody. But I don't have pleasure. I cannot do it another thing.
"
I am not ready to compete, and I cannot go on court and lie to everybody. That's the thing today.
"
Q. Can you describe the problem exactly for us? Do you know what it is precisely?
RAFAEL NADAL:
"
I have problems on the left knee. I cannot I have to go to doctor, but looks like is nothing really, really different that happen a few times in the past.
"
Just go to the doctor hopefully tomorrow, and hopefully in a few days, with a few days off and with the right treatment, I will be in the right conditions to start to practice on the clay.
"
Q. Because obviously you want to protect as best you can for the clay court season coming up? You say just going out there and running around on the hard court is not going to do you any good in the long run?
RAFAEL NADAL:
"
Yes, but not. Yes, I want to arrive to the clay court with the right conditions, but I want to arrive here with the right conditions. That's why I rest all February.
"
So I am not thinking I am not going on court today not because I have the clay court season. I am not going on court today because I cannot go on court today.
"
No, no. Nothing about clay court season. Clay court season is there in two weeks, but this tournament is very important for me, and I feel very sad to have to go out before a beautiful match for me, semifinals against Andy.
"
Q. What is your clay court schedule? What are the chances that that may change now?
RAFAEL NADAL:
"
Nothing change. Even if it's sad to finish these two tournaments like this, playing two semifinals is a good result for me.
"
First three tournaments of the year I played final and two semifinals in very difficult tournaments, so that's the positive thing that stays on my mind, playing good tennis. It's true the last day I did not play good tennis, but my knee is not ready to play good tennis.
"
So in general, I am very happy almost about everything. My schedule gonna be the same. Monte Carlo, Barcelona, first two tournaments.
"
Q. How worrying is it to have the same thing happen again with your knee when you thought it was fixed?
RAFAEL NADAL:
"
Less than if I have a new thing, because something that happened in the past, I know what to do to get better quick, and that's what we're gonna try.
"
Q. So where are you going now? Where are you going from here? Are you going back to Mallorca?
RAFAEL NADAL:
"
I don't know yet. I gonna I have to check a few things. I want to go to visit the doctor, and I don't know if I will be able to do it I will try to do it as fast as possible, to try to come back on court as quick as possible, too.
"
Q. Did you have any problems coming out of your training in February? When you went to Indian Wells, everything was good?
RAFAEL NADAL:
"
I start to feel a little bit in Mallorca. But, no, everybody has almost everybody has pain when you are playing in this high level of competition, no?
"
The true is in Indian Wells I had I start to have problems on the knee before Indian Wells, and Indian Wells I have my problems on the knee. But that problem, no, are not limiting me to play at 100%.
"
So I played in Indian Wells with the normal conditions, playing in good shape physically and everything. Here is different.
"
Q. Is it described as tendinitis or something else?
RAFAEL NADAL:
"
Yeah. But seriously the tendons are much better today than three years ago. The treatments worked fantastic. Even if today a really bad knee and last couple of days were tough for me, but positive thing the tendon improve a lot the last couple of years.
"
I am more health with both tendons than now. So the treatments are working well. In 2009 I really compete but compete in very bad conditions a lot of times. For the last couple of years, 2010, 2011, I was able to compete with perfect conditions for almost all the year.
"
So that's always fantastic when that's happening. This year I started well with no problems. Today is bad news, but that's the sport. We cannot expect playing as much as we play, be perfect every day of our life.
"
Today is my turn. Everybody have problems, and I will be working hard to be back quick on court and to play my best in Monte Carlo.
"
Q. You always play with a lot of injuries. Are you more cautious now? Because you always play with I remember US Open when you have the other thing. Are you more cautious now?
RAFAEL NADAL:
"
No, no, I always try my best. But today I feel that I am not ready to compete, no? I always start hard. I tried in the US Open like the example in 2009, but I have big broke of the abdominal at the end of the US Open.
"
Then after US Open I had to stop for one month and a half with no competition. So I cannot repeat mistakes from the past, but that doesn't mean that I am more afraid about playing with pains or not.
"
I try my best in every moment with pain, without pain, but when I see the situation is done and I cannot, I cannot. That's it.
"
Although we were all disappointed, we were also pleased that he had made the sensible decision.
And how can you fail to love a player who records this for his fans?
Rest up and recuperate, Rafa.
We hope to see you fit and well in Monte Carlo.