With barely time to pause for breath after Indian Wells the tour has moved on to Miami. While some of us were still unpacking and sorting out our washing, Rafa was already practising.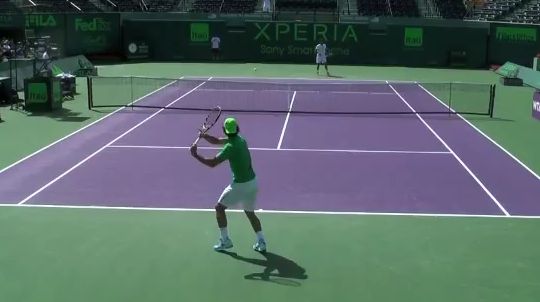 Bev Armstrong has very kindly allowed us to use a couple of her pics from
her excellent collection on Flickr
.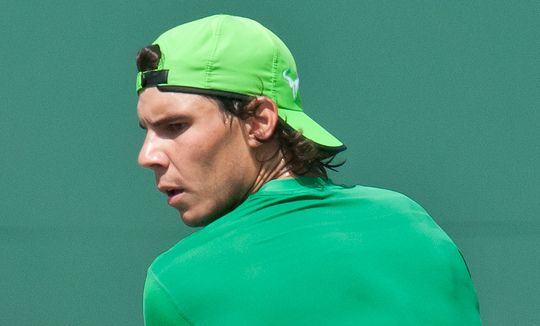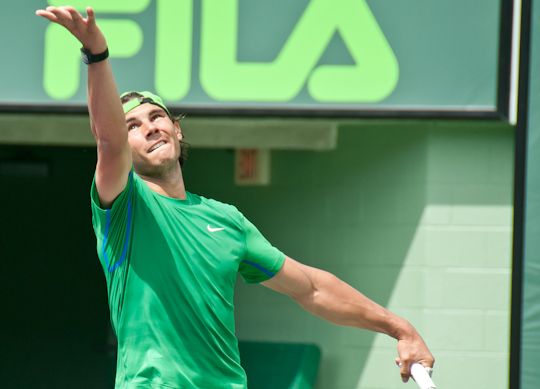 It was a particularly tough week for those trying to watch matches on TV since nothing was viewable until Saturday.
Rafa's first appearance was in doubles. This time he's partnered with Marcel Granollers. A few hardy souls watched the live scores and
made up their own commentary
. They defeated the team of Marin Cilic and Ivo Karlovic,
6-1, 6-3
. (I'd love to show some pics but with no video to cap from it can't be done. There are a handful of professional pics out there but we can't afford to buy them.)
Of course, Rafa's first round match in the singles was also played before TV coverage kicked in so it was scoreboard watching again. He raced through the match in a fraction under 80 minutes, winning 65% of the points to beat
Santiago Giraldo
,
6-2, 6-0
.
user29639
took a few videos court side and posted them on Youtube. Here's one.
Q. Do you feel it was an easy night tonight, very easy?
RAFAEL NADAL:
"
I never feel an easy match at this high level of competition, no? No one match is easy, no, even the score was very easy.
"
Because 6-2, 6-0 is a big difference in the score but not in the tennis, no? Every point, you have to fight every point. Every point is tough. You have to find solutions every moment.
"
And Giraldo is a very dangerous player, no? He hit the ball very hard at the beginning of the match. I thought it's gonna be a very difficult match, no, 2-2, 0-30, anything can happen.
"
Later I came back in that game with few good serves. I think after that I didn't have mistakes. I played very solid match with no mistakes.
"
You know, when I had the chance to hit the ball with my forehand, I did. I think I did a very good match.
"
This is another of the Masters where the ladies are also playing. Sometimes I think this is done just so that Rafa plays his matches long after some of us should have hit the sack since he always seemed to be doomed to be scheduled after an interminable women's three-setter. This was the case on Sunday night when he was due to play the fourth match immediately after a ladies' match scheduled "not before 3pm". At 4pm (when we might have expected him to take to the court) Venus Williams was still playing the second match of the day and it was gone 6pm (11pm in the UK, midnight in Europe) before he started.
He was playing
Radek Stepanek
for the sixth time and it turned out to be his easiest win yet. He won in straight sets,
6-2, 6-2
, winning 60% of the points.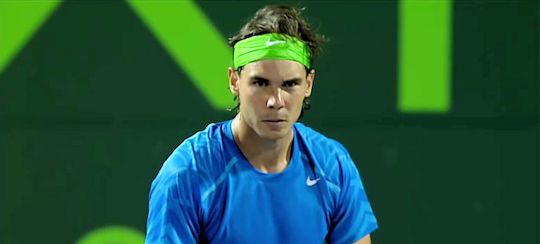 Screencap by elise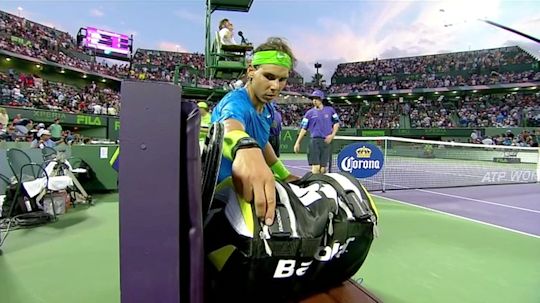 Screencap by elise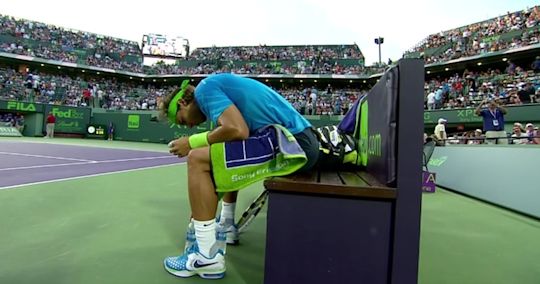 Screencap by elise
Screencap by elise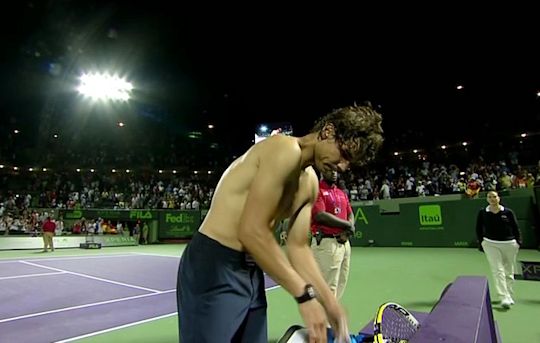 Screencap by elise
Q. I believe you've lost six games in two matches. How do you feel you're playing?
RAFAEL NADAL:
"
Good. I did good, solid start of the tournament, no? Two good matches, comfortable wins. So happy to be in the fourth round. That's good.
"
Just happy to be in the fourth round winning two matches with, you know, positive feeling and with comfortable results. Just try to keep doing well and try to keep improving a little bit the level.
"
On to week two - ¡VAMOS!