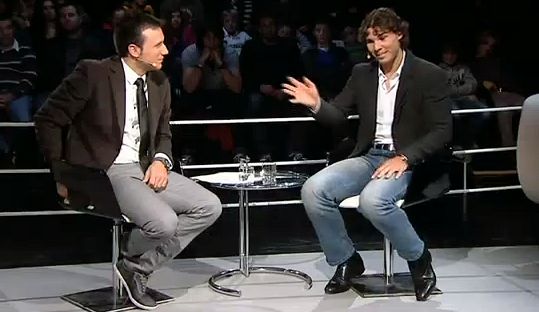 Screencap by MAC
On Thursday evening Rafa spent a couple of hours being interviewed in a boxing ring for the IB3 sports programme Golémica. I watched it avidly despite not understanding a word that was being said (fluency in Catalan is not part of my skill set). From the little I did catch, judging by the amount of times Rafa mentioned his name, the first hour appeared to concentrate on variations on a theme of "So what do you think about Djokovic?" (which was a tad tedious). Unfortunately, the few articles that came out following the interview don't shed that much light on what they talked about.
nou.amic translated
this article in diariodemallorca.es
for us. Among the quotes are these:-
"I'd put my signature to doing the same as last year."
"In a normal year, with the finals I made and the tournaments I won, it would have been enough to make me number one. But there was another player who was better than me," he said of the Serbian.
"I don't believe in luck," he said when he was reminded of some of the Serb's comebacks in matches last year and of the Australian final. "I believe more in the spirit of overcoming difficulties and in fighting".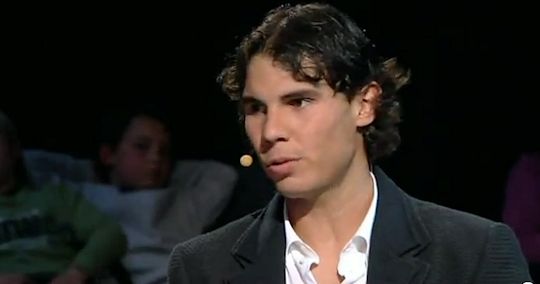 Screencap by MAC
"You have to play to win, be determined to want to do so and take risks." He is already thinking of the Olympic Games in London: "I would love to be the one to carry the Spanish flag."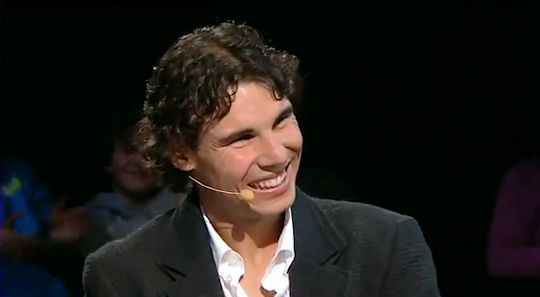 Screencap by MAC
Once even they had got bored with the Djokovic talk the programme brightened up considerably and included some interesting video footage. They spoke on the phone to a number of other Spanish sports personalities. This video shows some of the footage from the chats with Iker Casillas, Pau Gasol, Alberto Contador, Jorge Lorenzo and Rudy Fernandez.
This is the chat with Paul Gasol.
Thanks to
malimedia
for translating
rafanadalpartidoapartido.com
's transcription of Rafa's telephone conversation with Alberto Contador.
Alberto Contador: Good evening, Rafa, whatís up?
Rafael Nadal: íEvening, Alberto, whatís up?
AC: Well, nothing here, but Iím able to watch a bit this great tribute they are giving you, isnít it amazing?
RN: Thank you doubly and triply for being here, at such time that you are having. You know that always, ever since all this has started, and we've known each other for years, you have my full support, I say this publicly, you know I always tell you this in private, but I hope you're well, mainly that youíre in high spirits.
AC: Thank you very much. To tell the truth, I greatly appreciate the support you have been giving me, not just now but since the first moment, because, well, just like the people who donít have contact with you can see, you are an honest person, simple and generous. I who have been fortunate to be with him, can confirm he's really just like the impression you get from him. He is an approachable person who gives his all to those close to him.
RN: Well ... well then, Alberto, where are you now?
AC: Well, you see, I'm here on the coast of Valencia, and I'm fully focused on training, better than ever because I think thatís what you need to do to come back strong.
RN: Right, what you have to do now is prepare well and come back and win .. that is what you do best, and after all, give a lesson to everybody.
AC: Yes, we are going to try and do that, go as hard as possible when we return. Congratulations on all your successes that are impressive and I know you will continue like this. Let's see if some day we could meet more quietly.
RN: Come, weíll meet one of these days, Alberto. Hope that all goes well.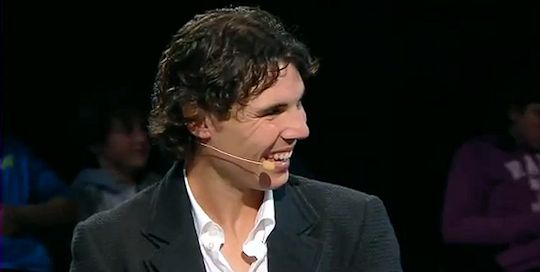 Screencap by MAC
He amused everyone when he talked about a five hour flight in a private plane from Umag back home to Mallorca in 2004.
This was nou.amic's comment on our forum -
"This was my favourite - especially the way he was using his hands to describe the tiny plane with it's double wings joined together by diagonal struts (they had told him it was a "good plane" so he had been expecting something like a small private jet not a light aircraft with just the pilot!). He said that after his initial fear he actually enjoyed the flight because he was able to get views like he'd never seen before of the Mediterranean..."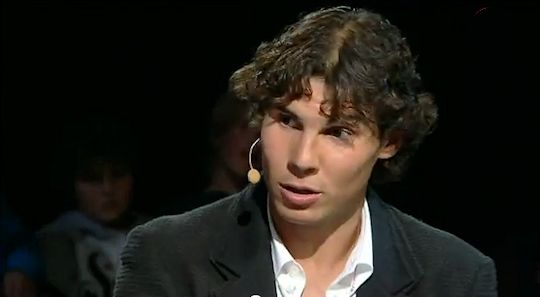 Screencap by MAC
Here he is watching (and reacting to, and then commenting) a clip of himself arguing with Bernardes after a wrong call in his match against Berdych at the WTF 2010. Note the embarrasment.
Finally, here's a behind the scenes video. The start did make me wonder why the career advice at school never mentioned the advantages of becoming a make-up artist.